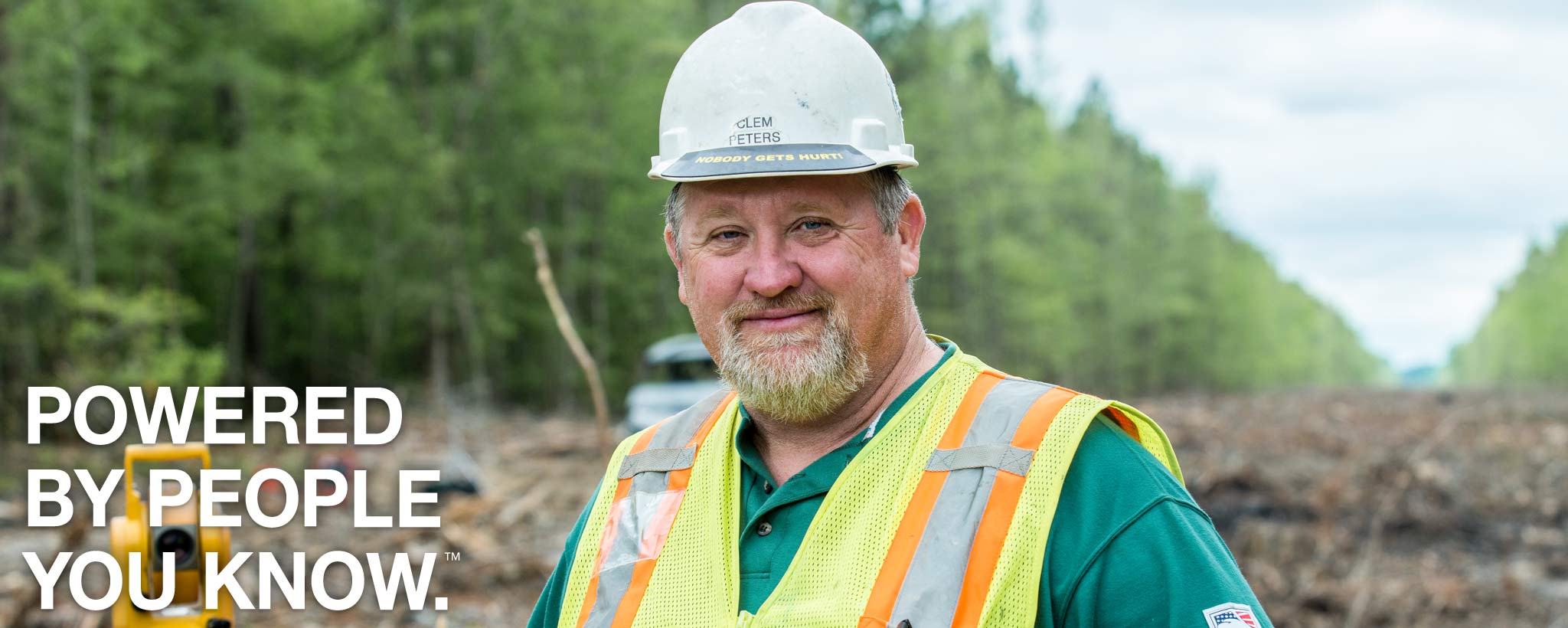 Clem Peters
Right of Way Specialist | Tennessee Valley
It's been three days of solid rain, and Clem Peters is up to his knees in mud. He's fresh off the ATV, having whipped up a "road" filled with watery potholes through boar- and snake-infested woods. Just a typical commute to his current job: the building of a 161-kilovolt transmission line near West Point, Miss.
The sky looks threatening, but the conditions don't rattle him; he's earned his reputation as TVA's "dirt man." Let others handle all the engineering, processes, money, planning and paperwork—when it's time to put it on the ground, Peters is the man for the job. "I make the dirt match the paper," he says in his smooth southeast Missouri drawl. "It doesn't matter whether it's raining or snowing or the sun is shining—we work 12 months a year."
"Imagine in your mind a beautiful meadow with a patch of woods," he says. "We go in and clear the trees and push up the meadow. If there's rock, we dynamite it, if there's dirt, we move it. We do whatever it takes to get conditions right for the project we're working on."
He's not kidding. A brief look around these sodden environs reveals swaths trees in stretching to the horizon—15 miles worth, 100 feet across. Given the conditions, there's not a lot of work happening today, just the steady whomp and thump of a forwarder picking up and laying down 2,000-pound mats, getting ready to move more machinery into these backwoods to build the towers needed to bring more electricity—and with it companies, people and jobs, God willing—to an undeveloped corner of Mississippi's Golden Triangle region.
A Man on the Move
It's a massive undertaking, which Peters runs out of a trailer over on Hwy. 45 in town. You'd be tempted to think of this humble office as Peters' HQ, but it's really not. That would be his truck, a late-model Chevy 4X4, which he spends a LOT of time in. See, though the job at West Point is critical and massive, it's only one of eight or so projects Peters is overseeing right now.
"I usually have seven or eight jobs going in various stages of construction," he explains. "Right now I'm working on this power line in West Point. I'm managing 2,700 mats on a 35-mile transmission line in Kosciusko, Miss. I'm clearing and constructing a 10-mile transmission line in Philadelphia, Miss. I'm in Paducah, Ky., getting access to put in an extension to a power line. Yesterday I was in Jackson, Tenn., working with design to keep a tower from falling into a creek—trying to stop an erosion collapse. The day before that, I was in Cordova, Tenn., helping clean up a switch house design stability project."
He's needed everywhere at once, which he cites as his primary job stressor. Barring that, he does a lot of driving—a LOT of driving. Peters estimates that he's driven about 1.96 million miles in service to TVA since he started his job in the late 1980s, and has no plans not to top 2 million. Meanwhile, he uses his phone to coordinate with five construction managers, handling all the little details it takes to get these kinds of projects off the ground, rolling and ultimately successful.
"I keep the details mostly in my head," Peters says, which makes sense in lieu of a permanent office. It's one valuable head, recently honored for marking 30 years on the job. Peters, in true form, showed up to the corporate ceremony in his work uniform—jeans and a tee shirt.
Multitasking Master
Peters' list of responsibilities is boggling. He keeps erosion control top of his mind, but that's just one consideration when he's approaching a project. "I have to keep up with best management practices across the board," he says. "I have to keep up with civil engineering practices and federal and state regulations for all seven states, too. I am the person who talks to the property owners every day; I am a subject matter expert for grading. I am the boots on the ground for TVA."
As a right-of-way specialist, he sees his projects through from start to finish. "We clear the roads, do the environmental work to stay within the permit, maintain the land while construction is happening, then reclaim it when the project is done," he explains. "We're here from the time the guys come in and build the towers to the moment we replant the grass and cover it with straw."
He'd know a thing or two about planting, having grown up on a farm in Missouri. On weekends, he spends time with his wife, Amy, and two daughters, Gracie, 10, and Anna, 7. They run a family crawfish farm, spend the usual time running between sports and gymnastics practices and ride four-wheelers whenever they get the chance.
Then it's back to work, wherever that takes him. "I have the best job at TVA," Peters concludes. "I am a country boy from southeast Missouri and they hand me millions of dollars and say, 'Go do it!' What other company in the world's sole purpose is to make the world a better place? That's TVA."
Meet More People You Know
Meet more TVA employees, and learn about some of the fascinating ways they serve the Tennessee Valley through their work in energy, environmental stewardship and economic development.
They're your friends, your family, your neighbors. Get to know them.