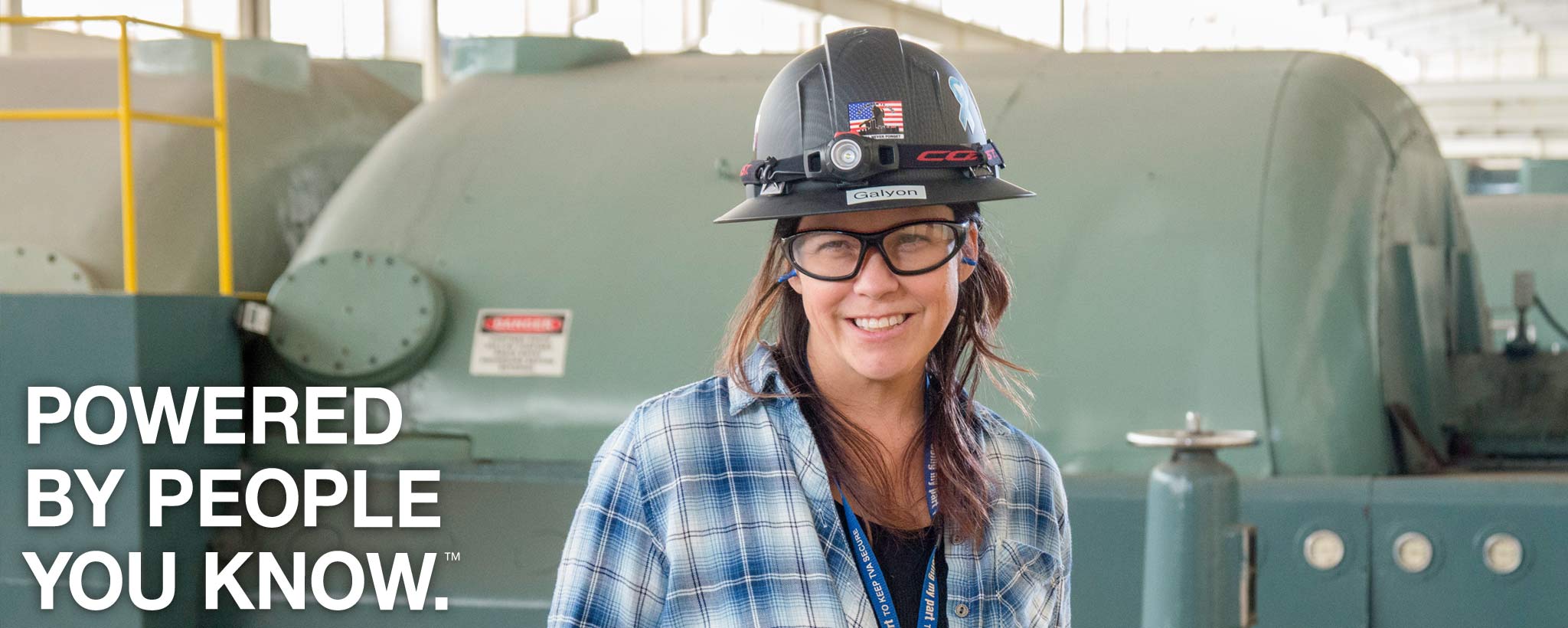 Crystal Galyon
Assistant Operations Manager | Kingston, Tenn.
The assistant operations manager at Kingston Fossil Plant is a Navy veteran with years of nuclear training and service on the aircraft carrier U.S.S. John C. Stennis as a nuclear machinist mate. But when it came time to choose a post-military career, she opted for a more archaic form of generation. "Coal plants offer the opportunity to be innovative. In a coal plant you have to be creative, because you are using aging technology and when something breaks you can't just pick up the phone and order new parts—they don't exist."
The result? Constant creativity and problem-solving with constraints, which keeps Galyon happy on her job, even though she's on call 24/7. "Generally speaking, I work a day shift," she says. "But I put in a lot of nights when there's trouble with one of the units. I do whatever it takes to keep personnel safe and the plant functioning and reliable."
Master of Multitasking
In her role, that's a lot. She runs down her job description, and it's exhaustive: "Basically, I serve as the central point of contact to coordinate and communicate across departments here at Kingston and with Corporate information regarding safety concerns, emergency situations, regulatory compliance, human performance issues, unit status and system load demands and generation requirements."
In other words, she's the ultimate multitasker. It takes a lot of experience to do what she does, and she's come by it honestly, from her start in the military, which she joined to help put herself through school and get her B.S. in nuclear engineering technology. While enlisted, she took the opportunity to garner special training opportunities, including the elite U.S. Navy Enlisted Surface Warfare Training program—being willing, as she was, to put herself in harm's way to detect direct threats to her fellow servicemen's lives.
She joined TVA as an assistant unit operator at John Sevier Fossil Plant nearly 14 years ago, transitioned to Bull Run Fossil, then did a stint in TVA's System Operations Center as a NERC-certified balancing authority, helping to control approximately 31,000 MW worth of system-wide generation.
There, she shone—for all of her creative prowess, Galyon is also a technical powerhouse. "I love math—I was always good at math in school," she says. "And everything about how we make and deliver power is driven by math."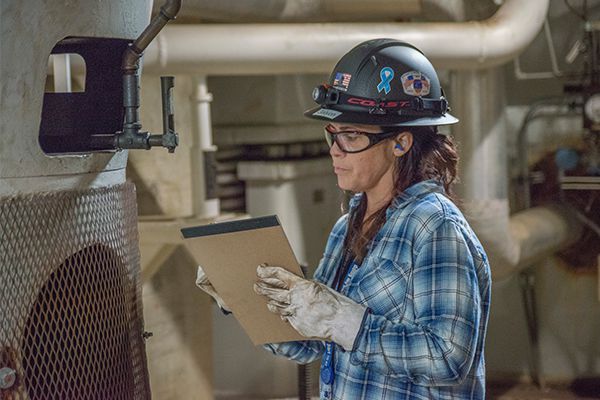 From there, she transitioned into a rotating position as corporate duty officer, serving as an intermediary between the generation sites and TVA corporate executives. In that role Galyon learned to deal with crises: "While I was there we had a Shawnee Fossil flood event, and also the Johnsonville cable tray fire—and they called me to get the support they needed," she remembers. "I could negotiate for equipment and boots on the ground, going right up to the CEO in times of emergency. That was very exciting."
Still, when the job came open at Kingston, she didn't hesitate to take it. "I knew I could use all my experience to really help there," she says.
She's never looked back. "I love being in operations and having that sense of accomplishment at the end of the day, seeing resolution from our actions," she says. "I get to go out every day and see the craftsmen putting in effort and watching the implementation in real time. I push a button—something happens. We work safe to get a unit online and maintain reliability. Results are immediate. You can't beat that sense of satisfaction."
Mission Forward
Galyon grew up in Texas, but says she always wanted to work at TVA. "I knew from history books that TVA saved this region from the great depression and they helped us win the war," she says. "Lots of people lose sight of what the TVA means for the Valley, but we got control of the river and made it so people could live here, farm here and we gave people electricity—that's impressive. You look at other companies, they may have a good product, but they did not transform lives. I'm incredibly proud to work here."
She keeps the mission in mind in everything she does. "We constantly fine tune our mix to make cheap power because we have low income people who live in this region, and we want the best benefit for all the people—I don't lose sight of that," she says. "We stay ahead of environmental compliance things—we go above and beyond because we care."
For Galyon the motto is "Safety Always"—in the plant, and in her life. "Safety is what I'm most passionate about," she explains. "For me, it's personal. I'm a single mom raising 6-year-old twins, a boy and a girl—Matt and Makayla. Both have been diagnosed with autism, so I have to advocate for them."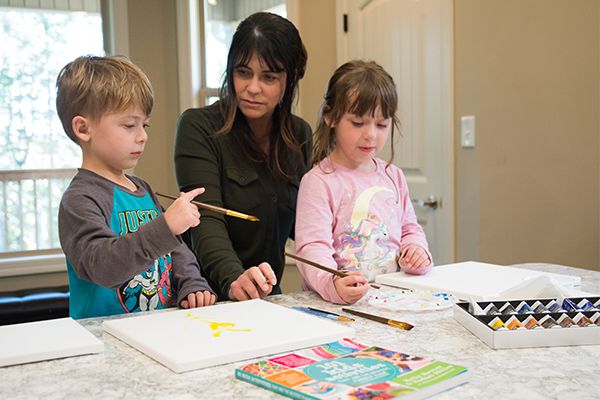 She recounts how the kids were diagnosed at 2 when they start regressing on their milestones. "Both used to be good eaters and could say a few words, all of a sudden they went to not wanting to eat and couldn't speak," she says. "My son more than my daughter would line up toys in a row and starting making repetitive noises. My daughter is a little too social, she'd go home with a complete stranger if they just looked at her. So you can see why I am constantly advocating for school safety and work closely with the school they currently attend on how to make it safer."
Galyon was accepted into the Roane County Leadership Program this year, and has pushed for safety in that role, too. "One of the projects is to get a storm shelter in the classroom to protect from storms and active shooters—to prepare for whatever might come."
That experience transfers over to the workplace, she says. "I am looking at it through the eyes of the child, so I see things other might not see. It's just another way I stay creative."
Meet More People You Know
Meet more TVA employees, and learn about some of the fascinating ways they serve the Tennessee Valley through their work in energy, environmental stewardship and economic development.
They're your friends, your family, your neighbors. Get to know them.