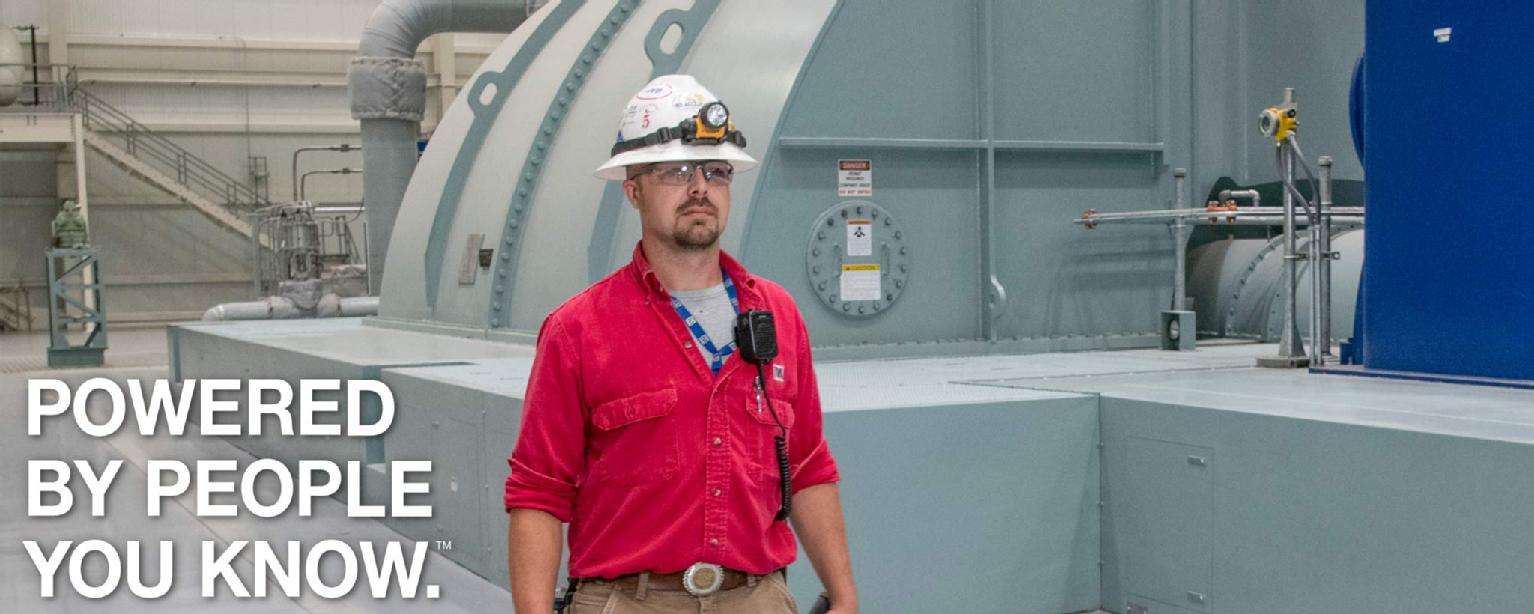 David Swann
Lead Combined Cycle Operations Technician | Memphis, Tenn.
It ain't easy being a lead combined cycle op tech (CC op tech). You have to know a lot about a lot of things to keep the high-tech combined cycle plants running, particularly the brand-new muscle car that is Allen Natural Gas Plant in Memphis. Commissioned in spring of 2018, the plant represents the latest in gas-generation technology and a $1 billion investment in low-cost energy and clean air for Memphis.
Op tech David Swann ticks off an exhaustive list of things he and his teammates—and every CC op tech at TVA—must understand completely to do their jobs.
"You have to know every aspect of a plant in order to operate it," he says. "You have to know machinist's work, which involves aligning pumps and motors. You need an advanced understanding of electrical theory and electronics engineering. You need to fully understand the steam cycle and how to maintain water chemistry in the plant. You need a working knowledge of distributed control systems…" And the list goes on.
Swann admits it's a lot; a former journeyman wireman, his transition to the world of the CC op tech was exciting, but sometimes overwhelming. "How do you eat an elephant?" Swann asks, setting up his approach. "One bite at a time."
The Shape of His Days
Like many who work at TVA, Swann could say there is no typical day, particularly at a gas plant so new and cutting-edge that the rules are still being written for it.
"There are a lot of activities we do, this is the first time they are being done," he says. "We go through the vendor manuals, do the research, get the plant schematics, interpret those and develop step-by-step texts that will soon become plant procedure. That way the next time we encounter the same situation, you can send people out into the field with a procedure to do it safely and efficiently."
Still, there's a structure to his days—every shift starts with three rounds: One, learning what happened the shift before; two, a pre-job briefing in the control room; then three, out into the plant where the action starts.
"We head out to do operator rounds, which involve checking hundreds of points out in the plant to determine how everything is operating and looking for potential problems that may be developing," Swann says. "We analyze these problems out in the field to try to catch any issues before they affect the plant's operation. If we take good care of the little things, the big things take care of themselves."
After operator rounds, it's onto the care and feeding of the big combined cycle plant, which means making the demineralized water for the steam cycle, monitoring the load forecast, continuing to operate the plant from the control room and taking care of maintenance activities. "You're multitasking like crazy—you have to be ready for anything," Swann says.
His Brothers' Keeper
Still, among all the good stuff, there is one thing Swann likes best. "I'm most happy when I'm taking a trainee—someone who isn't even sure they can do this job—and helping them to learn and develop and become proficient," he says. "You're taking a lot of the principles that trades people hold dear—like being your brother's keeper and taking care of each other on the job—and putting them into practice in the best way when you're helping someone learn how to do their job."
Such trade talk is second language to Swann, who came up through the ranks of the International Brotherhood of Electrical Workers Local 474 in Memphis as a journeyman inside wireman and traveled the country working outages at coal plants and other industrial sites.
That's where his Shelby County heritage really came in handy. "If you're a traveling electrician from Memphis, they assume you have a lot of experience," Swann says. "They know you know how to do hospitals, they know you know how to do rail hubs and airports…they know you've seen quite a bit. They'll put you right in the middle of what they've got because of the wide variety of industrial environments that you were exposed to in Memphis."
At Home in Memphis
Still, given a chance to take a permanent position in the Mid-South region of TVA's service area, Swann took it, accepting a position as a Student Generating Plant Operator (SGPO) at the Lagoon Creek Combined Cycle Plant in Brownsville, Tennessee. He saw it as a chance to further hone his skills: "I wanted that comprehensive TVA training from the ground up."
He stayed at Lagoon Creek for 7 years before transferring to the Allen Combined Cycle Plan—in Memphis—in 2017.
As enthusiastic as he is about his work, Swann is even more passionate about home and family. With wife Laura Swann and children David Swann Jr., 9, and Maddisyn Kenzie, 4, they make good use of the amenities Memphis has to offer, including the zoo, local water parks, and Shelby Farms park: "Of course, like everyone, we have special memories of Shelby Farms, we love to visit the dog park with our Catahoula, Jackson, and our beagle, Fox."
Swann likes to catch a Grizzlies game when he can, and follows the Redbirds. But his favorite hobby is ornamental gardening in his backyard. "It's set up for hummingbirds," he explains. "Some of my favorites are a gingko tree, an American Beauty dogwood, and we do have a couple of Eastern Red Cedar trees with light feathery bark the hummingbirds like to make nests out of."
Safe to say Swann admires the hummingbirds' quick pace, skilled precision, and tireless effort — qualities he emulates every day in his own work as a CC op tech.
Meet More People You Know
Meet more TVA employees, and learn about some of the fascinating ways they serve the Tennessee Valley through their work in energy, environmental stewardship and economic development.
They're your friends, your family, your neighbors. Get to know them.