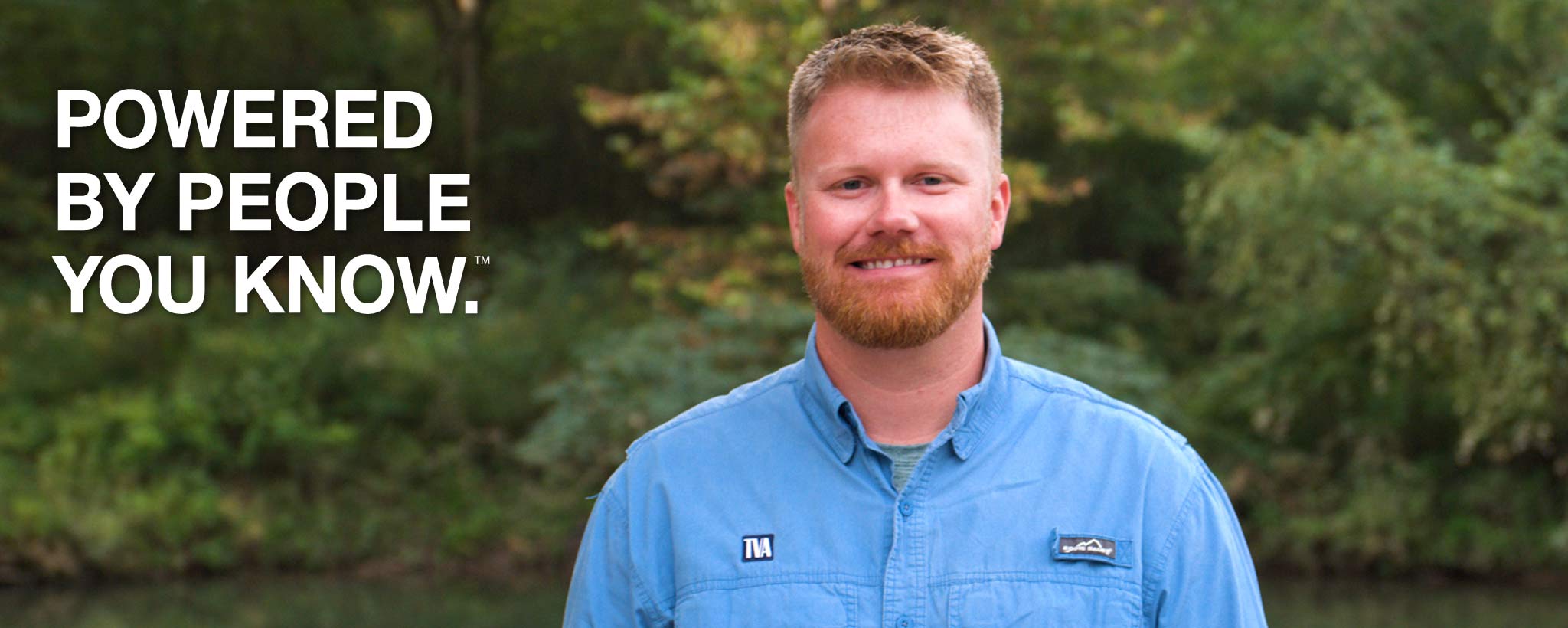 Derek South
Recreation Agreements Specialist | Muscle Shoals, Alabama
When you ask Derek South how he's doing, he just might say, "I'm living the dream." And no, he's not being flip. As a recreation agreements specialist at TVA, the outdoors enthusiast is doing exactly what he's always aspired to do, and loving every minute of it.
"I'm astounded because I've got the job I've been working toward all my life," he says. "I'm very passionate about recreation and the outdoors, and my job is very fun and fulfilling. I'm the type of person who'd rather be outdoors than indoors, and I have a job that lets me be outdoors to my heart's content."
He describes his job as "getting to wear a lot of hats," and he's not exaggerating. Based in Muscle Shoals, South oversees a swath of recreation assets stretching from Kentucky to Wheeler reservoir, and encompassing the Bear Creek and Beech River projects as well as the Elk and Duck rivers.
"At Muscle Shoals alone we have 314 assets, including trails, signs, barriers, gates, trash cans, picnic tables, ramps, benches, restrooms—anything you can assign value to," he says. "We track those, maintain them, and budget for them. That alone is a complicated part of my job."
He also works with campground and marina owners operating on TVA-leased lands. "I manage those relationships and make sure they're operating properly and safely," South says. "Commercial contracts can be very complex, and owners can have a lot of questions. It's my job to be the interface with TVA, and help them to understand we're working for them, not against them."
The Recreation Experience
Another key aspect of his job is working with city and state governments to create shared assets that create more recreation opportunities for everyone. "We partner in projects and in matching funds," he says. "For example, this year I partnered with the City of Florence when they got a grant to build a parking lot near a popular kayak put-in. TVA will now transform that from a mud ramp to a concrete one to make it more sustainable."
As an avid outdoorsman, South has made it his business to visit many of our National Parks, and appreciates the ride. "I'm always getting new ideas. As the young blood of the group, I think it's important to always be bringing in fresh energy," he says. "When you go to a National Park, they have an experience set up. At TVA, it's about showcasing the dams—the crown gems of the South. But it's about making the river accessible, too. So, I look for ways to highlight both."
A hometown boy, South attended the University of North Alabama, where he got a degree in professional geography and came straight into an internship at TVA updating maps for Natural Resources. He hired on in 2012 doing residential 26a permitting work, made a brief appearance in Transmission as an environmental technician before returning to his original field of work, then landed in his current role in 2018 when an early retirement opened his ideal job right in his own backyard.
Happily Ever After­
Recently married to wife Emma, Derek is also a doting uncle who loves to spend time with his parents and brothers. As you might expect, he—and his wife—enjoy traveling and playing outdoors. He even proposed in Arches National Park. "Hiking, fishing, boating, camping, you name it, we're on it," he says.
Camping is especially close to his heart these days, as a major focus has been working to restore TVA's Pickwick Tailwater Campground near Pickwick Dam, which was destroyed during the flooding events of 2018 and 2019.
"I've felt a lot of accomplishment working the Pickwick campground project—to see how they were totally demolished and how far they've come since then," he says. "There are so many facets and challenges to overcome, but you get out there and you keep going. It's worth it to have these treasures available for people."
In the end, that's what it's all about for Derek South. "I just love being a public servant," he says. "No matter where I'm at or what I'm doing, my goal is to help everybody."
Meet More People You Know
Meet more TVA employees, and learn about some of the fascinating ways they serve the Tennessee Valley through their work in energy, environmental stewardship and economic development.
They're your friends, your family, your neighbors. Get to know them.