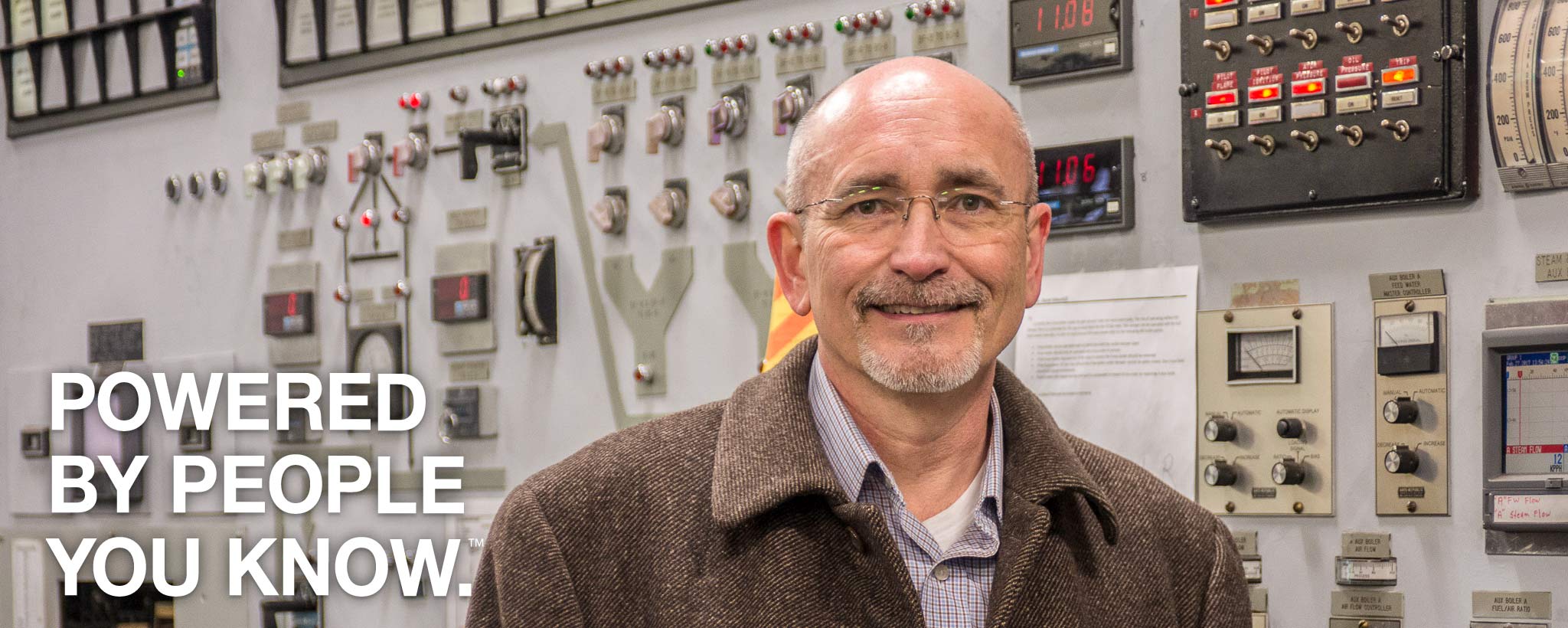 Greg Nunley
Director of Coal Services | Chattanooga, Tenn.
Greg Nunley is at the top of his game now. He's been with TVA for 32 years, and as director of Coal Services, he spends his days wrapped up in the purchase and transportation of fuel.
But he keeps his focus squarely on the interests of the little guy, and not a day passes that he doesn't ask himself a very important question: WWRD? That is: What would the ratepayers do?
Diversity in all things is good. Diversity in options for power for our ratepayers is good. We can make TVA a better place and a more successful business by including ideas from a lot of different people.
"We were talking about different scenarios, struggling with a decision around multiple options, and I asked, 'What would ratepayers do?'" Nunley chuckles. "We're all ratepayers. We all want the lowest cost possible. Then it became a joke—that we need to make bracelets with that motto on them!"
It's funny, but for Nunley, also quite serious: "I think sometimes we can forget why we're here, and we need to remind ourselves who we really work for. We work for our energy consumers."
People Power
Nunley has a long career with TVA, having started in 1985 at Paradise Fossil Plant as a public safety service officer (now TVA Police). He began to learn operations in 1987 and his career took him on a tour of TVA fossils sites—to Shawnee, Kingston, Bull Run, back to Paradise and then ultimately to Chattanooga to join Coal & Gas Services.
Nunley's group constantly monitors inventory at the plants. They work in partnership with Operations to ensure they're supplying the best quality product at the best price. "Coal and gas talk to each other constantly," he says. "We know from experience that when gas prices go above $3.50, we're going to run a lot of coal. When gas comes down to $2.80, we're going to run gas wide open and park a lot of coal units. We always have to know what the market is doing."
That institutional knowledge is key. But just as important to Nunley are the lessons he's learned from other people.
"We've got a business to run, but it's really about the people," he explains. "In leadership, you've got to take care of folks, help them help themselves grow in their careers. When you hire someone and you think this person's going to move up, they're going to have a great career, and they do that, that's really satisfying for me."
He takes the time to hire well, and cultivate positive relationships. "I like the people I work with," says Nunley. "They're all smarter than me. That's because my rule is: Hire the smartest people you can find and then let them tell you what to do. We can bounce ideas off each other; we've got a really open group. No one is afraid to express themselves; if they've got an idea they're going to throw it out there."
And that dynamic, he says, makes the business stronger.
Value Added
Being a people person extends to Nunley's life both on and off the job. He has two grandchildren who are hearing-impaired, and he sits on TVA's Individuals with Disabilities Compass committee.
"My father had a disability," adds Nunley. "A lot of times, we focus too much on the 'dis' and not on the 'abilities.' People with disabilities have accomplished a lot in this world. Anything we can do to bring diversity to a team is going to make it stronger. If I'm always looking at people who look just like me and think just like me, we're all going to come up with the same ideas. We need different ideas, then it's leadership's job to sort them out and see what could be a game-changer for us."
Nunley muses that he's spent most of his life at TVA.
"I think my favorite part has been the people. Some of the plants I've worked in—you spend so many hours with them, they're like your family. Most of my career was spent at Bull Run, so Bull Run was like a family to me. I really enjoyed that.
"I think about what we do every day. We're not in this to make money; we're in it to provide low-cost power to the people we serve. I'm proud to be a part of that service."
Nunley and his wife enjoy traveling in their RV to visit their grandchildren. When at home on Signal Mountain, they're relaxing and contemplating the koi pond.
"As long as I'm contributing and I'm bringing value to both TVA and energy consumers, I'm happy where I am," says Nunley. "I'm open to whatever opportunities come up as long as I can serve and continue to bring value to TVA."
Meet More People You Know
Meet more TVA employees, and learn about some of the fascinating ways they serve the Tennessee Valley through their work in energy, environmental stewardship and economic development.
They're your friends, your family, your neighbors. Get to know them.