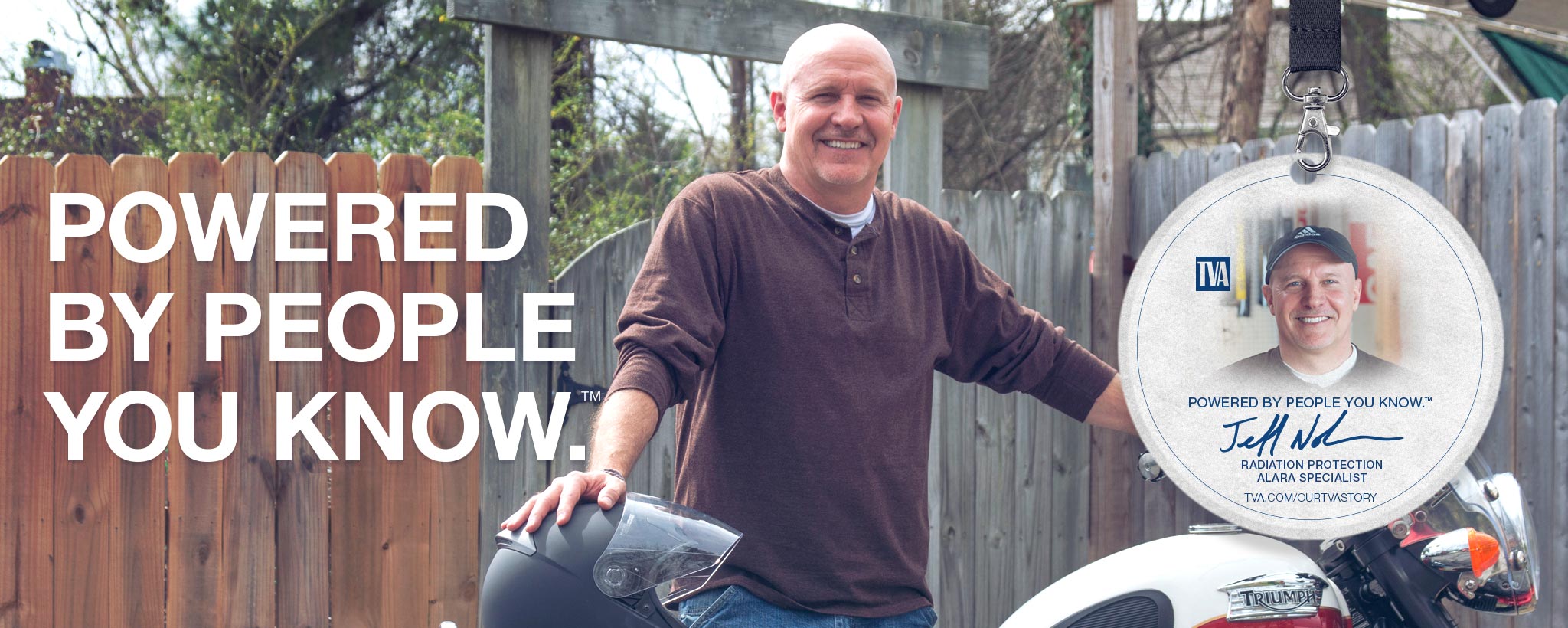 Jeff Nolen
Radiation Protection ALARA Specialist | Soddy Daisy, Tenn.
"I'm a bit of a craftsman. I'm a builder. A woodworker. I've been renovating this old house. I'm an artist. I'm part of a four-person team at the Sequoyah Nuclear Plant that protects the public and the workers from radiation."
If Jeff Nolen was never paid a dime to design things, he would do it anyway. He's an ALARA specialist at Sequoyah Nuclear Plant, but the best part of his day is when he picks up a pencil and a blank sheet of paper.
Radiation levels are carefully monitored at the nuclear plants, and minimizing employees' exposure is an important aspect of daily work. "ALARA means 'As Low as Reasonably Achievable' exposure to radiation, which means our focus is constantly on finding better and safer ways to maintain the plant," says Nolen. "The whole thing is about reliably protecting people. The lower the exposure, the better job we've done."
Sometimes the group Nolen works with will get together to discuss how to put an improvement into action. That's when he knows it's design time.
"Much of the ALARA job has to do with shielding, putting layers between workers and any radiation source," he explains. "We have to be creative, think outside the box. If you have an idea and can come up with a drawing, you can get it made. I usually volunteer to be the design person to get the idea down on paper, come up with the artwork. I'm never bored when I'm designing and creating things and actually getting to see them put into play. It's a lot of fun to take something from an idea, to paper, to product it and see it installed.
His enthusiasm is infectious. "My job is data; the creative part is only a highlight. But it's my favorite; I love to invent things," he says. "We've had some successes with some of my designs—unique shielding and things like that. Some of my designs and inventions have been implemented here at Sequoyah Nuclear Plant, and I am really proud of that."
Nolen's father and brother worked in TVA Nuclear as well—his brother as an employee, his father with Combustion Engineering. Nolen didn't just step right into this career, though.
"I've done a little of everything through the years before I came to this," he remembers. "I worked in law enforcement, worked in the restaurant business, worked for myself doing construction. For five months I worked at a nuclear plant in Brazil—I'd love to go back to that country someday."
When he's not at work drawing and creating, he's at home drawing and creating. "Sometimes I'll make a mockup at home of something that might be useful at work, and bring it in. And if I get bored, I go to my basement and build furniture, or whatever I can think of. It looks like Ace Hardware exploded down there," he laughs.
He works continuously to improve his skills. "I've been taking classes and trying to expand my technical knowledge, because as we design things and implement them, we can do more," he says. "What wasn't possible ten years ago is extremely possible today. I want to get better and better at what I do."
Meet More People You Know
Meet more TVA employees, and learn about some of the fascinating ways they serve the Tennessee Valley through their work in energy, environmental stewardship and economic development.
They're your friends, your family, your neighbors. Get to know them.