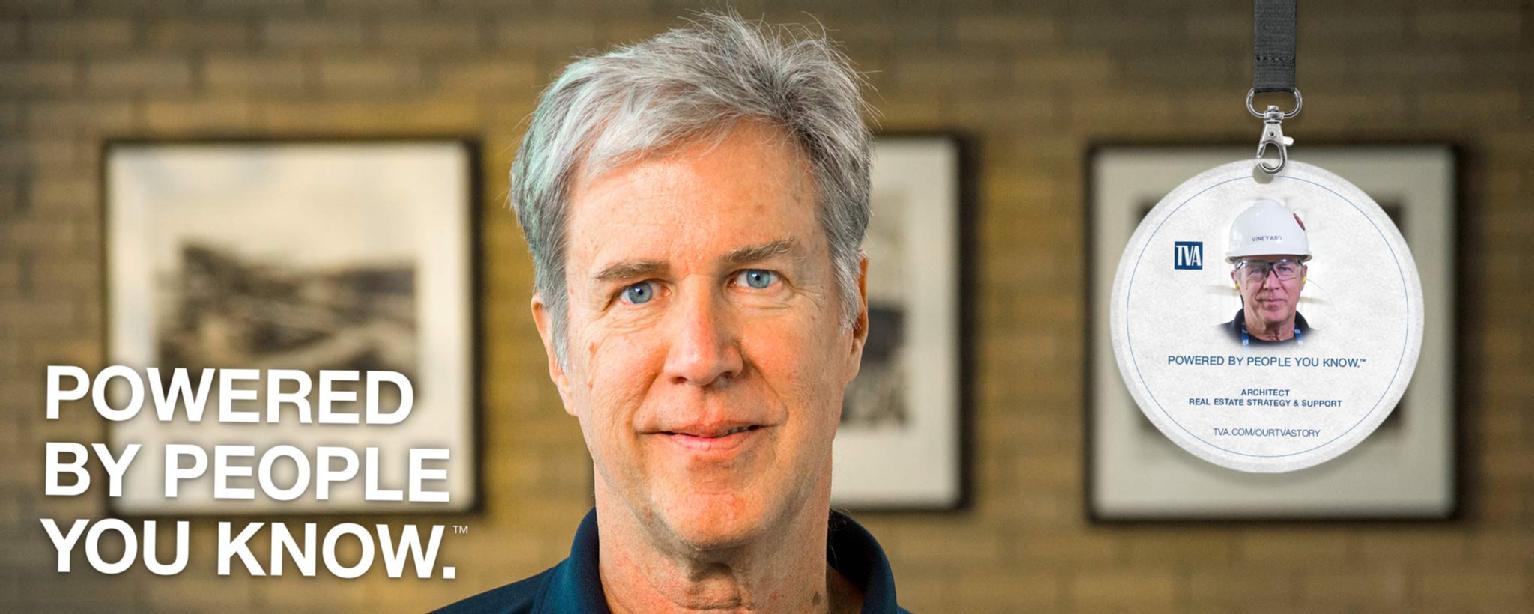 Jim Vineyard
Architect, Real Estate & Support | Knoxville, Tenn.
Jim Vineyard is part of a TVA-wide effort to assess lands and buildings owned by TVA and identify opportunities to consolidate office, work and warehouse space and dispose of underutilized, nonessential buildings. His focus is on TVA's power generating plants.
"TVA's fossil and hydro plants were designed for more employees than we now have. The result is that many of the plants have excess space. My job is to figure out the best use of the space at each site and, where possible, reduce square footage."
.
I've found that it's more rewarding to work on a power generating facility than on just another pretty building. I guess what inspires me is the importance of TVA to the Valley, providing recreation, flood control as well as generating power. It's part of a bigger mission—bigger than just one person, and their success.
That matters to the people TVA serves, Vineyard says, because every square foot of space costs money to operate and maintain. Plus, reconfiguring office and shop space can increase employee productivity which, in turn, benefits Valley residents on their power bills.
A Unique Perspective
Over the years, Vineyard has worked on projects at literally every fossil and hydro plant in the TVA system—and he carries around a mental image of each one.
"Name a plant, and I can draw you a picture of the office, shop and warehouse arrangements," he says with a laugh. "If a plant needs more warehouse space, chances are, I can recommend underutilized buildings in the area that could be used for that purpose. I'm able to suggest alternatives to new construction that might be more cost effective."
Having spent most of his long career designing and managing projects at plant sites also gives Vineyard a unique perspective on TVA architecture. He's been personally involved in TVA's architectural history for four of TVA's eight decades of service and worked alongside architects who had previous years of experience.
"TVA is one of the few power utilities to emphasize land planning and architecture. For much of TVA history, architects were major players in everything TVA did," he explains. "That's one of the reasons I'm proud to work at TVA."
Vineyard has made a study of TVA architecture and given several presentations on the topic. "It's my favorite subject," he says.
Memories from TVA's First Half-Century
As a freshly minted architect and new TVA employee, Vineyard witnessed events in TVA history that few current employees can recall. One of his more unique assignments was the barn building project.
"In April 1977, Hancock and Claiborne Counties were devastated by record flooding on the Clinch River," Vineyard recalls. "FEMA brought in trailers for people who lost homes, but a lot of farmers lost their tobacco barns too. That was a real problem because much of their income was from tobacco sales. As a good neighbor, TVA put up 20 barns in affected areas that summer. Local workers hired by a non-profit community action agency did the initial framing, and TVA volunteers put up the roof and siding. I put in a lot of nails, but my primary job was to furnish the barn designs and oversee the volunteer crews. My future wife almost called off the wedding because I worked almost every Saturday that summer. I'll never forget that."
Vineyard also has special memories of his work on the 1982 World's Fair barge exhibit.
"TVA worked out a deal that allowed us to provide in-kind services to the fair instead of paying a participation fee. My job was to coordinate those services and locate needed materials that had been surplused. TVA's major contribution to the fair was to provide the design and most of the materials for waterfront development, including the pedestrians bridge over Neyland Drive.
We started work on TVA's barge exhibit well behind some World's Fair participants, but finished before others. "We had a lot of volunteer help from TVA employees and their families," Vineyard says. "While others were frantically trying to finish their projects, we were taking our barges on a celebration cruise down the river. I learned then that there's no stopping TVA when we put our minds to getting something done."
A Family Man and Explorer
Vineyard and his wife, Michelle, have three grown children. They've transitioned from cheering on their own children in baseball, softball and soccer to traveling to see their grandchildren and the world. They recently toured Eastern Europe and Costa Rica and are planning a trip to Ireland.
It will be nice to have more time to travel someday, Vineyard admits, but he isn't in any hurry to retire. "I'll consider it when I have a good plan of what I want to do. For now, I want to make the most of the opportunity I've been given to use my experience to make an impact on TVA real estate."
Meet More People You Know
Meet more TVA employees, and learn about some of the fascinating ways they serve the Tennessee Valley through their work in energy, environmental stewardship and economic development.
They're your friends, your family, your neighbors. Get to know them.