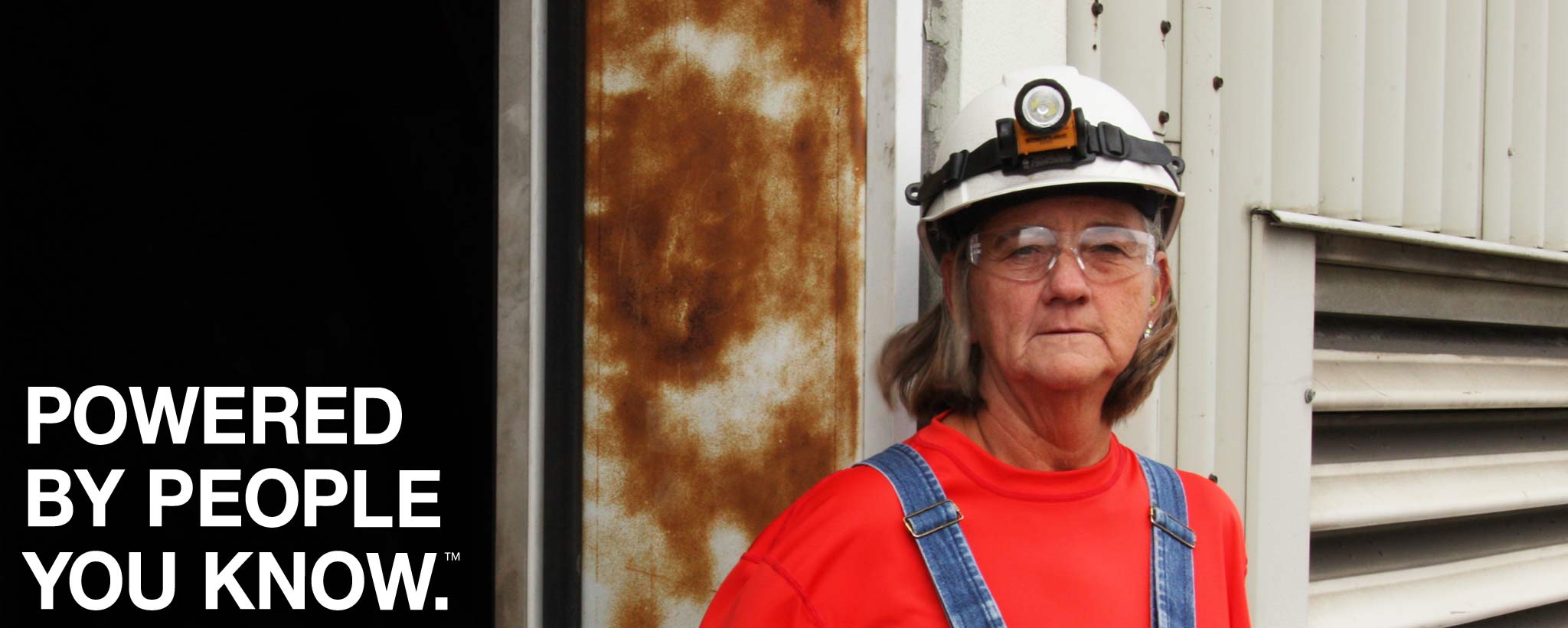 Joyce Morel
Laborer Foreman | Bull Run Fossil Plant | Clinton, Tenn.
Joyce Morel is a Bull Run laborer foreman, whose resume has been forged with hard work and pride. She's made a living doing jobs that many other would hesitate to do, like working inside a partially flooded iron box with Tennessee River eels swimming around her.
"I've been lucky," she says, grateful and sincere. "I'm happy with where I'm at."
Tough Jobs
Morel started working when she was 11 years old. She took a job standing on two milk crates, as she hovered over a restaurant sink washing dishes for $1 an hour. Later, she made boots and sewed the leather patch on the back of blue jeans, until both Waverly, Tennessee, factories were closed in the early 1990's.
In 1993, Morel was given the opportunity to go to work for either DuPont or TVA's Johnsonville coal-fired power plant, which was retired on Dec. 31, 2017. She chose TVA, and began serving the people of the Valley through work that reduced emissions and kept power costs low for the 10 million people living in the region.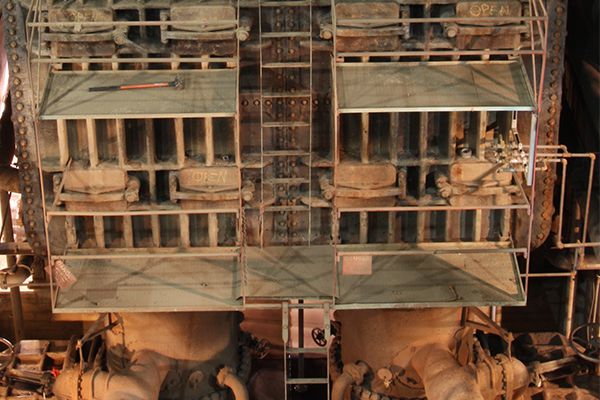 Johnsonville condenser waterbox
While most were asleep in their beds, Morel and her colleagues spent countless winter nights standing in tiny cold rooms full of shad and muck that was pumped from the river bottom. One wall inside each room looked like a giant slice of Swiss cheese with exactly 10,000 nickel-sized holes.
The holes were the beginning of 30-foot condenser tubes, which were stuffed with fish parts, that Morel and her team spent hours unclogging. They used powerful water guns that shot bullet-shaped brushes through the tubes to clean them.
With the tubes clean, the units could be returned to full load at maximum efficiency.
"We always had to wear full-body paper suits to keep from getting bit by these little red worms that were always around us while we were working," she says.
Black Diamond
Another job that honed Morel's work ethic over the years was removing Appalachia-coal slag from unit furnaces. Morel and her coworkers nicknamed the coal "Black Diamond," because as it burned it created shiny, cratered slag that stuck to tubes inside the fireboxes and continued to build until a unit outage. The rock-hard slag insulated boiler tubes and forced unit operators to add more fuel to maintain the same amount of steam that turned their turbo-generators.
Once the units were offline, a 12-gauge shotgun and dynamite were used to shatter school bus-sized slag deposits into bucket-shaped boulders that Morel's team manually hauled out of the furnaces one at a time.
"Those were long, hard days," she says. "It took forever to throw those things out, but you had to get 'em."
With the slag removed, emissions decreased and the units returned to maximum efficiency.
Coal-Blooded Grandmother
"I guess I'm just coal-blooded," Morel says. "I got this job because of my willingness to work hard and be a leader."
When asked why she keeps going, Morel smiles, and points to the Austin Peay State University engineering and technology poster pinned neatly to the Laborers' breakroom bulletin board.
"My granddaughter's the one in the middle," she says, as she looked at the young brunette with a perfect smile, centered in the photo.
"If I didn't work for TVA, they probably wouldn't be in college right now," Morel says, referring to both her granddaughter and Army veteran daughter, who are currently working together toward their bachelor's degrees. She also talks about her grandson who is working in construction—the same field in which Morel's TVA journey first began.
"I don't have any regrets. I've shared every heartbreak, every success and every journey with my family."
One difficult experience came last New Year's Eve, when Johnsonville power plant was officially retired. Morel was one of the employees gathered in the control room as the last unit came offline.
"There were people laughing, people crying; then, it just went quiet," she says.
After the Johnsonville retirement, Morel was transferred to Bull Run with a fellow coworker. To help with the added expense of working away from home, they share an apartment near the plant, work their shifts and then commute four hours on off days to reunite with loved ones.
Giving Back
Retirement is still a few years away, but for Morel, the approaching capstone is bittersweet. Her straightforward personality and hardened callouses still aren't thick enough to hide her heart from others. She is quick to talk about the generosity of her coworkers and the philanthropic opportunities she feels honored to have helped with throughout her TVA tenure.
Whether it was at Johnsonville or Bull Run, Morel says the kindness of her TVA co-workers is always the same. Through scholarships, fundraisers, benefits and toy drives, plant employees are constantly pooling their resources to help serve the community.
"Of all the things I've been fortunate enough to be a part of with TVA, I'm most proud of our community outreach and all the good we've been able to do," she says. "The opportunity to give back, and then look back and see how that's benefitted others is priceless. That's the kind of thing I wish TVA would talk more about. That's what I'm going to miss the most when I leave here."
Until then, however, Morel will continue to serve others with the same attitude she has always brought to work every day—"a new adventure tomorrow, and a job well-done today."
Meet More People You Know
Meet more TVA employees, and learn about some of the fascinating ways they serve the Tennessee Valley through their work in energy, environmental stewardship and economic development.
They're your friends, your family, your neighbors. Get to know them.