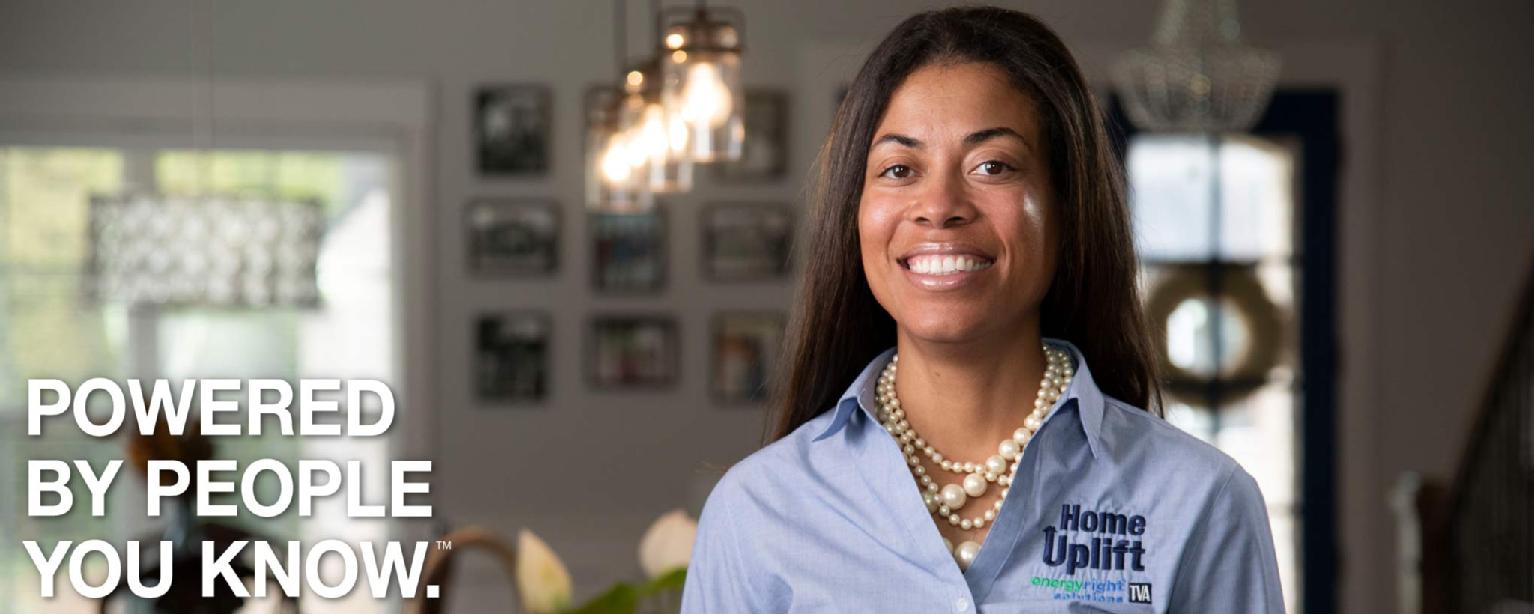 Julia Settles
Program Manager, EnergyRight® for the Home | Nashville, Tenn.
When Julia Settles throws a party, she goes all in. We're talking a block party with plenty of grilled hamburgers and hotdogs with all the fixings, a snow cone truck, inflatables for the kiddos, gifts for one and all and a visit from the mayor. Heck, she even gets a beautification effort together to set the stage first.
Or, at least that's what she did recently when TVA and NES hosted a celebration of the 200th home weatherized through the Home Uplift program, which aims to give a leg up to those who suffer high energy burdens due to limited incomes. All of Rowan Drive in Nashville's Haynes neighborhood got to celebrate the good fortune of Frank Offutt, recipient of the honor, who — along with lasting memories from the party — will now enjoy a reduction of 25 percent or more on his monthly energy bill thanks to about $8,000 worth of energy efficiency upgrades to his home.
"Phew, I'm not an event planner, but I got a real education in the art with that party," says Settles. "But it was really worth it — a great event for a good cause. The whole neighborhood really came out. And we got to give out self-audit kits, which include weather stripping and LED lightbulbs so people can make positive changes in their homes themselves."
Change Agent Changing Lives
That last bit is important to Settles — asked to describe herself in three words, she offers these: "Giver, doer and change-agent."
That just about sums her up, and its right in line with her work, which is about helping people — and helping people help people. She's good at making connections, as she did with the Home Uplift event, enlisting help from Home Depot, the energy empowerment organization CLEAResult, Goodwill Industries and American Home Shield. She also recruited an all-star speaker line-up that included Nashville Mayor David Briley, TVA President and CEO Jeff Lyash, Nashville Metropolitan Development and Housing Agency Director Jim Harbison, NES President and CEO Decosta Jenkins, and Energy Right Vice President Cindy Herron. These and other speakers emphasized working together to uplift those in need.
Settles has pointed those skills toward a new pilot program for EnergyRight: The Building Futures Workforce Development Program. "When we started doing the Home Uplift program, we realized there was a real need for minority contractors within our Quality Contractor Network, which trains contractors to perform the work," Settles says. "So now we partner with Tennessee Urban League Affiliates and technical schools in Memphis, Nashville, Knoxville and Chattanooga to train minority contractors to do air sealing, attic insulation and duct sealing."
Classes are available for existing contractors, but are also open to newbies, Settles notes. "We are training people new to the business, particularly those coming out of high school who may not be interested in a four-year degree but have the aptitude and interest for a technical vocation."
The training starts with three days of classes on self-awareness, attitude, resolving conflict, time management and communications — all developed by the Urban League. Then begins six to eight weeks of technical training provided by TVA in partnership with AmeriCorps, Goodwill Industries, the cities in which trainings take place, and others. "As the program grows, we continue to meet new people to enhance its value," Settles says.
Her fondest hope? To see the program continue. "These aren't just jobs," she says. "These are life-changing careers."
People Person
Settles came to TVA five years ago when her family moved from Chattanooga to Nashville to follow her husband's job. After earning a master's in industrial engineering, she'd spent her career at the Electric Power Board (or EPB) in Chattanooga as a key customer engineer, managing large industrial clients. Her job involved cooperating with many TVA employees, including power utilization engineers, rate analysts and Economic Development pros.
That latter group came in handy when word got out that Settles was about to move. "I was sitting on the beach when Economic Development reached out to me about a job working in the Investment Credit program," she recalls.
She worked there for two years before transitioning to her current job in 2016 "I love it — I'm more of a people person, and now I am interfacing with people every day rather than sitting behind a computer," Settles says. "I'm serving the people of the Valley directly, and that is what TVA is here to do. I am directly living the mission. When someone can't afford a new HVAC unit and you can help them get one, that's rewarding."
The Lit-up Life
Still, in a lit-up life, what Settles is most enthusiastic about — and challenged by — is parenthood. "I'm a working mom with two girls – Jahla, 7, and Jaia, 4 – and I have to say that balancing their careers with mine can be a real challenge," she says. "They both have their own calendars and Rolodexes. They're both very active in soccer, playing for Tennessee United, which is a traveling team. They also swim and do ballet."
The lives of she, husband Jatari and dog Jax revolve around the girls. "We don't really have time for our own interests right now — their interests have become ours," she says. "But I have to say that whereas I didn't understand soccer at first, now I do. It's fascinating."
But somehow, Settles keeps it all in balance, serving the Valley and her family with commitment and passion, chanting her personal mantra all the while: "I like to be busy."
Meet More People You Know
Meet more TVA employees, and learn about some of the fascinating ways they serve the Tennessee Valley through their work in energy, environmental stewardship and economic development.
They're your friends, your family, your neighbors. Get to know them.