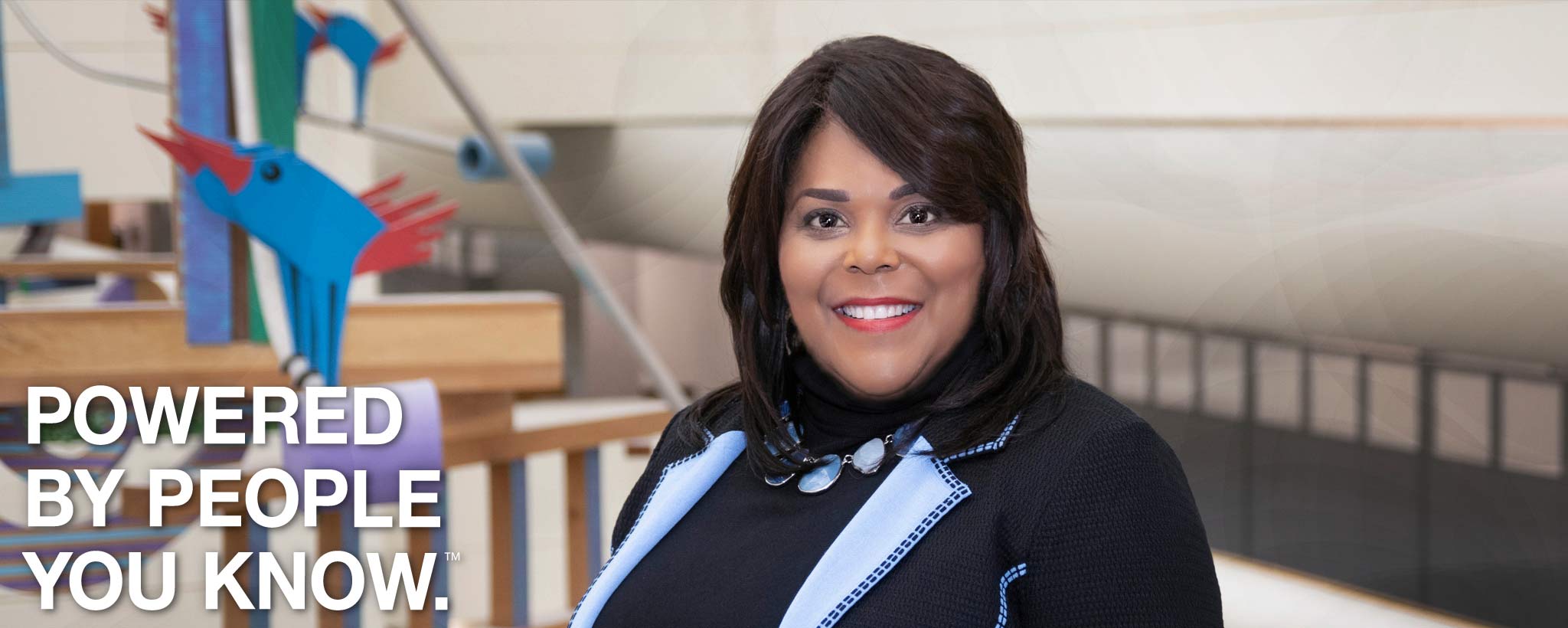 Karen Officer-Bell
Senior Project Manager | Chattanooga, Tennessee
Civil projects is the name, project management is the game. And no one knows that better than Karen Officer-Bell, a 26-year TVA employee and senior project manager in Generation Construction, Projects and Services & Facilities Management.
Officer-Bell has dedicated a significant portion of her career to managing projects at TVA's dams and, most recently, fossil plants, where she manages TVA's coal ash dewatering program—an effort that helps ensure Valley residents won't be exposed to another ash spill.
High EQ
While a knack for planning and organization is a key to her success, there's something more important when it comes to getting her job done well and working as a team.
"The most important skill for me is emotional intelligence," Officer-Bell says. "I'm successful when I'm able to influence people to do their best work in support of a common goal or objective. I have to read people's emotions and assess their needs. Project management is more than defining scope, creating a project plan, developing a schedule and managing a budget. To succeed in today's work environment, you must be able to develop personal relationships, team build, and influence, collaborate and negotiate—often in a very complex environment."
Officer-Bell says respect is also paramount when leading projects. "I'm always cognizant of joint project team members' competing priorities. It's my responsibility to ensure project schedules are met and work is performed within budget. I have to determine the best way to encourage people to fulfill their commitments while being sensitive to others' challenges. There's an art to showing empathy while encouraging people to perform their work."
A Day in the Life
No two days in the office are the same for Officer-Bell. "I always say project managers live in a world of managed chaos. On calm days, I spend a lot of time planning projects, which is a very detailed process," she says. "Currently, several of my projects are in the construction phase, so I interface with the joint project teams typically by telecoms. The construction managers provide updates and we work through challenges together."
The projects she refers to are significant not just to TVA, but also to the environment. The massive dewatering facilities at key fossil plants that Officer-Bell's team is constructing cost in excess of $50 million per project. This honors TVA's commitment to close all wet impoundments containing coal combustion residuals by converting to dry disposal, and ensures TVA continues to be a good corporate citizen.
"My current work directly aligns with TVA's mission of protecting our environment, while ensuring we produce the cleanest energy with the latest technology at our fossil plants," says Officer-Bell. "I'm proud to be part of a company that does a great job of constantly balancing business demands with environmental needs."
Beyond the Office
Officer-Bell has many accomplishments, but she's proudest of her family—husband of 28 years, Calvin Bell, a local cardiologist, and 23-year-old son Winston. "They're really good people. I'm proud that they're kind people with great moral compasses."
Family excursions include visiting hunting lodges across the Southeast. "They get me up at the crack of dawn, we eat breakfast and then we hunt for the majority of the day. It's a lot of activity and camaraderie. My husband and I want to create great memories to enrich our family. I'm glad they finally talked me into joining them," she laughs.

She's also a mentor, role model and cheerleader for young girls, and as such Officer-Bell participates in various activities across the Chattanooga community. She co-developed a work initiative called TVA/Chattanooga Girls Leadership Academy Exposure Partnership, whose objective is to expose approximately 15 students each month during the school year to major TVA work areas through site visits, interactive sessions, discussions and more.
"I'm inspired to work with girls because many young women get stuck in unfortunate situations, often related to lack of financial and educational preparedness. I work with girls to help prepare them for their future. I've been very fortunate and I have a responsibility to help young women succeed."
Meet More People You Know
Meet more TVA employees, and learn about some of the fascinating ways they serve the Tennessee Valley through their work in energy, environmental stewardship and economic development.
They're your friends, your family, your neighbors. Get to know them.