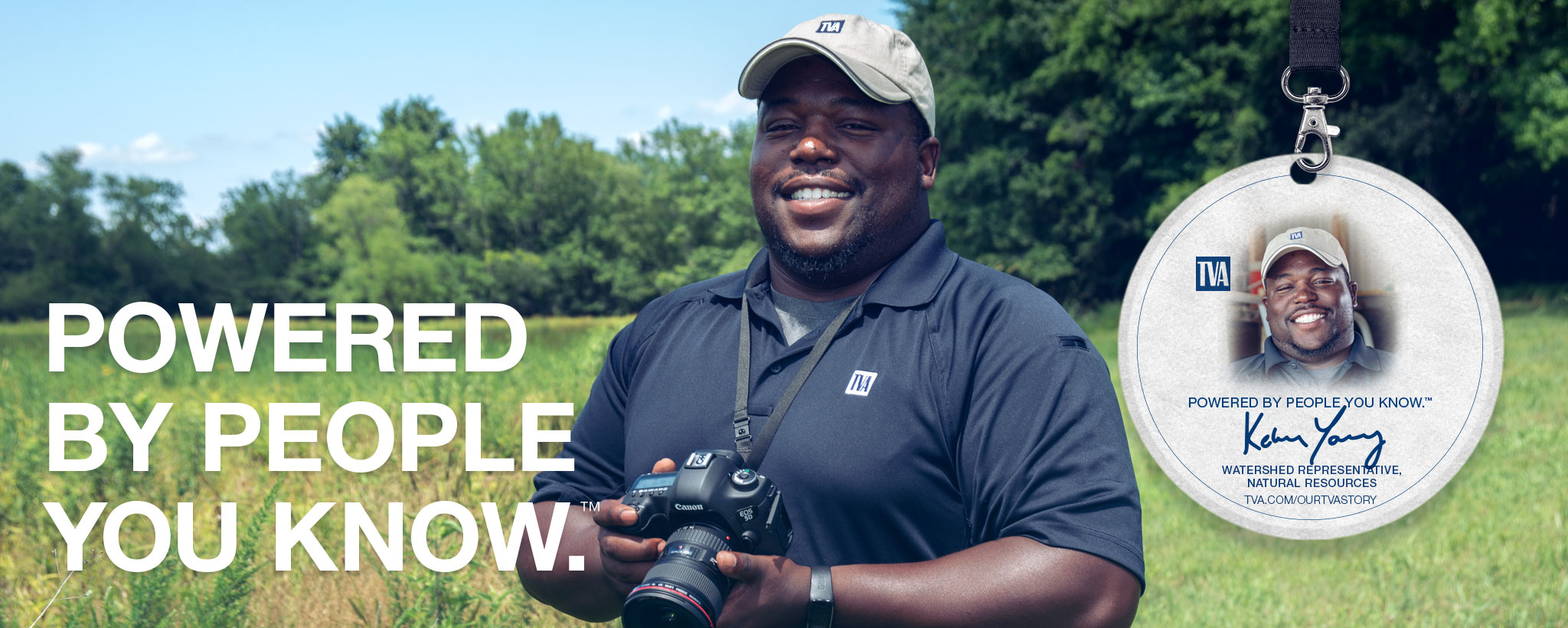 Kelvin Young
Watershed Representative | Paris, Tenn.
For Kelvin Young, being outdoors is everything. "My dad taught me to fish when I was only two or three years old," said Kelvin Young, "and I've been in love with it ever since." That ongoing love affair with being out on the water is what makes Young happy, both in his personal life and his professional life.
That's a good thing, as his job requires him to be outdoors nearly all the time. As a watershed representative with Natural Resources for TVA, he helps to manage the public, undeveloped land around Kentucky Lake—and every day is different. "My job is very diverse and involves several natural resource activities," he explains. "That could be anything from prescribed burns, to assessing danger trees that might fall, to recreational enhancement projects on the reservoir. Sometimes we assist with bat count surveys—we count the bats coming out of the caves on our reservoirs."
And there's more. "Every year we conduct land condition assessments," he says. "That involves taking a close look at the land for various things like violations and encroachments, the condition of the boundary lines, unauthorized usage, vegetative impacts, and wildlife habitat. We take a parcel and look closely at the whole ecosystem and we log it into a database. This job helps me be a good steward of the land by caring for the land."
It's a big job, but he can easily point to his favorite part of it: "Not being tied to a desk. I work around the water and on the water, and I like that a lot."
At Home in the Valley
Young came to TVA a few years ago from the United States Forest Service where he was a forester and wild land firefighter working out west. Those giant wildfires weren't just stories in the news to him; he was there. But being originally from Alabama, he was eventually drawn back to the South.
Like many from the region, TVA touched Young's life before he ever came to work here.
"When I lived in Huntsville, Ala., and went to grad school, I was in a bass club and fished Guntersville and Wheeler reservoirs frequently," he remembers. "I didn't know anything about TVA, about the land it owns and manages, and now some of those same areas where I used to fish, I've actually walked the shores of those lands as an employee of TVA."
A member of the Montgomery County Bass Club out of Clarksville, Tenn., Young goes fishing almost every weekend and participates in tournaments (he's won one). He and his wife Jasmine had their wedding ceremony at Lake Guntersville State Park.
Young doesn't have to think about the TVA value of stewardship. He lives it every day, whether he's on duty or off.
"Everyone has their niche for a job and career," he says. "There are those people who like to be outside and take care of the land. We're the type of people where if someone throws litter on the ground, we're going to stop and pick it up. I'm one of those people."
Young says he feels connected to the Tennessee Valley in every way. "I attended college, got married, and lived in the Valley most of my adult life. So has my wife Jasmine. It's a privilege for me to not only work for TVA but to also call the Tennessee Valley my home."
Meet More People You Know
Meet more TVA employees, and learn about some of the fascinating ways they serve the Tennessee Valley through their work in energy, environmental stewardship and economic development.
They're your friends, your family, your neighbors. Get to know them.