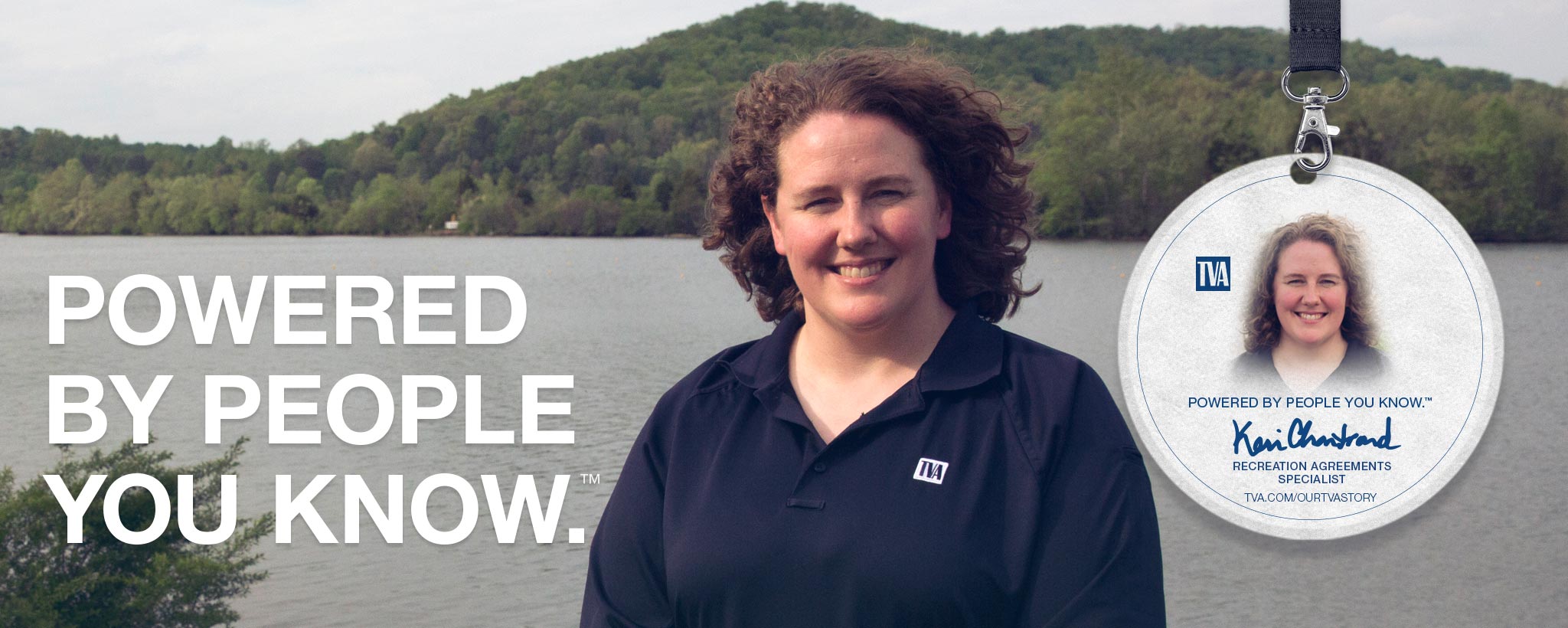 Keri Chartrand
Recreation Agreement Specialist | Lenoir City, Tenn.
"I'm a recreation enthusiast, a former champion basketball player. I love to enjoy time with my family on TVA public lands. I am lucky enough to have my passion as my job."
Recreation has always been important to Keri Chartrand.
"Growing up, recreational activities and organized sports were an integral part of my daily life," she recalls. "My passion for sports led to a full scholarship playing NCAA Division 1 college basketball."
It also led to marriage. Chartrand, a recreation agreement specialist in the Natural Resources group, met her husband, Thomas, on a TVA bowling league—a sport she took up on a whim while recuperating from an ankle injury. They also enjoy playing basketball, softball, tennis, golf and volleyball together.
These days, though, most of their free time is spent enjoying family time outdoors.
"Our son Tristan is seven, and our daughter Kyla is four, so our activities revolve around them," Chartrand says. "They love to play outside, swim, ride bikes and go on picnics so that's what we do. Thomas and I are looking forward to doing more hiking and camping as they get older."
For Chartrand, recreation isn't just good for the body. It's good for the soul.
"Whether it's playing organized sports or family time outdoors—recreation has a way of connecting us to each other and to the natural world," says Chartrand. "It heals. It comforts. It refreshes the spirit. That's why I love my job. I help to make those connections. By working with our partners to provide quality outdoor recreation opportunities on TVA's public lands, I give others the chance to enjoy the benefits of recreation that are so important to me personally."
Fun for All
Chartrand is part of an eight-person team responsible for managing TVA's agreements and permits with the public and commercial entities that operate marinas, campgrounds, parks and other recreation-related facilities on TVA-managed property.
"We're the face of TVA when it comes to developed recreation," she says. "In our interactions with the public and in forging relationships with our cities, counties and state agencies, we have an opportunity to build TVA's reputation. "
Moreover, Chartrand wants to provide others with the same kinds of positive recreation experiences she's had: "Many of the people I meet may only know TVA through our contact, so I want to give them a positive experience. Working with the public reminds me daily that I'm here to promote quality recreation opportunities for the people TVA's reservoir system was built to benefit."
Chartrand covers nine reservoirs, including Fort Loudoun/Tellico, Fontana, part of Watts Bar and six mountain reservoirs in North Carolina and East Tennessee. Her job is a big one, and requires a single-minded commitment. "In a single day, I might go out and assess conditions at a campground; discuss a recreation agreement with a commercial operator; evaluate a request from a marina for a permit to add slips, do some dredging or deal with an erosion issue; meet with a county official to discuss a new courtesy pier or boat ramp; or take any number of calls from the public about recreation opportunities in the area."
A Tradition of Service
Chartrand credits her mom and dad with molding her commitment to service.
"My mom worked at Oak Ridge Hospital for 30 years, and my dad worked at the K-25 and Y-12 plants at the Department of Energy's Oak Ridge Reservation for 37 years," she says. "They worked hard every day and were committed to family and service. I never saw my dad's office or knew what he did on a day-to-day basis. But I knew he was helping to protect our country, and I was proud of that.
"Dad developed kidney cancer several years ago. He had to have a kidney removed, but he's currently cancer-free. What he's gone through has given me a new appreciation for the sacrifices he and others have made for the greater good of our region and our country. I want to honor those sacrifices."
Chartrand says her TVA teammates also are an inspiration to her.
"You won't find a more dedicated group of people," she says. "It's a lot like some of the winning basketball teams I've played on. We support each other. We bring out the best in each other.
"When you work with people you enjoy spending time with, when you're doing something you believe in, work becomes purposeful and something you look forward to doing every day. I take a few minutes every morning to be thankful that I'm able to come to work at a job I love and provide an important service to the people of the Valley."
Meet More People You Know
Meet more TVA employees, and learn about some of the fascinating ways they serve the Tennessee Valley through their work in energy, environmental stewardship and economic development.
They're your friends, your family, your neighbors. Get to know them.