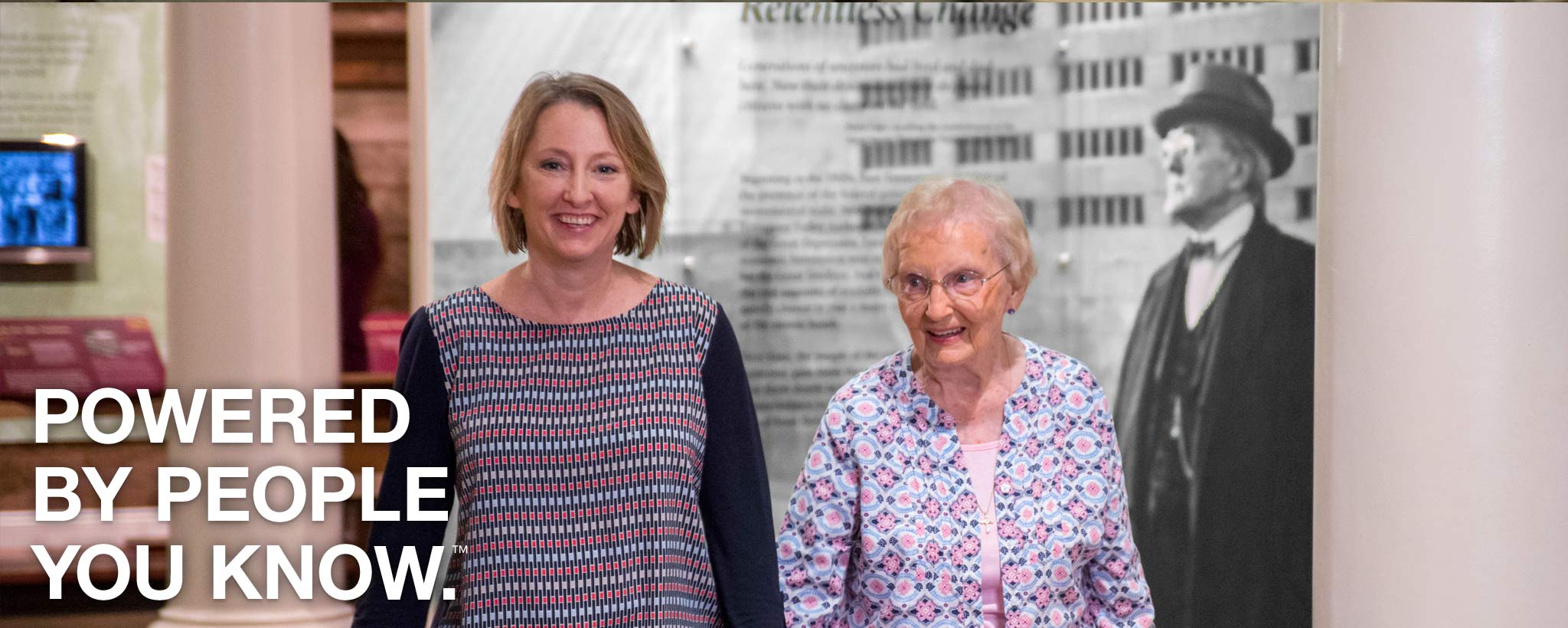 Kim Curl
Power Customer Contracts | Knoxville, Tenn.
One of Kim Curl's favorite quotes is from Sir Isaac Newton. In a letter to a colleague in 1676, Newton wrote, "If I have seen further, it is by standing on the shoulders of giants."
"To me, 'standing on the shoulders of giants' means discovering truth or making progress by building on the discoveries and contributions of people who have gone before us," says Curl, a member of TVA's Power Customer Contracts group.
Newton's words resonate with her in part because of her family history, she explains.
"My husband Zac is a master carpenter. We have two school-aged girls, Sidney and Valerie. We love hiking together and look forward to camping together, too."
"I come from a long line of East Tennessee settlers. My grandparents on both sides were hard-working, fiercely independent people who struggled to make a living and get ahead. They sacrificed so that their families and communities could progress. I am a direct beneficiary of what they accomplished so that my generation could go further."
Changing Women's Lives
Curl is especially inspired by her grandmother. "It's hard for me to imagine my grandmother's life. Like many of the young women in those times, she was a bride at 18 and a mother at 19. More children came along, and she recalls spending hours over a washboard cleaning clothes."
That was during World War II, Curl says. "Metal was being rationed, and washers weren't readily available. After the war, when the metal rationing was lifted, my grandmother was finally able to get an electric washer thanks to TVA's effort to help Valley residents purchase electric appliances.
"A new washing machine isn't a big deal today, but my grandmother will tell you that, for her, it was a game changer. It gave her a chance to spend her time on more meaningful work—like teaching her kids and working outside the home to supplement their income."
Curl credits the change to the electricity TVA brought to the Valley. "It changed women's lives," she says. "It made getting an education and moving into the workforce an option for more women. What I've been able to do in my life, I've done standing on the shoulders of my ancestors."
Finding Her Way
Curl describes herself as "a late bloomer."
"I didn't start out with much of a career plan," she says. "I earned a bachelor's degree from the University of Tennessee at Knoxville in Environmental Sociology and then just took advantage of opportunities that came along, first at a solid waste composting company, then in financial services and commercial real estate.
"I was working with lawyers negotiating real estate leases for a book retailer when I got interested in law and decided to go back to school. I graduated from the University of Tulsa College of Law in 2006. Two years later, I got married. My husband and I wanted kids so we decided to move back to Knoxville to be near family. A friend told me about a job opening in the Power Contracts group at TVA. The hiring manager was looking for an attorney with an environmental background, and I got the job."
It was, in short, a perfect fit. "Until then, my education and career experience seemed so random. Who would have thought that it would all culminate into one job?" Curl asks. "But it all came together—my environmental sociology background, my financial services experience and my legal training—when I got the job at TVA doing power contracts."
Carrying on the Tradition
Until recently, Curl managed the Power Customer Contracts group, which writes and administers contracts for TVA power sales to local power companies and directly served customers. The group also handles contracts for TVA programs aimed at attracting new industry, promoting energy efficiency and renewable energy, and providing other benefits to the Valley.
Currently, Curl is on a rotational development assignment focused on facilitating unique commercial opportunities and transactions. As an example, she points to the partnership effort to attract a Google data processing center to the Valley. "Google chose to locate their next data center at TVA's Widows Creek site in Alabama in part because TVA is able to help them accomplish their objective of ultimately being powered with renewable energy."
The way Curl sees it, her group is carrying on the TVA tradition of making life in the Tennessee Valley better.
"The TVA 'giants' that came before us built dams that made the Tennessee River navigable and generated the power that brought progress and opportunity," she says.
"That changed the lives of the people in the Valley. Look at the change for women in my family over just two generations. My grandmother washed clothes on a washboard, and today, because of TVA's impact on my family, I am well-educated with stable and beneficial employment. Now, I'm helping to bring new opportunities to the Valley as part of TVA's Power Customer Contracts group.
"What a difference a couple of generations can make!"
Meet More People You Know
Meet more TVA employees, and learn about some of the fascinating ways they serve the Tennessee Valley through their work in energy, environmental stewardship and economic development.
They're your friends, your family, your neighbors. Get to know them.