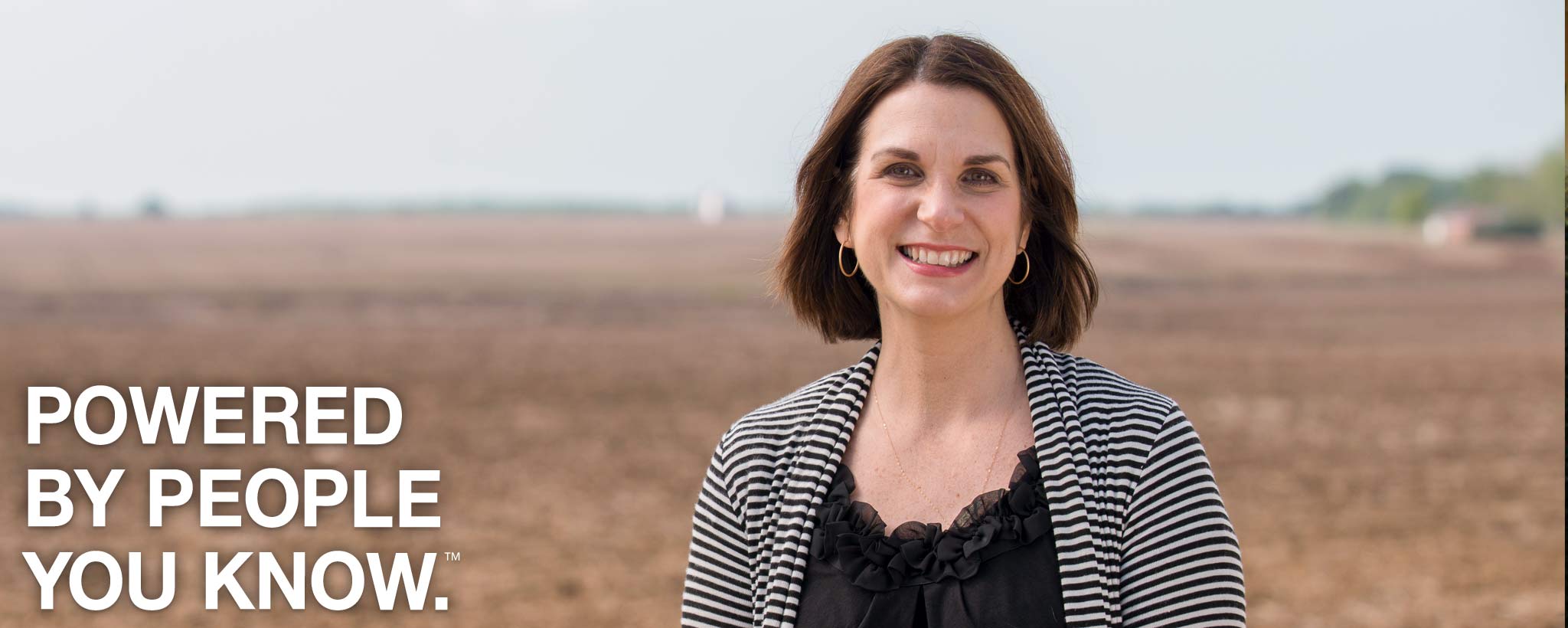 Kristi Brown
Regional Economic Development Consultant | Starkville, Miss.
If you had to pick one word to describe Kristi Brown, "passionate" wouldn't be a bad choice. "Persistent," "responsive," "competitive" and "driven" would also be strong contenders. And those are all the right adjectives for a regional field representative inside TVA's storied Economic Development organization, which year after year delivers billions of dollars in direct investment and thousands upon thousands of jobs to the Tennessee Valley.
Brown covers 16 counties in Mississippi—including the much-vaunted Golden Triangle (Lowndes, Oktibbeha and Clay counties), which has gained national attention as a recruiting hotspot in advanced and aerospace manufacturing.
"Whenever we are talking about bringing a big company in, it's a team approach," Brown explains. "On a daily basis, I work closely with local economic developers to ensure they are as competitive and prepared for that prospect visit as they can possibly be. During a site visit, I serve as TVA's representative, along with the local power company, state partners, and any other relevant team members who can help understand what the prospect will need in order to do business here."
Her primary job is to field any energy-related questions. "Often I come away from those initial meetings needing to find out additional information for the client," she says. "ranging from estimating costs that may be associated with upgrading transmission assets to determining incentives to providing sample bills."
Facilitating Success
Brown admits that she may not always know the answers…but she knows the people who do: "I am a generalist, but when it comes down to dotting i's and crossing t's, I have to bring in the necessary experts, whether its engineers or transmission guys. I connect the dots to put the people together who can solve the technical problems."
Her enquiring mind helps. "I have to know where to go to get the answers and be willing to ask the questions," she says. "Being able to listen to the client and anticipate their needs is important because I ask questions related to energy requirements even the prospect may not think to ask—but will need to be answered down the road."
Brown describes her territory as diverse, in that it includes rural areas, as well as cities such as Starkville (home of her alma mater, Mississippi State University) and Columbus—both situated in the Golden Triangle. "Part of the region's appeal to manufacturers is the proximity to MSU, East Mississippi Community College and the University of Alabama," she says. "These schools are a workforce pipeline, and can provide the workforce, such as engineers, they need to thrive in the region."
In addition, TVA has an available TVA Megasite in the area—that is a ready-to-go, 1,000-plus acre site with infrastructure in place, in proximity to roads and railways and immediately available to host a large manufacturer. (TVA consults with McCallum Sweeney in certifying these sites. TVA Megasite customers elsewhere in the Valley include PACCAR, Steel Dynamics, Volkswagen, Toyota (Mississippi), Toyota Mazda (Alabama)and Google (Clarksville.)
But smaller, more rural communities are not overlooked in Brown's territory. "I have a strategic plan on each of the communities I represent," she says. "In conjunction with my teammates, we are always facilitating training sessions designed to help make smaller communities become prepared and competitive. As a registered corporate coach, I provide resources and accountability to many of my developers, which helps them be more strategic and ultimately more successful."
Carrying on the Tradition
Brown has long been in economic development; she owned her own marketing firm, helping others to develop strategic plans and offering business coaching. She worked for the Starkville Chamber of Commerce as its director. But when she saw an opening at TVA eight years ago, she jumped at a chance to play a bigger role in history.
"TVA has always been a significant advancer for the region," she says. "Our reputation precedes us, and it pushes me to want to be a part of the story. I am following in the footprints of all those who came before me, and I want to leave a footprint, too. I want to know that I've changed a community's trajectory for years to come."
Of course there are challenges, chief among them, time. "There is never enough time in a day," Brown says. "Sometimes because we do excel at being responsive, there can be an expectation that we can turn things around on a dime. But often projects require talking to many departments in TVA. We move fast, but we can't just magically produce an answer. Providing power to all our customers involves many in our company who have much to consider."
But there are also rewards. "I value the encouragement we get about the amount of difference we are making," she says. "I get the affirmations that I need to buy into what I'm doing and to understand what the vision is—you don't always get that in your career."
Personal Goals
Brown is deeply committed to personal development. "Having a heart for leadership means being willing to advance yourself," she says. "I have a coach outside TVA. She is a side mirror on the vehicle of my life, and she helps me get into the lane where I need to be and stay there."
In quieter times, she writes, and has authored a well-received book, "To Walk on Fertile Ground," which she says "is about my personal experience of living through years of infertility and learning to thrive beyond that."
Her little family consists of her husband, Steve, and a new golden Labrador puppy named Honey. Together, they turkey hunt, a sport at which—surprise—Brown has excelled. "Any true turkey hunter will know this: I have taken the World Slam of turkey hunting. That means I have gotten all six sub-species of wild turkeys—four of them are in North America and two are in Mexico."
Still, that thrill is nothing compared to the one she gets at work. "I consider what we do at TVA Economic Development to be important to the global economy," she says. "You have to stay on your game and be willing to change and adapt to stay on the cutting edge. It's an honor and a lot of fun to be part of it."
Meet More People You Know
Meet more TVA employees, and learn about some of the fascinating ways they serve the Tennessee Valley through their work in energy, environmental stewardship and economic development.
They're your friends, your family, your neighbors. Get to know them.