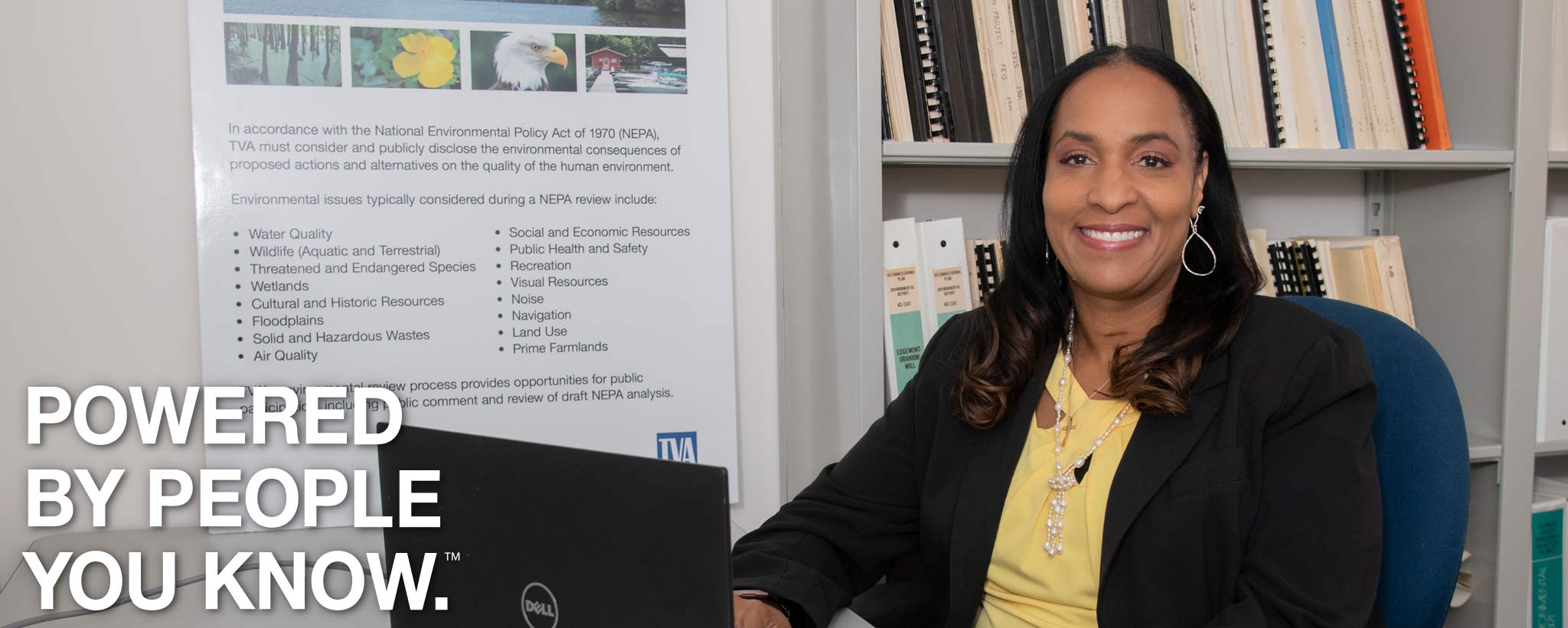 Lana Bean
Manager, National Environmental Policy Act Program | Knoxville, Tenn.
To call Lana Bean a steward of the Tennessee River system seems a little underwhelming. She's spent a quarter of a century on the team helping to manage its flows — moving water to prevent floods, maintain power generation and provide recreation across the region, all while preserving diverse aquatic eco-systems.
So why would she step away from that? To become even better at managing the resources she cherishes.
Bean was fresh out of college at The University of Tennessee when she began her 27-year career with TVA. After spending more than 25 of those years in TVA's River Management, she accepted a rotational assignment managing TVA's National Environmental Policy Act (NEPA) Program.
"Water is my heart," says Bean, who will go back to managing TVA's Water Quality Support Group, which oversees the Reservoir Release Improvement and Hydrothermal Programs, after her NEPA work is complete. But right now she's expanding her experience in the Environmental Compliance and Operations group—and gaining a knowledge base that will serve her well.
Environment First
"NEPA is a decision-making tool. Complying with it is a unique requirement we have as a Federal public utility," Bean said. "The bigger picture is that TVA wants to do the right thing for the Valley in protecting the environment, which is part of our mission of service."
Bean currently manages the TVA NEPA specialists, who play a large role in project planning. Their responsibility is to write and oversee the examination of the potential environmental effects a TVA project may have before making decisions that could affect the environment. "We have to consider air quality, climate change, cultural resources, threatened and endangered species, land use, farmland, geology, groundwater, flood plains, environmental justice, social issues, wetlands, vegetation…the list goes on and on. There are a lot of things to consider."
Bean points to the fundamental connection between TVA's NEPA work and its focus on water management and quality.
"At the end of the day it's all about caring for the environment," she said. "While caring for TVA-managed waters is one of NEPA's focuses, I've learned so much more about what TVA does under NEPA to ensure we keep our environment and natural resources as pristine as possible for future generations."
A Diverse Mindset
When choosing where she'd land after college, Bean was torn. There was a job opening with an oil company in Louisiana and a job at TVA. The tiebreaker? Diversity.
"TVA seemed more diverse and I felt more comfortable here and was able to meet people from all over. As an African American woman, sometimes it's difficult to look around and see other people like me, but even in the 1940s, TVA was hiring African American chemists and laborers. That's important to me."
Diversity of backgrounds, perspectives, ideas and expertise is also important, said Bean.
"My current group brings such a unique diversity of thought to the table. They have different education, different experience at other federal agencies and different backgrounds, yet we all come together for an overarching environmental purpose," she said.
Regardless of where she's focused her talents for TVA over the years, Bean has enjoyed many career highlights, noting that some of her proudest have been team accomplishments.
In 2003, she served on a TVA team that won an Environmental Excellence Award for managing the river system and responding in drought conditions under critical power needs. In 2010, she was a member of a Hydrothermal team that won an Environmental Excellence Award for managing and forecasting water temperatures for one of the hottest summers on TVA record.
"One of the things I like to focus on in management is how we work together as a team, what our common goals are and how can we help each other to be better," she said.
Family Matters
While caring for the environment dominates Bean's efforts during the workweek, at home, her two teenage sons take center stage.
"One of my sons has high-functioning autism and because of him, I'm passionate about autism care. I think it's important that we learn and understand more about how those with autism fit into the workforce," she said.
Bean's youngest son is an upcoming senior at Bearden High School in Knoxville and is an avid boxer. Along with her sons, Bean's mother lives with the tightknit family.
"My family is a big part of my life, but TVA has been like a family too. I've been really blessed that no matter what group I've been a part of, the people are consistently wonderful. They care about what they do and they do the right thing. It may sound corny, but it's true and it shows."
Meet More People You Know
Meet more TVA employees, and learn about some of the fascinating ways they serve the Tennessee Valley through their work in energy, environmental stewardship and economic development.
They're your friends, your family, your neighbors. Get to know them.