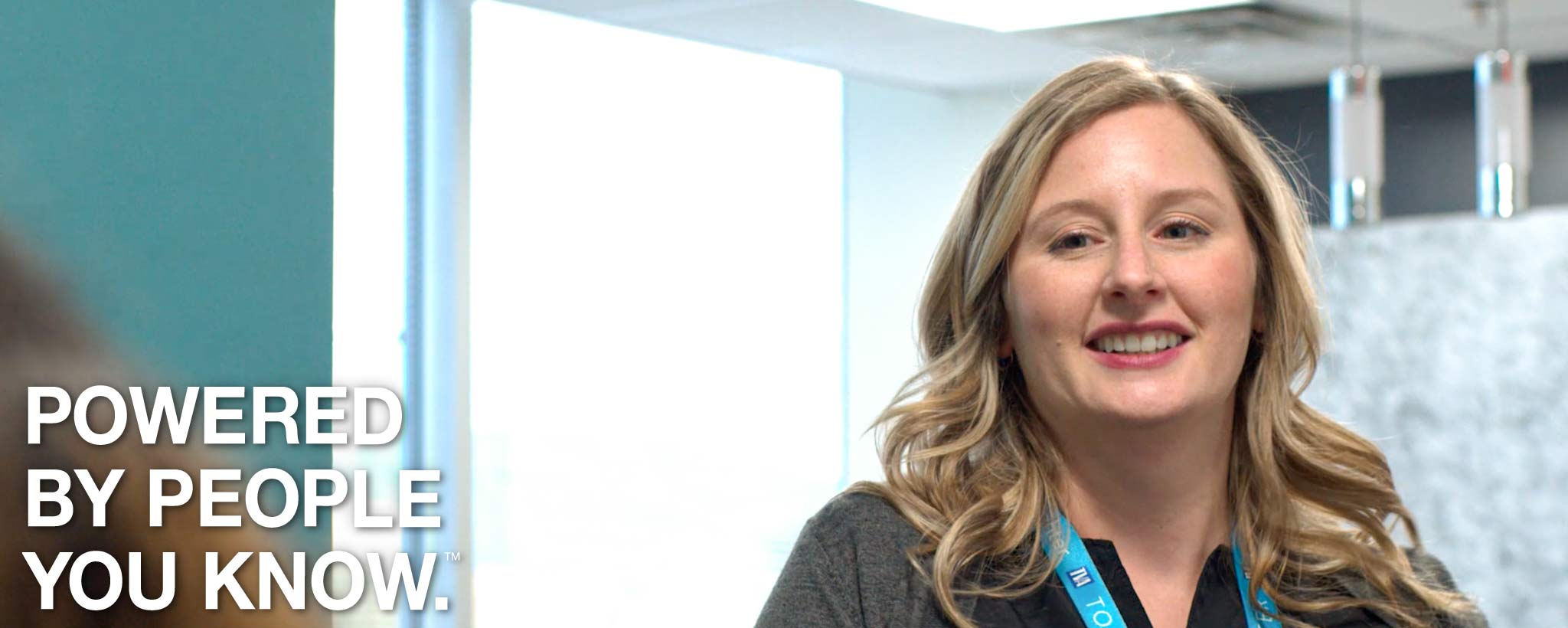 Lauren Pelto
Program Manager, Government Relations l Huntsville, Ala.
Her infectious laugh and positive attitude let you know immediately that Lauren Pelto loves people. As the Program Manager for Government Relations in Alabama, her job is to work with the Office of the Governor and staff, congressional district offices, state legislators and local officials to inform and educate them about TVA's work in the region.
"We are an active member of the community and are working every day to represent TVA by continuing our mission for improving lives in the Valley and educating stakeholders both internally and outside TVA," says Pelto.
"I'm all things state of Alabama relating to government relations. My major mission day in and out is to be an ambassador for TVA and the communities we serve, making sure our government officials have the information they need and getting their questions answered."
To build and strengthen TVA's relationship with the community, Pelto regularly meets with public officials to provide TVA updates and connects them with the appropriate TVA staff to effectively address questions regarding policies and programs. That might be directing someone wanting a boat dock permit to the local Natural Resources office, or explaining in-lieu-of-tax payments to stakeholder groups. She recently arranged a tour at Browns Ferry Nuclear with a group of local officials who were interested in the extended power uprate.
Getting the Band Back Together
Each state in the TVA service territory has a caucus of elected officials from the State House and Senate districts that TVA serves. The group in Alabama had been disbanded and until Pelto joined the company in 2016, and she immediately saw an opportunity to bring the members together to educate them about TVA's work in their district. The Tennessee Valley Caucus has about 35 members and they meet often, especially when the Alabama state legislature is in session.
Pelto enjoys the flexibility her job gives for touching all of TVA's three E's—Energy, Environment and Economic Development. "I'm a people person, and what I like best is problem solving and connecting people in the community to the solutions they need, no matter what the topic."
Within the past year, the caucus has heard from TVA executives, met with TVA Economic Development on opportunities for local communities, partnered with natural resources staff on trail updates and river management, and visited TVA plant sites for briefings.
A Chance to Spread Her Wings
Pelto grew up on a cattle and cotton farm in Madison, Alabama and studied Agriculture Communications at Auburn University. "I got my start in politics interning for Congressman Mike Rogers. His staff reached out to me at Auburn with an offer, and when I got the job I cancelled all my classes for the semester and moved to Washington, D.C. the next week!" After graduation, she returned to Washington as a staffer for Alabama's Fifth Congressional District and lived there for the next six years.
"Living in D.C. was the greatest challenge and joy of my life," Pelto says. "I loved the city. It was unlike anything I had experienced previously. There were so many people from different backgrounds and always something going on. It was very educational, you felt like you were at the center of every major issue."
But even so, home beckoned to Pelto, and when a Government Relations job came open in the Huntsville Customer Service Center, she jumped at the chance. She loves bringing what she knows about politics and Alabama together. "It's funny, people say all politics is local, and while the climate between D.C. and Alabama is very different, the issues are relatively the same and leaders want the best for those they represent."
The announcement that Toyota and Mazda would build a new $1.6 billion plant with 4,000 jobs at a TVA-certified megasite near Huntsville represented all of Pelto's worlds connecting. "We all want to help one another out, we all have the same goal—make life better in the Valley. This economic development win by our TVA partners and North Alabama leaders is huge for the entire region."
Mission Forward
"TVA's mission is my mission," says Pelto, and her mission of service extends to her community as well. She volunteers at Manna House in Huntsville, and also the Salvation Army's local shelter. She also enjoys mission work with her church. Pelto and her husband Tommy, who met while both working in Washington, are newlyweds who enjoy traveling and spending quality time with their extended family, including rescue dog Millie.
Pelto says she'd like to leave TVA better than she found it. "In some ways, I feel like TVA still has an opportunity to showcase the contributions made in Alabama. I'm helping to educate and highlight our partnerships with the communities we serve and the state as a whole."
Meet More People You Know
Meet more TVA employees, and learn about some of the fascinating ways they serve the Tennessee Valley through their work in energy, environmental stewardship and economic development.
They're your friends, your family, your neighbors. Get to know them.