Senior Project Manager, Dam Safety, Navigation and Fossil Projects | Chattanooga, Tenn.
Lawanda Hayes keeps TVA on track. As a senior project manager supporting Dam Safety, Navigation and Fossil Projects, she makes sure the projects under her purview are completed within budget, on schedule, and most importantly, safely.
"My job is pretty exciting," she said. "On a day-to-day basis, there are always different tasks to complete. Even though I may have planned what I think my day will consist of, I've learned that I have to be flexible and adapt as the day progresses." On any typical day, Lawanda's time at work may consist of conducting a weekly joint project team meeting, attending a pre-bid meeting with construction contractors, joining a series of teleconferences, visiting a site, or making sure her projects progress like a well-oiled machine.
Many of Lawanda's projects reflect TVA's commitment to keeping the people of the Valley safe and protecting the environment. Case in point: she's currently managing a $148M project at Pickwick Landing Dam to remediate the dam's south embankment. After the project's completion, the dam will be strengthened and its performance will be improved during a potential seismic event. She's also managing the Cumberland Outage Wash Project, which will ensure water quality requirements are met and TVA is compliant with the Coal Combustion Residual (CCR) Rule.
Finding Her Passion
She didn't always know engineering would be her career path, though. While she's been with TVA for 16 years, as a kid she loved to read and figure out how things work — she just didn't know how to put those passions together to form a profession. That all changed in the sixth grade, when she became involved with the Southeastern Consortium of Minorities in Engineering (SECME) Club.
"The mission of the SECME was to introduce minority students to STEM fields and encourage minorities to pursue STEM careers. Each week, we would work with industry professionals on various projects with an electrical, mechanical, civil, or chemical engineer focus," she said. "The first time I built an electrical circuit and the light bulb illuminated, my interest was sparked! I knew then that I wanted to become an electrical engineer."
In 2003, Lawanda started at TVA as just that – an electrical design engineer. After that, she expanded her expertise and worked as an electrical systems engineer, which eventually led to her current role as a project manager. "Even though the work is quite challenging and rigorous, project management is a great fit for me because of my love of meeting new people and the constant interaction with people required for the position. The most important parts of my job are building relationships, communicating, and influencing team members to work towards a common goal."
A Natural Problem Solver
Lawanda said her background as an electrical engineer makes her a natural problem solver. "I rely on many subject-matter experts throughout the projects I oversee. Since many of the projects are outside of my field of expertise, it is important that I am purposely inclusive of all team members and that I listen and ask a lot of questions to ensure the team is making the correct decisions," she said.
With a sixteen-year career — and a plethora of learning opportunities already under her belt — Lawanda says the enthusiasm she feels for her job has yet to wear off. "Seeing a project go from a conceptual idea, to full construction is very exciting to me," she said. "There is so much collaboration and planning among business units that have to occur from start to finish for a project to go well. When the team is completing the final walk down, it is a very good feeling to know I've been an integral part of the project's success."
Pride in Her Work
TVA's mission of service runs deep as a river, and for Lawanda, it's that mission that brings her pride each day. A standout moment involved a visit at local school, Lakeside Elementary.
"I went to do a presentation for a career day event. I spoke about what I did, how I became an electrical engineer and why I love my job," she explained. "After my presentation, a 5th grade girl came to me and said that I had inspired her to become an electrical engineer. She asked if she could try on my hard hat and said she didn't know a girl could do a job like mine, and that she wants to make sure there are more girls out there to help me. It was one of the proudest, yet most humbling days of my career. It made me realize that exposure and influence are imperative to success."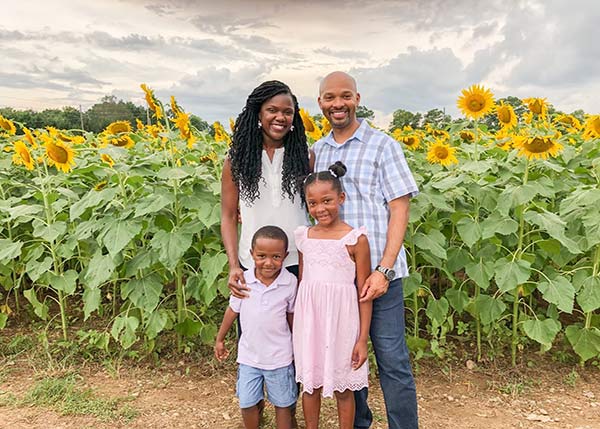 The Hayes family
This encounter led to one of Lawanda's passions, which is mentoring young people. "I find joy in volunteering to lead the team for the TVA & Chattanooga Girls Leadership Academy Exposure Partnership Program," she said. Each month, a group of juniors from the Chattanooga Girls Leadership Academy visit TVA to learn about career opportunities and to provide soft skills the girls need to be successful. "Hearing feedback from the girls about what they've learned and observing their growth continually fuels my passion to think of ways to be a helpful, positive influence."
Doing the Right Things
Both on and off the job, Lawanda is motivated to do the right things, and she takes her appreciation for safety and the environment home with her. Lawanda is married to fellow TVA employee Benjamin Hayes, with whom she shares two kids – Lauryn and Cameron.
"I'm always teaching my children to do their part to protect the environment—whether it's recycling or properly disposing of trash to keep it from entering the river."
The river plays an important role, in more than just her work life. "For fun, I really enjoy running at the Chattanooga River Park. There's just a feeling of peace and relaxation that accompanies a good run – and I'm prepping for another half marathon."
Lawanda's work at TVA is far from done, but looking toward the future she says she's already begun to think about what she'd like her legacy to be.
"One day when I retire," she said, "I would like to leave a legacy as a contributor, a positive influencer and a great mentor for those I encounter."