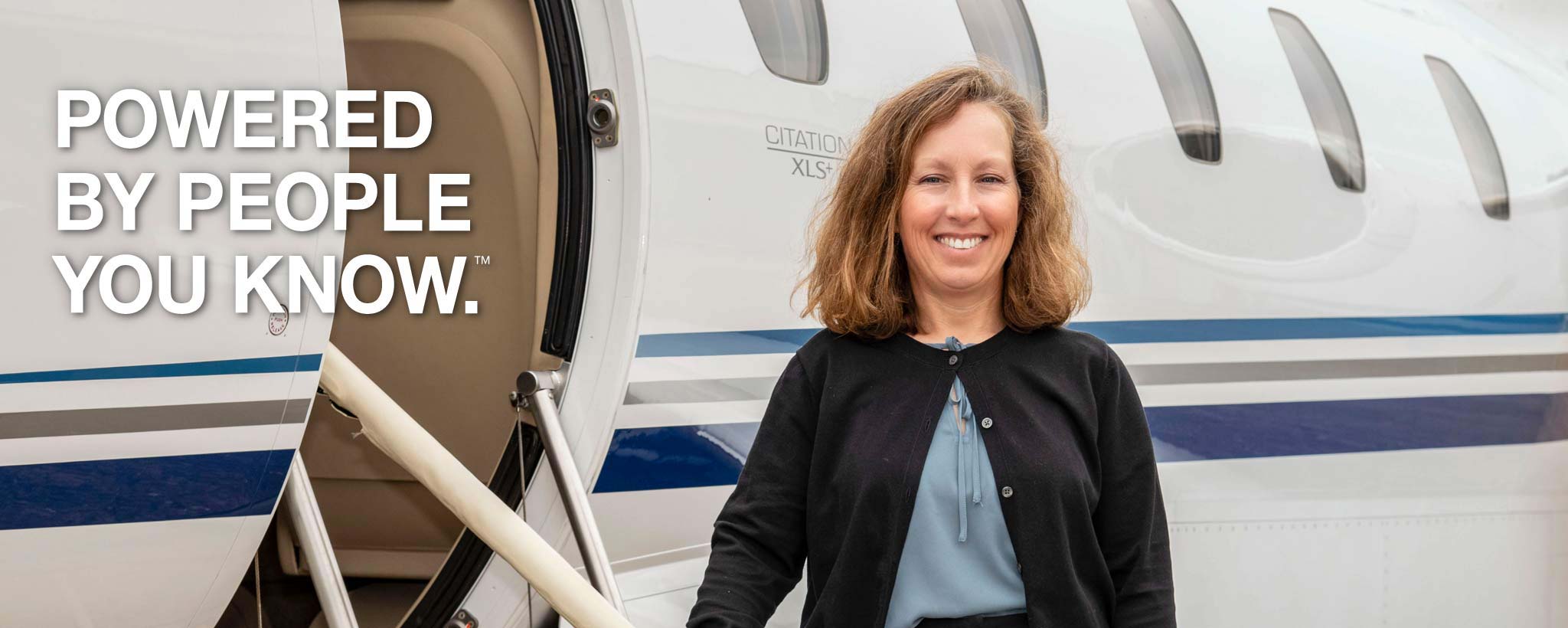 Melissa Washburn
Aircraft Pilot | Transmission Aircraft Services
"N560GJ requesting right turn to 040 for weather."
"N560GJ cleared for takeoff runway 23 left, right turn 250."
It may sound like confusing code to you, but to TVA's only female pilot, Melissa Washburn, it's clear as a blue-sky day. She spends her workdays not in an office or at a power-producing plant, but navigating the airways, safely transporting employees all throughout Tennessee and other parts of the Valley.
TVA's aviation department is divided into three divisions: UAS (TVA's drone team), helicopter and fixed wing. As part of the fixed-wing department, Washburn and her teammates act as a runway between TVA's entities — flying a Citation XLS+ and offering quick, reliable air travel for up to eight employees who are needed immediately offsite, or out of state.
"Most of the places we fly to are small, out-of-the-way areas —yesterday we were in Paducah, Kentucky, and there's no easy way to get there," she said. "We got our employees there in 45 minutes, whereas the airlines would have taken half the day. They did their work and we got them back home that same day."
The challenge, though, is clear communication and navigating storms.
"With flying, no two days are alike," Washburn said. "Often, we have to worry about keeping up with changing weather systems — like, are we going to be able to get to where we need to go and then back home? We have to thoughtfully communicate with the passengers; sometimes having to advise them when the weather is getting bad enough to cut visits short, in order to return home safely."
Washburn also said that it's just as important to consider your words while communicating with the other pilot during a trip.
"When you're in an airplane, a foot from your partner, you have to be very specific while talking about your plane and actions," she said. "We could say one word to the other and it be misconstrued for something else, so we have to be very clear about what we need from each other."
Looking up
Though Washburn has made a career out of flying, she didn't always know it would be her profession. Instead, she felt that her parents and family friends had an influence in her choosing a career path.
"As a mechanic, my Dad used to look up and dream of the sky all the time, so I was always looking with him," Washburn said. "One weekend when I was 19, we had the chance to fly a little airplane and he asked me if I wanted to fly it — that was the end of it. I knew then that that's what I wanted to do."
That desire began to be put into motion when she heard about Embry-Riddle Aeronautical University in Daytona Beach, Florida, from one of her brother's friends.
"I remember thinking 'Oh, I really want to go there, that would be so cool,'" she laughed. "Still there was no connection to 'I want to fly' and 'I want to go to Embry-Riddle,' it was just 'I want to go to Embry-Riddle.' It wasn't really until that moment in the cockpit with my dad that I knew this is what I wanted to do."
Her desire to fly only continued to grow while working as ground service for her local airport, helping to load luggage, de-ice planes, fuel planes and embark and disembark passengers.
Before TVA
Washburn has been flying with TVA's aviation team for almost a year, since August of 2019, but flying has been a part of her career for the past three decades. Before coming to TVA, Washburn performed the same duties for SCANA Corporation, South Carolina — also known as South Carolina Electric and Gas — and even oversaw the day-to-day maintenance of the company's planes and was their safety officer.
She was also the chairman of the Aviation Safety Roundtable for the Southeast. The venue specialized in safety techniques, giving corporate pilots across the area the opportunity to gather and share their experiences with other companies while also ensuring protection and confidentiality.
"I'm proud of this because I got to be a part of something that helped flight departments be better," she said. "Aviation is a unique field, and, overall, there are a lot less women. Here at TVA, the guys treat me well and, as a female, I bring additional diversity to our department."
Not only did the venue give Washburn community, but it also gave her a formal introduction to TVA. At an annual safety seminar, she met one of TVA's fixed-wing pilots, and in March 2019, he contacted her about a job opening when he heard SCANA had been bought out.
"My previous job had ceased to be, but it's actually really funny," she said. "When I got here, a TVA executive said that he remembered SCANA flying them home when TVA's airplane experienced mechanical problems in South Carolina. So TVA was a part of my career before I'd even touched down in Tennessee — I just didn't know it yet."
It's a Bird… It's a Plane… No, It's Bluegrass
Washburn is passionate about her career, but said she prefers to leave work at work —spending her free time instead playing bluegrass music with her partner, Ben, his son and their friends.
"Back in South Carolina, we had music sessions at Ben's house every Thursday night," she said. "We had a lot of fun with it and actually landed some gigs — it was great."
Ben manages a bluegrass venue where their band played often, and, once a month, they would play at the South Carolina State Museum. Even though they are in different states now, they still make time to play when she visits South Carolina.
"If I'm home and they're playing at our usual spots, I'll go play with them because I miss them," Washburn said. "Ben and I met through music when I started playing guitar and he started playing the dobro, or resophonic guitar, so — like flying — it's something I'll always do and love."
Meet More People You Know
Meet more TVA employees, and learn about some of the fascinating ways they serve the Tennessee Valley through their work in energy, environmental stewardship and economic development.
They're your friends, your family, your neighbors. Get to know them.