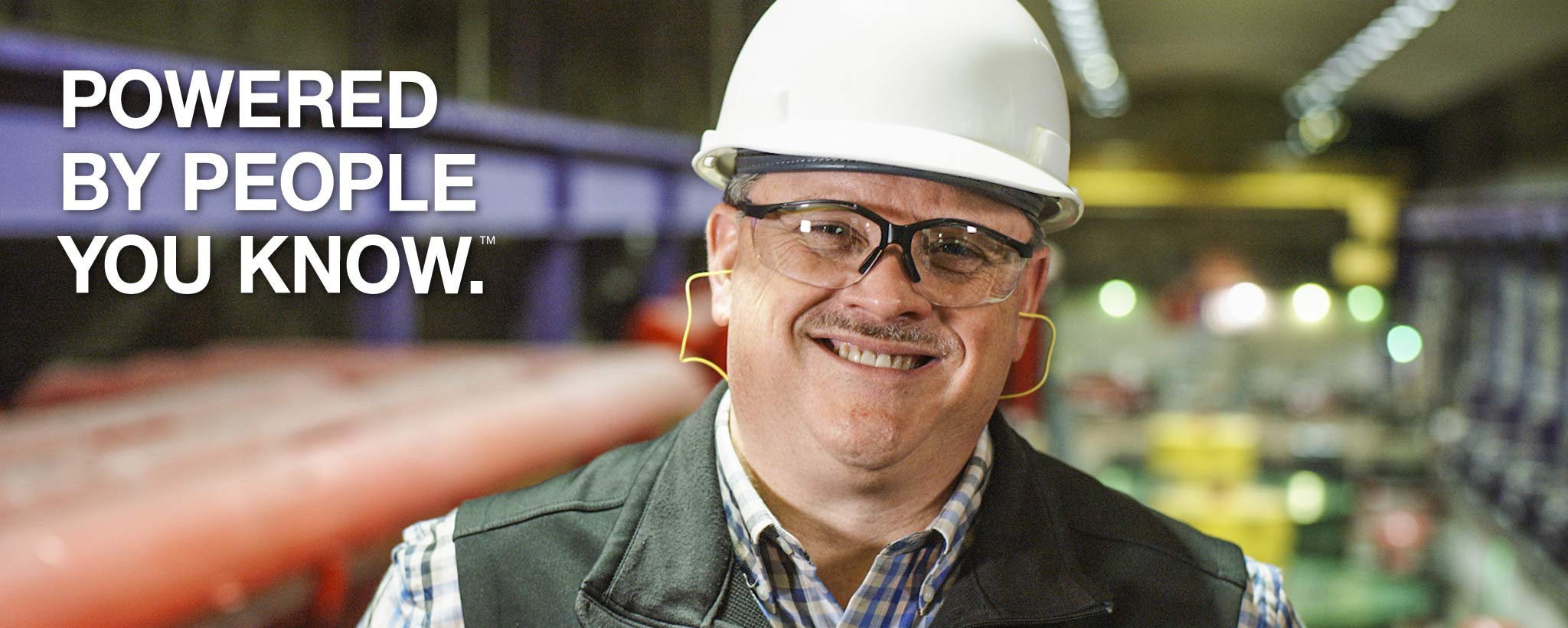 Michael Carter
Manager of Safety Operations | Generation East
When you're a safety manager at TVA, every day is focused on ensuring the well-being of others. Whereas that might create a stern attitude among many, Mike Carter sees it as a joyful calling and he approaches his job with a smile on his face. "Safety at TVA is really about caring about one another," he says," helping to ensure that everyone returns to loved ones safely every day. It's about being actively caring, and being that other brother and sister."
His job is to remind everyone every day of the four vital safety behaviors: 1. Identify hazards before every action; 2. Take action to remove those hazards and reduce risk; 3. Protect yourself and others, and intervene when necessary; 4. Take pride in safety and be involved.
If that sounds straightforward, consider his territory: he covers generation for all the eastern Valley, which includes everything west of Nashville, including all the many hydro plants as well as Kingston and Bull Run fossil plants and Colbert and John Sevier natural gas plants. There are many people to protect, all of them performing tasks vital to the prosperity of the Valley, and Carter always has their backs.
But in spring of 2020, he's faced with a new safety hazard: COVID-19. So, in addition to his duties as manager of Safety Operations, he's proudly serving on the Power Operations Infectious Disease Core Planning Team. "I'm keeping up with up-to-the-minute Occupational Safety and Health Administration (OSHA) regulations," says Carter. "So, I'm bringing this information to the team, which might involve our personal protective equipment, for instance, or require us to wear disposable protective gloves for some tasks."
In response to the novel virus, TVA has scaled back some plants to minimum staffing levels, and sent many staffers to work at home. "We are taking a logical and methodical approach to this," he says. "There are other businesses that went straight to worst-case scenario, and to each their own. But I'm glad to say we are looking at everything and being very measured in our decision-making.
We are getting a huge influx of data every day, monitoring everything up to the minute to stay ahead of the curve as much as possible."
He estimates that his work related to the coronavirus takes up about half of his time, and he's proud to do it. "Any kind of value add I can bring to the team, that's what I'm looking to do." And that is Mike Carter in a nutshell.
People Person
Carter figured out in college that he'd like to work with people. "I was taking environmental classes, but I learned I'm not a lab guy—I wanted to be out engaging with people. I'm just wired that way. I've heard the words 'people person.' That's me. And I'm in a highly caring position."
After working in safety for a Greenville, Tennessee, metal fabricator that makes all the penny blanks for the U.S. Mint, Carter came to TVA in 2010 and was grateful for the chance. "I have lived my whole life in the Tennessee Valley," he says. "I knew of TVA; I thought TVA was a wonderful thing in its work managing the river and delivering power, but I never thought I'd be able to be a part of it. When the opportunity came, I jumped on it!
"I don't want to sound cliché, but when I walk by a plant and see the words Built for the People, I stop and think, 'Wow.' We're out there focused on complying with regulations and making sure we're doing what we need to do to keep people safe every day. We need all of our fingers and toes to be able to carry out the mission."
Music Man
He's proud to be a manager, but not because it's a power position. "I'm happy that someone has had faith in me, in my competence and leadership," he says. "I love having the opportunity to help people learn and develop and grow their careers."
Carter is, of course, caring and loving toward his family: wife Jenny and kids Brooklynn, 26, Jordon, 22, Cameron, 21, and Lauren, 18. He himself grew up in a music-oriented family, and took up the banjo in third grade, learning from an uncle who'd played on the Grand Old Opry.
At East Tennessee State University, he played in the ETSU bluegrass band. "What was neat about that we got to travel to Russia in 1990" he recollects. "And what made it even more awesome was that Kenny Chesney was in that band, too!"
Now he plays with his own band, the Lonesome Pine Bluegrass Band, with his sister on bass. "You can make tens of dollars playing bluegrass," he says, laughing.
But Carter brings his banjo on the road with him during the course of his work. "I have met many musicians within TVA who like to play together," he says. "I bring it to stay practiced and tuned up." Because, for Carter, happiness, connection and music always win the day.
Meet More People You Know
Meet more TVA employees, and learn about some of the fascinating ways they serve the Tennessee Valley through their work in energy, environmental stewardship and economic development.
They're your friends, your family, your neighbors. Get to know them.