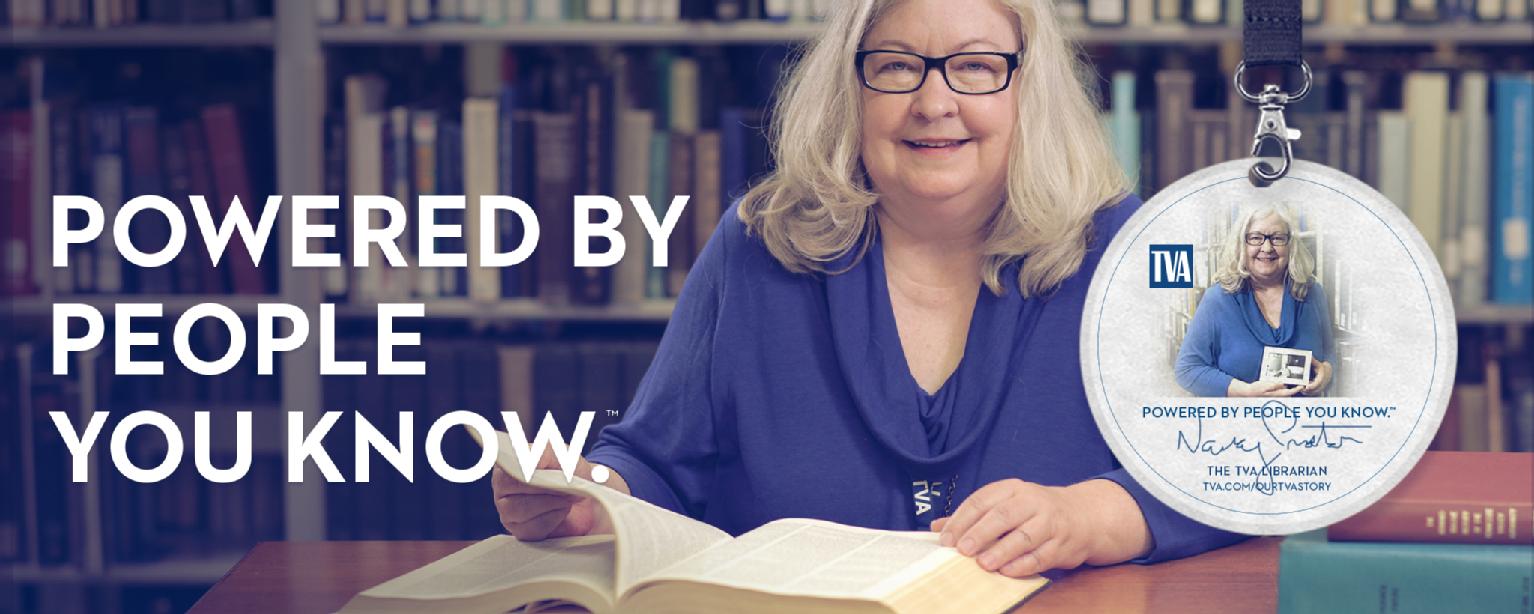 Nancy Proctor
The TVA Librarian | Knoxville, Tenn.
I'm a daughter. I'm a bookworm. I'm fluent in Dewey Decimal. I'm comfortable in the quiet. And I'm continuing a tradition that first started over 80 years ago. I'm Nancy Proctor, and I'm the TVA librarian.
A Story Keeper Has a Story of Her Own
It's not uncommon for people to travel from all across the world to visit Nancy Proctor.
As the TVA librarian, Nancy presides over a kingdom of information: millions of words in thousands of books along with microfilm, news clippings, online journals and numerous databases. And for those interested in replicating the success that TVA has had with similar programs in their home countries, that kind of information is worth a plane ride.
"We've had people come here from all over the world to do research in our library," she says. "Our history, our impact on the river system, our economic development efforts over the years – it's a really special thing we've got going here."
A self-described "TVA brat," Nancy has been a part of the TVA family since, well, she can remember. Her dad started as a pulverizer and ash sluice operator at Watts Bar Steam Plant in 1948 and continued working for TVA for 40 years. Following in their fathers' footsteps, she and both of her brothers grew up to take jobs within the agency.
"Really everything I've ever known from the time I was just a small child has been associated with TVA and the work they do in the valley," she says.
Now 22 years into her career at TVA, Nancy serves as the sole librarian for the agency and supports all organizations within the company. Whether someone has a question concerning the environment, business services, cultural resources or operations groups, she helps them find the materials they need.
"And it's not just the employees. I also help the public when they need information," she says. "We get requests from professors, Ph.D. students, high school kids, even elementary school students – a wide range in the academic world who want to come here and look at research materials they can't see anywhere else."
When asked about her hobbies outside of work, Nancy laughs. "I read, of course!" She also enjoys walking with her dogs and spending time with friends. And, she's working on a five-year plan for the TVA library in which she hopes to get TVA-authored material completely digitized and accessible online.
"I also plan to go through the entire collection and get things repaired that need it. We've had a library since 1933, so a lot of our assets are really old. I'd like to get the whole collection into good shape.
"What I like best about my job is the variety," Nancy says. "I'm never bored. Whether I'm working with engineers or lawyers or HR people or communications or high school students or researchers interested in history, it's always something different. And it's a good feeling when somebody needs something, and I can provide it.
"TVA's mission is service, and libraries are completely service oriented. What we do is circulate information. We get information to people."
Meet More People You Know
Meet more TVA employees, and learn about some of the fascinating ways they serve the Tennessee Valley through their work in energy, environmental stewardship and economic development.
They're your friends, your family, your neighbors. Get to know them.