When Patrick Kiser was a little boy, he loved nothing more than to play with Tonka trucks and tractors in sandboxes, gravel and dirt piles. That's hardly atypical, but for him it went beyond play—it became his calling. Now a civil engineer employed by TVA, he looks back and laughs, "I love to build stuff so I get excited by the opportunity to develop a concept to solve a problem and see it through design and construction so it becomes a reality. I'm still that little boy in a sandbox playing with construction toys—they're just a lot bigger."
"Ninety percent of my job is working with people. I'm a manager, we put together teams and provide direction for teams so it's mentoring much more than it is the engineering. We embrace the diversity of every person in TVA."
To put a finer point on Kiser's title, he's the manager of civil engineering for river operations projects in TVA's Civil Projects Group. "That means we provide engineering management services for modifications to dam structures, supporting the TVA Dam Safety Program and Dam Safety Organization," he says. "TVA's Dam Safety Program is a key component of our mission to the Valley, safely harnessing the power of the river system for the benefit of the people, economic development and protection of the environment." It's a big job at TVA, a company with 49 dams.
"Over the past few years, TVA has been assessing and evaluating all of our dams, performing a 'health check,' and—in the spirit of continuous improvement—we're performing projects and implementing measures to reduce risk and provide additional margin of safety," he says. "For example, at Kentucky Dam, we recently designed and constructed a seismic filter berm to promote and improve the safety of the dam should it experience an earthquake."
Job One
His team of engineers and geologists maintains focus around the Tennessee Valley, as does Kiser. But what has taken up much of his time since he hired on to the company in 2014 is Boone Dam in Johnson City, Tennessee. The Knoxville-based Kiser was just completing his New Employee Experience—a two-and-a-half-day training that all TVA hires must complete prior to taking up their full-time duties—when water and sediment was discovered seeping from the riverbank below Boone.
"I've been involved with supporting the dam safety program since the initial assessment at Boone, implementing initial risk reduction measures, investigating what the root of the problems were, and evaluating the options for fixing the issues," says Kiser, who's serving as construction engineering manager for the Boone Project. The initial risk reduction measures included lowering the elevation of the reservoir to roughly 10 feet below winter pool to ensure public safety; assigning onsite inspectors for continuous surveillance; installing an automated network of sensors to monitor the dam for pressure and movement; and constructing a tailrace filter to minimize further deterioration of the dam.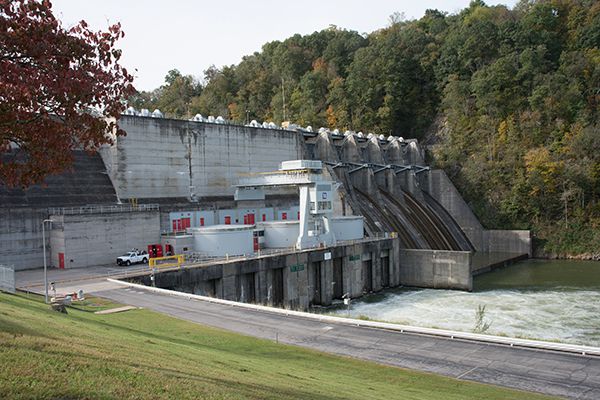 Boone Dam and tailwater
"We developed the remediation concept and are now working to implement the repair plan in phases while designing the future components of the seepage barrier," Kiser explains. "We've completed the initial phase of grouting, have constructed rock berms upstream and downstream of the dam to widen the embankment, and we're currently preparing the site for the future cutoff wall construction while working with the contractor to develop all of their work plans and processes. The cutoff wall is a concrete wall that will be constructed through the earthen embankment and foundation soils and into the solid bedrock."
And this is where Kiser diverges from a typical civil engineer, who deals, he notes, with "things you can see and touch, like roads, bridges, dams and other such structures." Indeed, prior to coming to TVA, he worked as a consulting engineer designing and constructing facilities for the U.S. Navy, several state transportation departments. the U.S. Army Corps of Engineers and other power and industrial entities.
But now? "Most things I work on you can't see—they are either below the ground or water," he says. "I'm a geotechnical engineer, a subset of civil engineers that deal with the earth—soils, rock strata, and groundwater."
That's a definitely applicable to what's happening at Boone Dam; though you can see trucks and personnel busily moving about on the surface, all the action—the grouting, and now construction of the new cutoff wall—is happening, unseen, beneath the ground. "That's why we work hard to put mechanisms in place to track the safety, quality, quantity and progression of work that we do and its impact on the performance of the dam," he says. "I love that challenge."
Telling the Story
Because he's an engineer, and a good one at that, Kiser can talk technical. But he's gotten good at keeping things simple. The hometown boy—who hails from nearby Bristol—says, "I grew up with the kids whose parents lived on the lakes and rivers, including some of whom worked for TVA." Now, he has become something of an ambassador for Boone Dam, speaking regularly to public groups.
"TVA is active in communicating our work at the dam, speaking to local community and service groups as well as providing updates to the media," he says. "I give several presentations a year and generally try to talk about why we took the actions we did by lowering the reservoir, what we've done to figure out how to fix the safety issues and what the long-term plan is.
"I like interacting with the public, even when they ask the hard questions. To give them an outlet and to be a face to them is important. That way they see us out there in their community caring about them. It's hard sometimes, but it's very rewarding."
One aspect he particularly enjoys is telling the TVA story. "I find it hard not to be passionate when I talk about TVA, that our goal when we come into work every day is to better the lives of the people," he says. "A lot of what TVA has done for the Valley is lost on my generation. It's more tangible to our grandparents' generation. I take the opportunity to tell our story to our neighbors."
People Person
Though he's technically oriented, the thing Kiser most enjoys about work is the people. "I love to work with junior staff and see them take on new challenges," he says. "That's my favorite part of my job. The most fulfilling things in my career are seeing people who were once my direct reports being promoted to peers, or peers I have mentored and coached being promoted even higher in the organization."
And then there's his family. "That's what I'm most passionate about," he says. "If each of us has the opportunity to impact people in a positive and meaningful way, and they in turn impact others, you can touch hundreds of lives every day. It's that ripple effect. And if you can grow in your kids a thankful attitude and a desire to serve others, that's a powerful legacy."
With wife Becky, a stay-at-home mom and teacher, he has two girls: Sara Beth, 11, and Makenzie, 9. They have a full roster of activities, including soccer, Girl Scouts, gymnastics, basketball, band and music lessons. But they still make plenty of together time. "As a family we do light hikes, and we travel a lot—we take our kids all over the country to see new things," Kiser says. "And we love to fish, though mostly what we do is drown worms."
He says he enjoys for his own family the very things that make him proud to work at TVA: "The deep impact we have on quality of life for everyone in the Valley through our opportunity to work with local governments to attract good jobs, the opportunity to reduce household expenses through affordable power bills and the opportunity to protect the environment we all live in."
He shares that insight in his public presentations. "I like to keep it personal," he says.