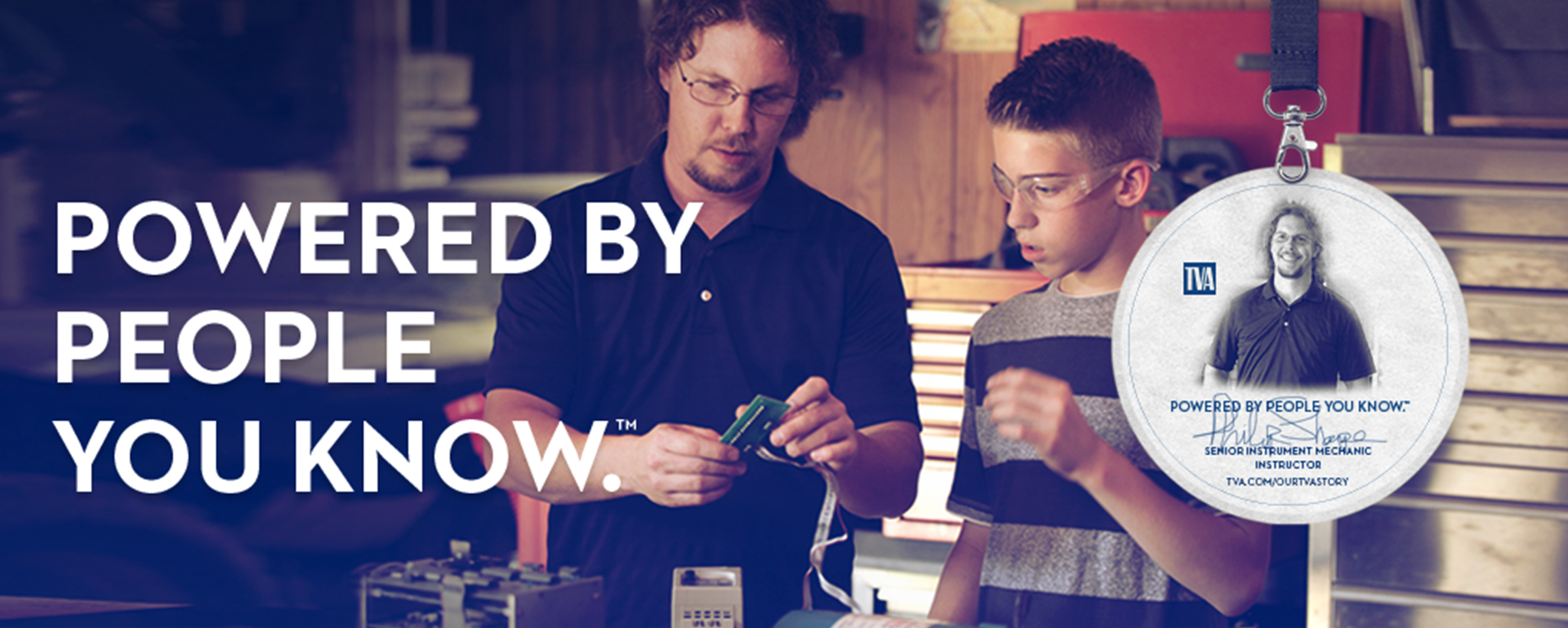 Philip Sharpe
Senior Instrument Mechanic Instructor | Decatur, Ala.
"I'm a father of three. I'm always looking for something to build. I'm known as Jimmy Neutron at the plant. I'm at home in my workshop. I'm an instructor at my alma mater. I'm happiest on my bike or underneath the car. I'm Philip Sharpe, senior instrument mechanic instructor at Browns Ferry Nuclear Power Plant."
An Instructor Moves From Cars to Rockets to Nuclear Energy
Philip Sharpe has always had a certain penchant for, well…we'll call it excitement.
Growing up, he was obsessed with cars, especially fast ones. He says he dreamed of working in automotives, but his dad steered him toward electronics because he felt the auto industry was becoming more computerized.
"It was good advice," he says in hindsight.
A respectful son, Phillip got his undergraduate degree in Industrial Electronics, and he managed to satisfy his love for fast-paced settings by landing a job as a simulator technician at the U.S. Space and Rocket Center in Huntsville, Ala. Four years later, he switched one exhilarating environment for another and joined the TVA team as an instrumentation mechanic at Browns Ferry Nuclear Plant. He hasn't left the place since.
"I have one of the best jobs in the Tennessee Valley," Phillip, now the senior instrument mechanic instructor at the nuclear plant, says. "I've walked the path my students are on. I've been through the same training. I've spent years working in the plant. It's gratifying to have reached a point where I can make an impact on employees who are just coming in."
Around the plant, Phillip is frequently referred to as Jimmy Neutron, a title he gets for the characteristics he shares with the "boy genius" who captivated youth on Nickelodeon in the early 2000s. It's a fitting name for a guy who uses his limitless curiosity and inventive intellect to teach and excite others. As an instructor, Philip says his number one goal is to instill a deep passion and respect in his students for the type of work they do.
"We want trainees to approach their work differently at Browns Ferry," he says. "We have a saying around here: 'this isn't a pie factory.' We can't just tighten a bolt and walk away. We have to follow procedures and check and recheck to make sure every job, no matter how small, is done correctly."
That's important to TVA's mission of service, he says.
"We're helping to protect our coworkers, our families and our community, and we're helping to provide clean, reliable, affordable electric power, which brings economic opportunities."

Philip's interest in helping students in his field goes beyond his work at TVA. Recently, he went back to his alma mater, Wallace State Community College in Hanceville, Ala., to talk to current students in the Industrial Electronics program. He says he told them the same thing he tells his trainees at Browns Ferry.
"I told them they need to appreciate the fullness of the opportunity before them and make the most of it and never stop learning," he says. "The technology we have in this industry is continually changing, and if you don't keep up with it, you're going to get left behind."
Meet More People You Know
Meet more TVA employees, and learn about some of the fascinating ways they serve the Tennessee Valley through their work in energy, environmental stewardship and economic development.
They're your friends, your family, your neighbors. Get to know them.