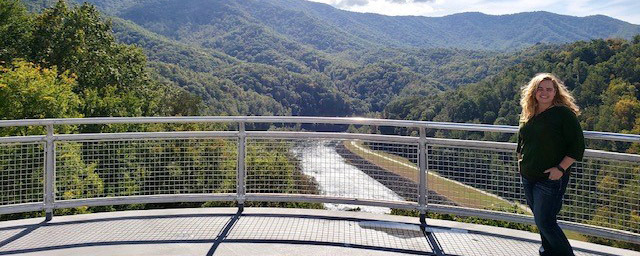 Angela Thompson
Business Support Representative | Hydro
Angela Thompson has spent her life surrounded by TVA's dams and rivers. As a child, she remembers her family driving over Fort Loudoun Dam as she marveled at the structure from the back seat window.
"I live five minutes from Fort Loudoun Dam and have crossed over it my whole life," she says. "I've always been intrigued by dams. I love them."
Now, she's putting that passion to use by helping Fort Loudoun, and many other dams like it, generate reliable, renewable energy. As a business support representative, Thompson helps ensure each dam has the supplies it needs to operate.
"We order everything from office supplies to components for the interior of the dam networks, like generators and major equipment that's needed to keep the dams in production," she says. "I support the crews at each site with tasks like training, time reporting and travel expenses."
Thompson admits that getting behind-the-scenes access to a structure she's admired since childhood is kind of like getting to meet her favorite band backstage. And in the same way, she never knew the opportunity would be in the cards for her.
"It's funny how things happen over the years that you never really expect. I was still a student at Pellissippi State Community College when I first came to TVA. I was hesitant to accept the job before finishing school, but my dad said I better not pass it up. So I accepted the position with the Administrative Support Group and took the remainder of my courses at night to obtain my Associate's Degree a year later."
Her first job at TVA began in 1992 as a clerk-word processor. From there she went on to work in the TVA Corporate Library from 1995 to 2000 as a library assistant. A career-switchup in 2000 transferred her to TVA Police as a personnel security representative.
Having a son in 2002 led Thompson to pursue a role within TVA that would get her closer to Lenoir City. "I wanted to find a job closer to home before he started school, so in 2006 I took a position with the Little Tennessee Watershed Team located in a leased building in Lenoir City. I worked with the Land Use and Permitting group for about 12 years," she says.
It was during this time that she went back to school via the TVA Tuition Program to obtain her bachelor's degree in organizational management. Without skipping a beat, she continued with her TVA career while working toward her degree. "In July 2017, I received my 25-year Service Award with TVA. For the award I chose a framed print of a place close to my heart – Fort Loudoun Dam. Little did I know that I would soon be working there," she says.
In August 2018, the Lenoir City office was relocated to the KOC where she remained for three months before receiving the job offer for her current role. "When I was offered the position I was like, 'This is amazing, I get to go inside this historical place that I've admired all my life, and I actually get to work there. I get to see how it all works and I get to be a part of it.'"
An eye toward safety
In addition to her job duties, Thompson serves on the Health and Safety Committee, and says that planning and executing Hydro's Health & Safety Day is one of the highlights of her job.
"Safety is very important to me, and it is crucial that we take care of one another to ensure we can all go home to our loved ones at the end of each day," she says. "At the Safety Day events, we usually bring in vendors that will display new safety equipment or items for the employees to look at, which could ultimately help them better perform their job safely." While 2020's Safety Day was very different, with nine separate locations to ensure social distancing could be attained, the event was still a success. Thompson attended each event and assisted with the activities.
In addition to the event planning, Thompson was chosen to lead in the design and creation of the 2021 Health & Safety Calendar. COVID made getting group pictures of the crews difficult, but Thompson had a backup plan. "I worked with James Manni of Aviation Services who planned to fly a drone to capture the overhead picture of each dam. Then I had the idea – if we're taking overhead pictures of the dams with a drone, why not get a crew picture with the drone too? This way everyone could be outside and still socially distanced."
"Along with the tremendous help and support of the H&S team and Aviation Services, we created a really remarkable calendar for each employee to have, which will be a great keepsake to share with their children and grandchildren for many years to come," she says. "Now I am excited to be planning the 2022 H&S Calendar."
Lights, Camera, Action
A nearly three-decade-and-counting career is quite the accomplishment, but Thompson has many outlets outside of TVA, too. She's played an extra in television shows, has been featured in local commercials, and is in advertisements for a Pigeon Forge diner. But that's not all that keeps her busy.
She also practices archery, attends music festivals, takes care of her mini Australian shepherd, and spends time with her husband, Randy, and son, John.
"My son is a senior at Lenoir City High School and is the president of the high school bass fishing team, so we spend several weekends throughout the year traveling to watch him participate in fishing tournaments. While out and about at these tournaments, I always try to catch a glimpse of a new dam that I may have not seen before," she says.
Thompson's fascination with dams has been a lifelong one, and working to ensure their safety and reliability can only be described as a full-circle moment, she says.
"My grandfather helped in the construction of Norris Dam and I can recall hearing stories from him about that many years ago. I have crossed Fort Loudoun Dam nearly every day of my life – never knowing that one day I would be working inside it. To have the opportunity to actually get to work inside these historical masterpieces is beyond amazing," she says.
Thompson's father, who encouraged her years ago not to let the opportunity to work at TVA pass her by, passed away from ALS in 2015. "I sure wish he could see me now – he would be so proud of where I am. This job has no doubt been a dream come true."
Meet More People You Know
Meet more TVA employees, and learn about some of the fascinating ways they serve the Tennessee Valley through their work in energy, environmental stewardship and economic development.
They're your friends, your family, your neighbors. Get to know them.