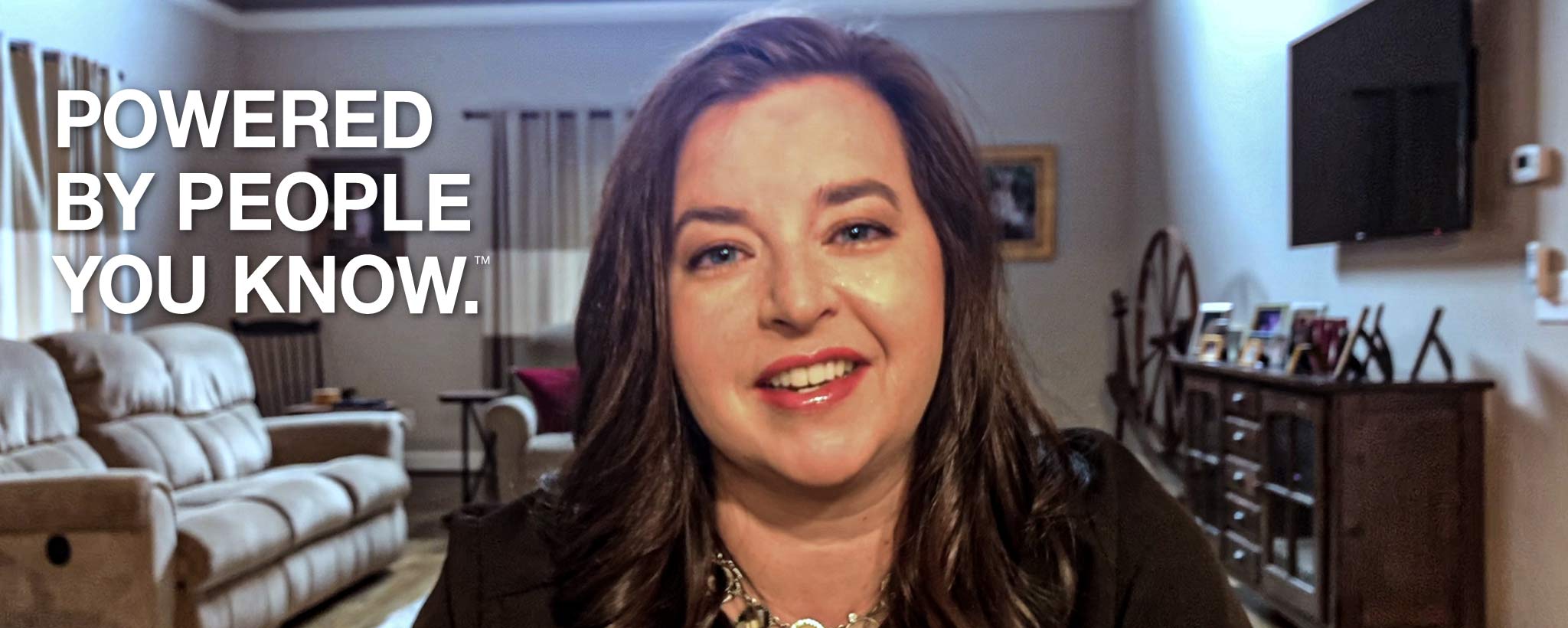 Rachel Beaty Crickmar
Senior Consultant, Community Engagement | Nashville, Tenn.
Hundreds of teachers across the Valley know her by name, and it's not because she forgot to sign a permission slip. These teachers know Rachel Crickmar because she's the face of the funds they need for Science, Technology, Engineering and Math (STEM) programs in their classrooms. Crickmar is TVA's senior consultant for Community Engagement, and is overseeing $800,000 worth of STEM grants for Tennessee Valley schools.
The program, now in its third year, is a partnership between TVA and its retiree association, Bicentennial Volunteers Incorporated. "The first year of this program was the highlight of my career," says Crickmar. "Putting money directly into classrooms, giving it directly to teachers and seeing how many people could be impacted by our donations was one of the most exciting things I've ever been part of at TVA."
The 2020-21 STEM grant program received more than 600 applications across TVA's seven state region. Teachers in 197 schools received the 2020-21 grants. "The program helps so many, there's such a big return on the investment for TVA," says Crickmar. "Quality education develops our future workforce and supports communities in attracting jobs for those students when they graduate."
TVA's STEM grants have an even greater impact in rural areas. "We see a lot of rural schools that don't have any extra money, so they use the grants to get equipment that they otherwise would have had to save for years to purchase."
Caring for our Communities
Just as Crickmar was preparing her schedule to give teachers across the Valley their STEM checks, March 2020 came roaring in like a lion. A string of 10 tornadoes touched down across Middle Tennessee on March 3, near Crickmar's home in Mt. Juliet. She was working overnight in Chattanooga and her phone buzzed with text after text from friends and family checking on their safety. "I had been asleep and had no idea the devastation that had occurred at home," says Crickmar. "My family had spent the night huddled in the bathroom for safety."
Once she was sure that her husband and children were safe, Crickmar and her Community Relations team started assembling aid for those in need. With 35 transmission towers damaged and 17 lines down, crews were working around the clock to restore service as quickly as possible. Crickmar's team mobilized with food and supplies for the workers and began collecting much needed supplies for those whose homes were damaged or destroyed.
As crews restored the transmission system, news of the coronavirus pandemic began to flood the airwaves. In mid-March, just as Crickmar planned to get teams of TVA employees to help with tornado restoration, TVA began mandatory telework for a large portion of its employees. As the effects of the pandemic spread, thousands of people lost jobs and needed help.
As TVA quickly extended credit support to local power companies who had urgent community and customer needs, Crickmar began working through another partnership: TVA's Community Care Fund. TVA to date has pledged nearly $4 million dollars in matching funds to support food banks and countless other non-profits supporting victims of the pandemic. "Food insecurity was suddenly a harsh reality from one corner of the Valley to the other," says Crickmar. "The largest portion of our donations helped food banks support families and children who had no way to buy food." Public schools used funds to increase and stabilize box lunch programs so children who usually had food at school wouldn't miss a meal at home.
As of January, the Community Care Fund had partnered with 136 local power companies to support more than 350 nonprofits and community programs. These programs received more than $7.5 million from TVA, LPCs and other partners to support local initiatives addressing hardships created by COVID-19. Crickmar says "Providing help when people need it most is the essence of TVA's mission of service. We've been serving since the beginning and our mission will certainly continue."
Finding Her Niche
Helping communities is near and dear to Crickmar's heart—and home. She grew up in rural areas of Fentress County, Tennessee, and heard from her parents and grandparents stories of how TVA helped their area to survive and thrive. "My parents are really proud that I work at TVA," she says." There's a lot of pride that goes along with being part of something that impacts so many."
Crickmar began her TVA career as intern on the Holston River Action Team, using her environmental science degree to support TVA's environmental stewardship goals. After finishing a graduate degree in environmental science and land use planning, Crickmar moved to Nashville for an opportunity to work in Economic Development. She spent the next 15 years working in programs like InvestPrep, marketing sites for rural and industrial development.
After learning more about the business side of TVA during a brief stint in TVA's Information Technology group, Crickmar missed the public connection her previous jobs had given her. She jumped at the chance to join the Community Engagement team. "Starting up the STEM program was a really natural progression for me," says Crickmar. "I had great relationships with community leaders and Local Power Company contacts from my time in Economic Development and that helped the STEM program blossom."
She describes herself as passionate, pragmatic and direct. With Crickmar, things are black and white: "The way I am wired, program development is natural for me. Community Relations is the perfect fit for me because of all I've done in my career. I'd like to keep being part of programs that have impacts across the Valley. I enjoy being in the communities and improving the quality of life for folks and giving people opportunities."
Saddle Up
If you ask Crickmar where her passions lie outside of work, she talks about her family and her kids. "I want my kids to grow up and be happy. I don't care what they want to study or do for a job. My prayer is that they find something that makes them happy."
What makes her kids happy makes Crickmar one busy mom. Daughter Lily Jean, 18, is a freshman at Northwestern Oklahoma State University. This 2020 TVA scholarship recipient studies biology and competes for the college rodeo team. She's already a junior rodeo champion, with closets full of ribbons, trophies and belt buckles she's received for roping and barrel racing.
Since Crickmar isn't spending her weekends pulling a horse trailer to rodeo competitions anymore, she's turned her focus to Friday Night Lights and life as a football mom. Her son Sam, 16, turned his years of soccer into a position as kicker on his high school football team. But, as many parents know, a 16-year-old with a driver's license equates to an early empty nest. "Lily's away at college and Sam is always gone," says Crickmar.
Crickmar enjoys travel with her husband of more than 20 years, college sweetheart Dave. "Short flights, warm weather," is their vacation mantra, and they like to head to sunny Caribbean destinations like Turks and Caicos or Barbados.
A Good Steward
Being a good citizen and a good steward of the community is a long-standing value for Crickmar. Volunteering in the community is something she does on behalf of TVA or with her church and circle of friends. "The best stuff is volunteering and giving back to the community," she says. "That is fun for me."
But then, public service is part of her DNA. Crickmar and her two sisters were raised by parents who were public school teachers and instilled in their daughters a love of serving the community. Today, all three daughters have careers with community and public service elements. Big sister, Samantha Beaty, DVM, is the Tennessee State Veterinarian and little sister, Rebecca Ryan, is a public school principal.
Crickmar is encouraged by TVA's focus on service. As she oversees corporate giving, employee volunteering and outreach programs like the STEM classroom grants, she sees more and more participation across the Valley. "TVA employees are the best at giving back," she says. "Stewardship is where we have the most impact and our employees consistently answer the call to service."
Meet More People You Know
Meet more TVA employees, and learn about some of the fascinating ways they serve the Tennessee Valley through their work in energy, environmental stewardship and economic development.
They're your friends, your family, your neighbors. Get to know them.