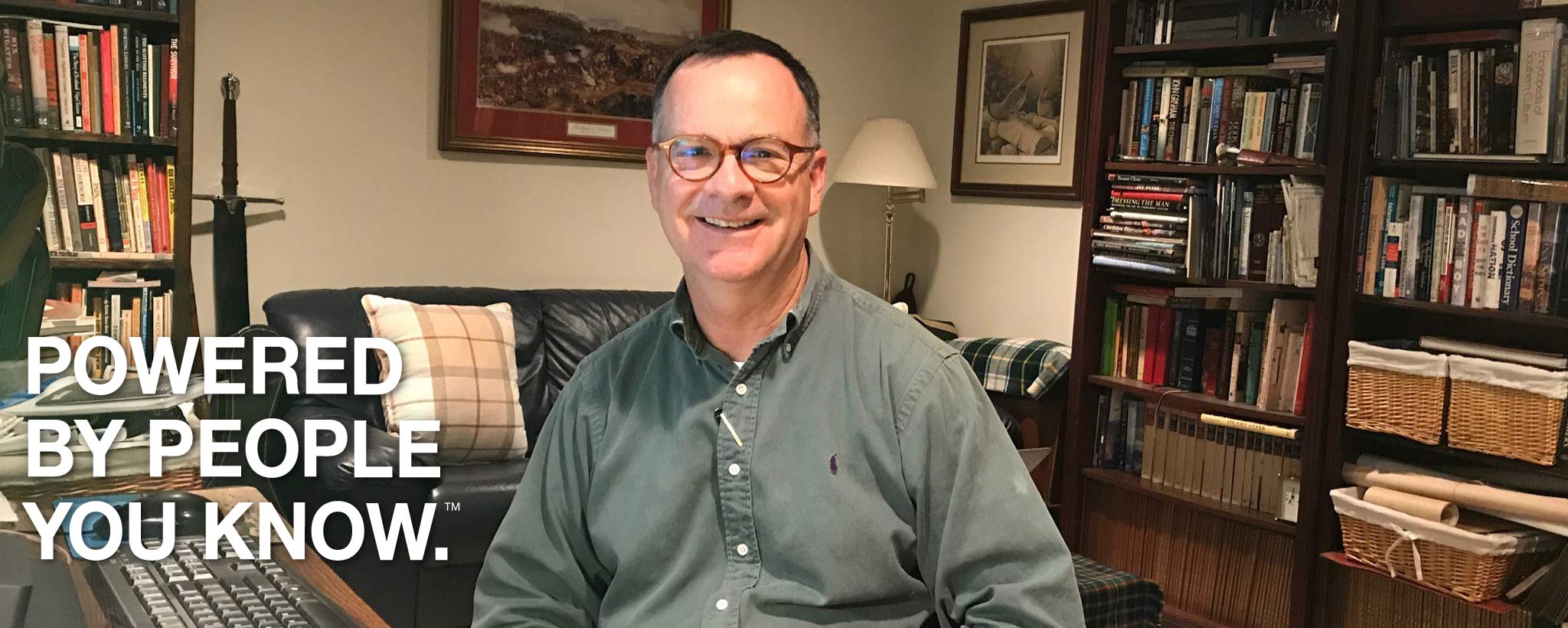 Scott Fugate
Senior Contracts Manager, Supply Chain | Knoxville, Tenn.
If you've had trouble finding a bottle of hand sanitizer or a canister of disinfectant wipes, imagine trying to purchase enough for TVA's entire fleet of more than 10,000 employees. TVA Supply Chain is on the job, and Senior Contracts Manager Scott Fugate plays a critical role as Supply Chain's emergency planner, actively ensuring essential personal protective equipment is available to TVA's employees during the COVID-19 pandemic.
Fugate's role is to liaise between TVAP's Emergency Management organization and Supply Chain to ensure all of TVA's pandemic needs are planned for and obtained. The job has forced Supply Chain to get creative.
They bought barrels full of whiskey-distillery hand sanitizer and had digital thermometers shipped directly from Hong Kong to Muscle Shoals, Alabama.
"Digital thermometers!" Fugate said. "Months ago, who would have thought that would be the most sought-after product?"
From the Homefront
Like many, the coronavirus has relocated Fugate's office. He works at home, organizing orders and movements from his patio. Sometimes the annoying sound of the neighbor's chainsaw forces him to retreat indoors to coordinate the routing of more surgical masks to the ongoing Sequoyah refueling outage that is scheduled to be complete on May 5.
Because all N-95 respirators are being sent to the frontlines to fight the virus in hospitals and testing stations around the country, TVA is supplying outage employees with everyday face coverings commonly worn by dentists, doctors, and other healthcare professionals.
Fugate says everyone is hurting for the previously commonplace supplies that don't exist in high numbers anywhere in the world anymore. Still, he is pleased with TVA's supply chain of PPE and is proud of his team's ability to support the refueling outage during this unprecedented environment.
"This is a definite team effort," he said. "Sourcing personnel buy all the stuff, Asset Management does inventory tracking and records, Material Operations handles all the receiving and warehousing. This kind of pandemic brings out the best in people. Everyone's attitude is great. People are willing to go that extra mile and do whatever it takes to make sure our employees are able to perform their jobs safely."
A History of Service
Fugate is no stranger to emergency management. He is a 30-year Navy veteran who was formerly the Navy's emergency preparedness liaison officer to the state of Tennessee and supported the Federal Emergency Management Agency (FEMA) during the 2005 Hurricane Katrina disaster.
Fugate attributes his success to the pivot the U.S. military made after 9/11, heightening its focus on Homeland Security. "My unit really boned up on FEMA," he said.
The experience he gained serving New Orleans in the aftermath of Katrina has now become critical in positioning Supply Chain to effectively navigate the hurdles of the current coronavirus emergency.
"Working in this environment is very familiar to me," Fugate said. "It's a lot of high-stress and long hours that reminds me of the work I did while in uniform. As a logistician, you never get comfortable, but we are keeping up."
Vice President of Supply Chain Laura Campbell is a bit more complimentary. "Scott has worked for years as TVA's Supply Chain's COOP planner, which is not a glamorous job, but an incredibly important one," she said. "Each year, he's driven us to be prepared, which is one of the key reasons our team has been able to transition to telework and reduced staffing so smoothly—and, ultimately, to keep our focus on getting what we need for TVA.
Meet More People You Know
Meet more TVA employees, and learn about some of the fascinating ways they serve the Tennessee Valley through their work in energy, environmental stewardship and economic development.
They're your friends, your family, your neighbors. Get to know them.