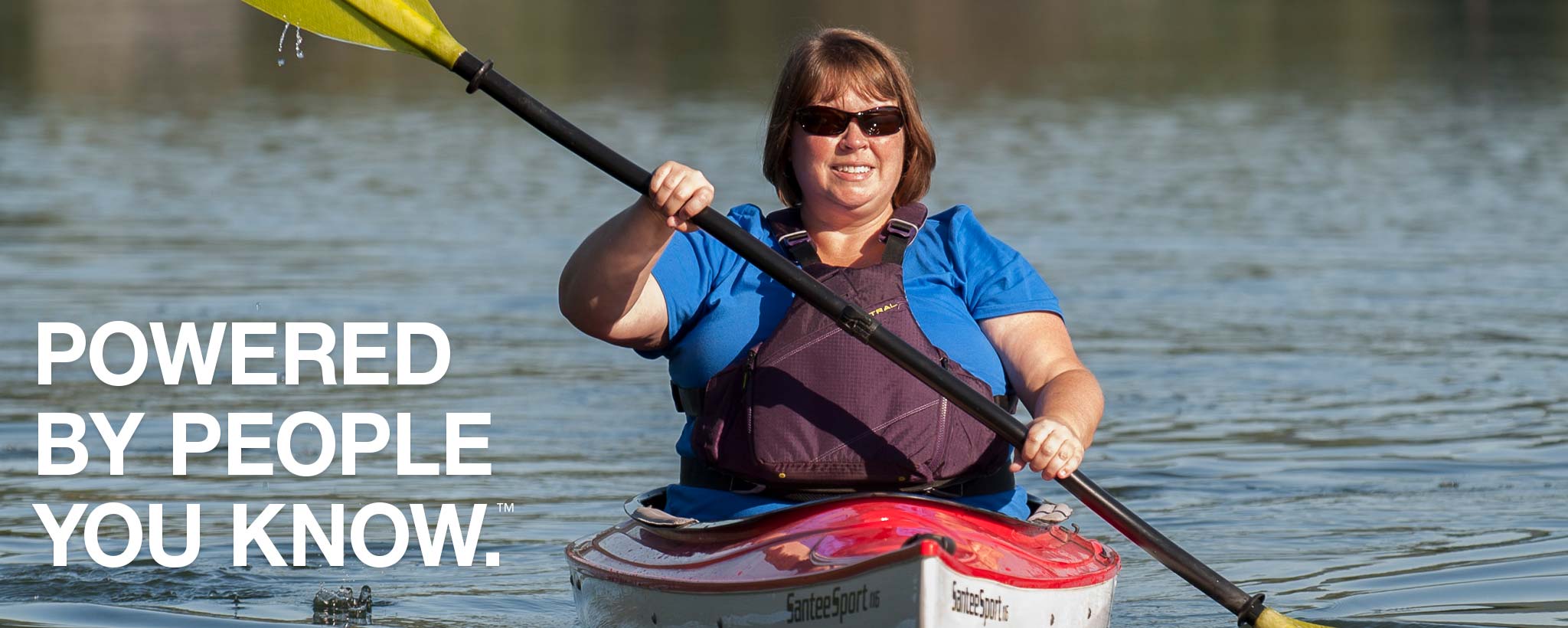 Shannon Bennett
Sr. Program Manager, Strategy & Engineering | Chattanooga, Tenn.
"Stewardship is doing the best work possible for those in the Valley and for the future." That's the philosophy of Shannon Bennett, whose job embodies environmental stewardship.
A senior program manager of Strategy & Engineering in Generation Construction, she focuses on the coal combustion residual (CCR) groundwater program at TVA.
Bennett has been responsible for a number of CCR projects over the last eight years. Her most significant project—engineering manager of the closure of John Sevier Fossil Plant's CCR facilities—is coming to a very successful conclusion.
"I love to kayak and hike, and take my dog with me when I can…. Also, I've been working on becoming a naturalist. That's taking an overall look at everything in nature, learning your trees, your plants, your flowers, your birds."
"Before the plant had even closed, we had the mandate that we would go dry and close the ash facilities that were no longer needed," she explains. "We had started with closing the dry fly ash stack. When the decision was made to close the plant, we worked towards closing all the coal ash facilities. We hosted design review meetings, discussed the project progress and put together a construction package that was good to go. We have a really good team and everyone did a great job. I've enjoyed working with a team that was driven to be successful."
Finding the Perfect Fit
Bennett says there's no such thing as a "typical day" for her.
"A few years ago, the EPA established the CCR Rule over all coal combustion residual products—any of our ash stacks, ash ponds or any facility that had residuals in it," she says. "Ten sites, valley-wide, are under that rule. There are regulations that we must be in compliance with, including groundwater monitoring. I was tasked with making sure all of the facilities under that rule are having new wells installed and being properly monitored."
The associated testing and analyses involves a lot of coordination with other TVA people in different departments and with contractors, according to Bennett. "We will meet in the office and out in the field; we make field visits to go check out things so we're not just looking at them on paper," she says. "We'll meet at the site and go over the goals for the day with a pre-visit briefing. If there's an issue, we will work together as a team on the best plan to solve that issue. How do we need to investigate it? What steps need to be taken for a short-term plan and an overall long-term plan?"
Bennett, who grew up in Jasper, Tennessee, west of Chattanooga, enjoys the work. Her background is in water resources: stream restoration, protecting ecological habitat—and how waterways transport water. She completed her undergraduate degree in civil and environmental engineering at Tennessee Tech and her graduate degree at UT Knoxville, focusing on environmental engineering with environmental policy. Her current job is, in many ways, the perfect fit for her.
Dedicated to the Team
Bennett enjoys the collaboration of working with a team—bringing together everyone's ideas to come up with the best solution. Outside work, she enjoys collaboration too, but of a different kind—dragon boating. On a dragon boat, 20 paddlers must work in sync with each other, along with a drummer and a person who steers.
"I became involved with it nine years ago and really liked it," said Bennett. "Now I'm part of the Chattanooga Dragon Boat Team. I've traveled throughout the southeast, Hong Kong, Taiwan and Canada to paddle. I enjoy kayaking a lot, too. I also hike, and I'm learning to be a naturalist."
Bennett lists the John Sevier projects as the ones she's proudest of, but her commitment to stewardship is an ongoing thing.
"I would like to really make a difference," she said. "I come to work to make things better for the Valley we live in, both now and in the future."
Meet More People You Know
Meet more TVA employees, and learn about some of the fascinating ways they serve the Tennessee Valley through their work in energy, environmental stewardship and economic development.
They're your friends, your family, your neighbors. Get to know them.