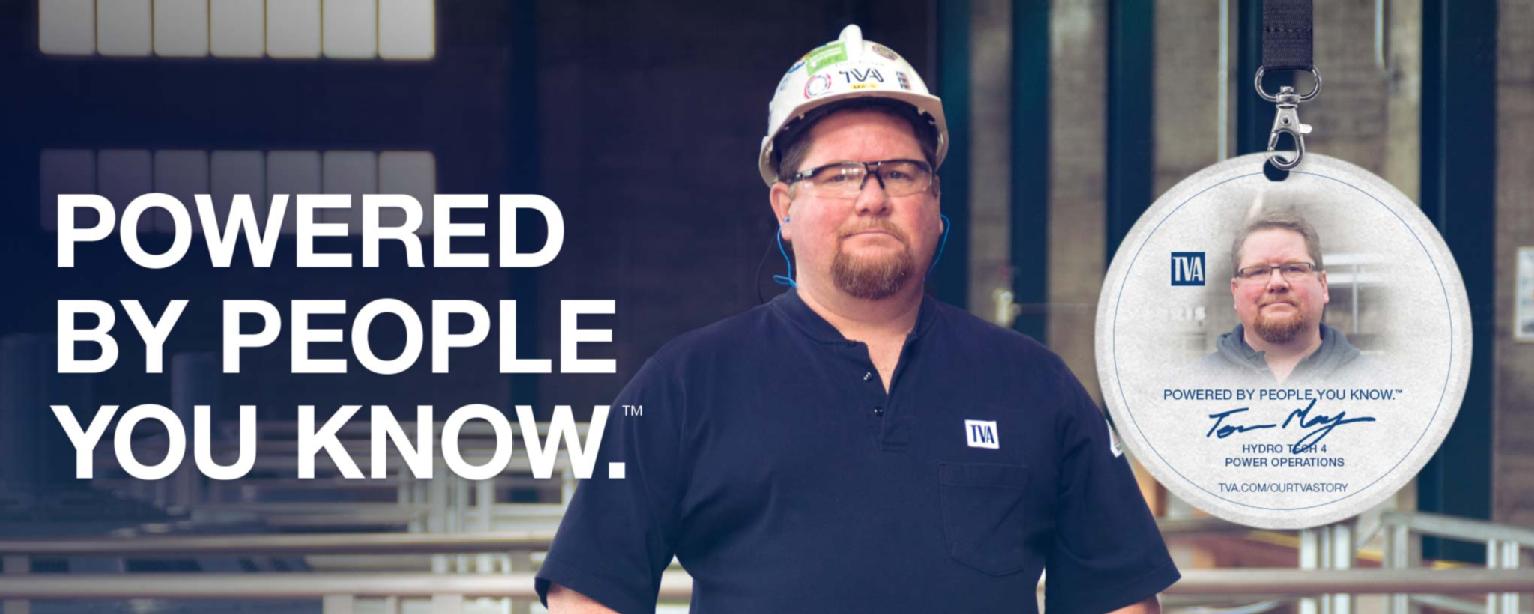 Tom Mays
Hydro Tech Four | Norris, Tenn.
I'm part of a tradition of service going back almost 80 years. I'm part of a multi generational TVA family. I'm a son, a father of two boys—a provider. I'm proud to work at Norris Dam.
Tom Mays knows Norris Dam like the back of his hand. He's been working at the facility off and on for 26 years, first as a hydro operator and then senior operator. Now he holds the rank of tech four, which means that he's in charge of the day-to-day operations of the plant, focused on the planning, scheduling, maintenance and inspections that keep TVA's first dam operating without a hitch.
Mays takes great pride in his role in keeping the facility running smoothly and reliably.
"Knoxville decides what water moves when and where; Chattanooga decides how much electricity to make," he says. "What we do here is make sure this place is always available to support those two entities by creating cheap, reliable power and getting the right amount of water to the right place at the right time."
Mays does more at Norris than just provide electricity; he also helps provide voltage control. "Lots of people think about the watts—the power that we produce—but voltage control is important too," Mays explains. "On very hot and cold days, that's critical. In a big factory, for example, you have to keep voltage within a certain range or you could knock equipment offline. If we didn't handle it right, your lights would be dim one day and bright the next, and you'd wonder, 'Why am I always burning through light bulbs?'"
"I'm proud to come from a family that knows the difference that TVA has made and still makes in the lives of those who live here. "
Mays has worked at 14 of TVA's dams in all, but he's spent the most time at Norris. It is one of four TVA plants that had zero forced outages in FY15. In other words, that's 100 percent reliability—and the plant did it without a single safety issue. In fact, Norris has been incident-free for the past several years.
Mays is proud of those outcomes, and proud of his job. You might even say he was born to do it, as he's part of a multi-generational TVA family: "My grandfather was a truck driver when they built Apalachia. My father worked for TVA for 25 years in property management—office spaces, rental properties. He was on the project team for both the Knoxville office complex and the Chattanooga office complex."
There's more: "My mother worked for TVA too, for 13 years. She started out in the typing pool and retired as a senior record clerk with the natural resources group. TVA goes way back with us."
When he's not down in the depths of Norris, he likes to be high atop mountains, hiking and enjoying nature. "I hike all around here—it's beautiful. I like hiking in the Smokies, too—the North Carolina side is my favorite."
Mays is happy being part of Norris' historic legacy. "I work in a living museum," he says. "It's a piece of history going back almost 80 years. But it's still active, and I get to play in it."
Meet More People You Know
Meet more TVA employees, and learn about some of the fascinating ways they serve the Tennessee Valley through their work in energy, environmental stewardship and economic development.
They're your friends, your family, your neighbors. Get to know them.