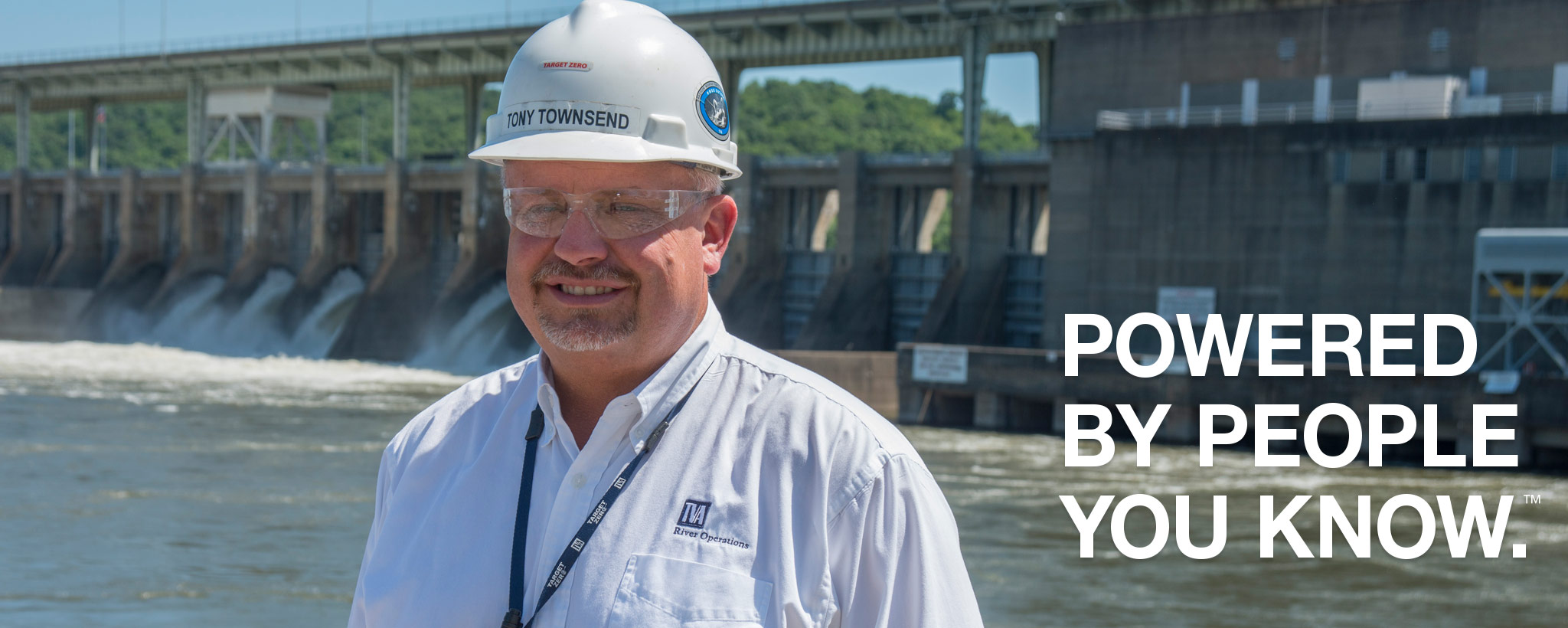 Tony Townsend
Hydro Plant Manager | Chattanooga, Tenn.
Growing up, Tony Townsend wanted to be a professional fisherman. "I still do," he says with a laugh.
He's not far from it. He fishes about 25 tournaments a year, and he and his fishing partner have won the Chattanooga Bass Association championship three times. He also works boat shows and does seminars for his two sponsors, Triton Boats and Mercury Motors.
But he isn't thinking about giving up his day job. He manages three TVA hydroelectric plants: Chickamauga, Nickajack and Tims Ford.
"Water quality is one of our most important aspects at TVA. I'm a fisherman, so I care about it as much as anyone, if not more. My passion for fishing means I understand how the flow of the river impacts aquatic life below the dam."
"I'm where I'm supposed to be," says Townsend. "My story came full circle when I became plant manager at Chickamauga." He explains:
"After high school, I went to Chattanooga State Community College and got a degree in marine mechanics. My first real job was selling boats and motors. One day, I was demo-ing a boat on Chickamauga. I remember we were right up against Chickamauga Dam. The gentleman looking at the boat asked me if I'd ever worked inside a dam. I told him, 'Of course not, I'm only 20 years old.' As it turned out, he owned a welding company that did contract work across North America. I didn't know how to weld, but he still offered me a job. I accepted and started working on hydro dams."
Making His Way to TVA
"I was working in the Northeast when 9-11 happened, and I decided I'd had enough traveling," Townsend recalls. "I called some of the folks I'd met at TVA and ended up getting hired into the Power Service Shop in 2001. I went from being a field supervisor to outage manager at Raccoon Mountain and plant manager at Pickwick. Then in 2013, I became plant manager at Chickamauga."
It's been a steady paddle to the top. "When I look back at my career in the hydro industry, it all started in that boat against Chickamauga Dam. So I really feel as though I've come full circle."
Townsend's coworkers describe him as "laid back," as "the kind of guy that would give you the shirt off his back." But they also say his demeanor belies his intensity and passion for his work.
"I love hydro," Townsend acknowledges. "What we do in hydro benefits the Valley in more ways than most people realize. We produce some of the lowest cost power in the TVA system. And we're here when a large fossil or nuclear unit goes offline for maintenance or when power demand peaks as people crank up their air conditioners in summer or turn up their heat in winter.
"Those are all tremendous benefits to Valley ratepayers. But producing power is only about a third of what we do in hydro."
The Bigger Picture
"As a fisherman, water quality is really important to me, so I'm proud of all we do for aquatic life—from the equipment we've installed at our dams to add oxygen to the water to the way we manage the river to provide sufficient flow downstream and keep water temperatures where they need to be," Townsend explains. "We manage water releases from our dams to provide a lot of other benefits, too—from navigation and flood control to water supply and whitewater recreation."
Townsend loves bringing people in to visit Chickamauga Dam and talking about those benefits. He gives a lot of tours, even on his days off. He's also working on updating the lobby of the dam to give visitors a better experience.
"I make the most of every opportunity I can to talk about how TVA operates its dams," he says. "We do it differently than most, and I think it's important that people understand that. Most dams were built for a single purpose. But TVA dams were planned and built for multiple purposes. They were built to improve the quality of life in the Valley."
Townsend both believes in and embodies the mission. (He was shot for the video above after having spent over 24 hours at the dam dealing with record rains in April.) "If you've ever been in a TVA dam, you've probably seen the inscription 'Built for the People.' Some people think that's corny. But, knowing the history of TVA, knowing what a difference TVA dams make in the everyday lives of the people we serve—that's a big deal to me. It makes me proud to work at TVA."
Meet More People You Know
Meet more TVA employees, and learn about some of the fascinating ways they serve the Tennessee Valley through their work in energy, environmental stewardship and economic development.
They're your friends, your family, your neighbors. Get to know them.