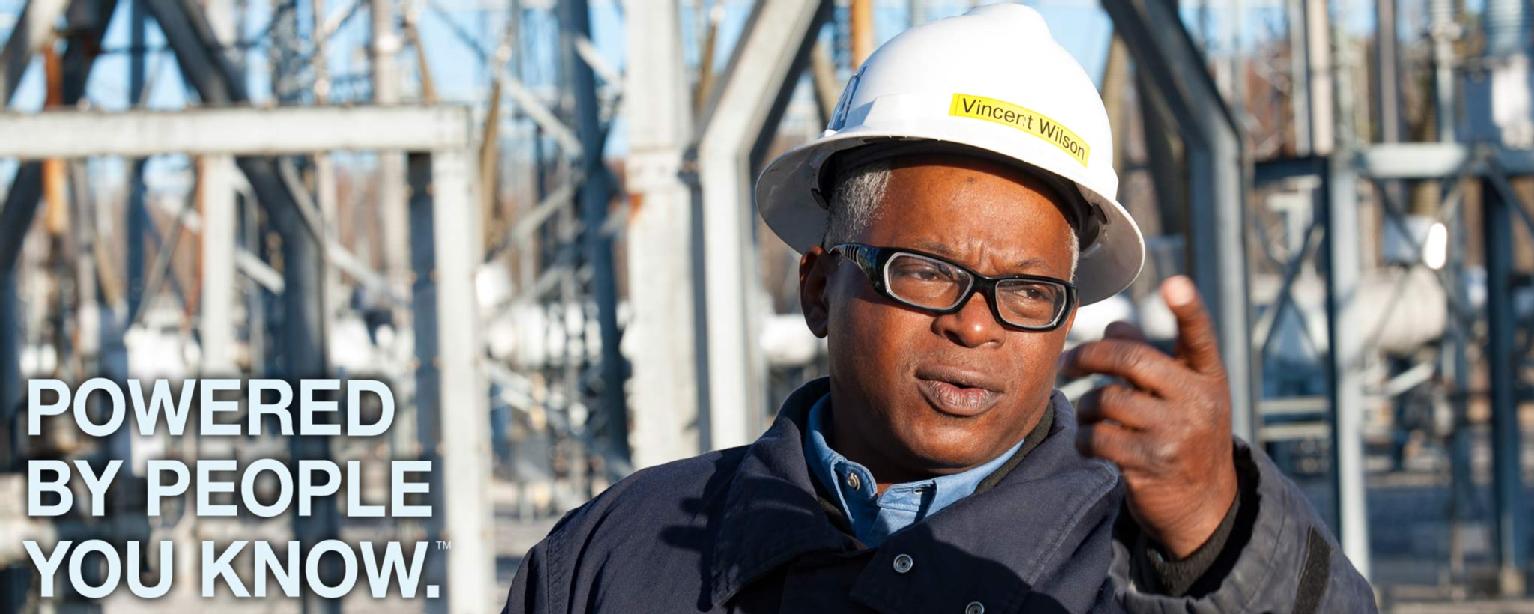 Vincent Wilson Sr.
Substation Electrician | Memphis, Tenn.
Vincent Wilson Sr. is not afraid of much. As a substation electrician, he comes by his stout heart honestly. "Working here has changed a lot of things I used to be afraid to do," he says. "I was afraid of heights, but now I'm comfortable with them. I am used to working in darkness, and out in the elements. I can hear coyotes howling, and all kinds of creatures nearby, and they don't bother me. I can go into areas people warn me not to—but I've learned if you mind your own business, you can go anywhere. It's all part of the enjoyment of the job."
Substations are Wilson's world—and it revolves around maintaining the switches, capacitors and breakers they contain, as well as the lines leading into and out of them. If that sounds small, it's anything but—his territory runs from Jackson, Tenn., to Southaven, Mississippi. "At every substation the breakers are different, and I enjoy those differences," he says. "It lets me flex my mental muscle."
His day begins every morning at 6:00 a.m. at his assigned station—Cordova— with safety and planning meetings, and from there, it's anybody's guess what's next. "I never know which way I'm going on any given day," he says. "I love it that you don't go to the same place every day."
He loves, too, working with his hands. "My job is never going to be come in and move the piece of paper, then the next day come in and move the piece of paper and then come in and move the piece of paper," he says. "Out here you are troubleshooting and having an effect on the entire system."
Not that that's all upside. "You have to be careful. You can go and test on something and trip another breaker and set off a domino effect," Wilson explains. "That's never happened to me—I've made mistakes, but luckily nothing serious. I have learned to check before you operate!"
Living the Code
Wilson hired on at TVA 24 years ago at Allen Fossil Plant, having been trained as an electrician through the International Brotherhood of Electrical Worker (IBEW) at Hall 474 in Memphis. He stayed there for 13 years, then hired in at TVA and encountered what he describes as his biggest challenge: Switching School.
"We were required to go to Chattanooga for one month, and you had to pass a test at the end of the last week," he remembers. "The instructor broke you down and built you back up. I was not familiar with TVA nomenclature, and didn't understand some of the things that were being said. It was tough—but I made it through."
As a longstanding IBEW brother, he is now a Code of Excellence Ambassador to TVA. "The Code of Excellence is presented to TVA by the IBEW," he explains. "It's corporate and unions working together to keep down conflicts and grievances and you can work with management and management can work with you to resolve problems. Or you can work with your peers."
The Code offers conduct and worker safety parameters designed to encourage a positive work place. "Sometimes we have to police our own people," Wilson says. "But ultimately, we all have a common goal. We are out here to produce electricity"
Over the years he's been negotiating labor relations, he's met a few people, none so surprising as one casual dinner guest. "I had a friend who said I have a friend who wants to pick us up and take us out to eat," Wilson remembers "It was [TVA CEO] Bill Johnson. So we built a relationship."
Another time, when he had some tough questions about TVA management, he received a call from TVA Chief Operating Officer Mike Skaggs, who gave Wilson both counsel and his number for future use. "So I've had an opportunity to meet some people," Wilson says. "They have a lot more responsibilities than we do, but they're just like us."
Labors of Love
As a representative of TVA in Memphis, Wilson happily takes on an educational role. "Here in the west, TVA is not as well known; people know MLGW, but don't understand that TVA makes the power that MLGW sells," Wilson explains. "I educate them so they know TVA keeps the power flowing down the line so people can wake up in the morning and cut their lights on."
Ask Wilson about his passions in life, and he'll lay them out for you: faith, family and work. "I care deeply about my spirituality, and from there my family and then my job," he says.
He's a Christian, a deacon in his church, but is careful to note: "I am not a self-righteous Christian. I am around people who use language and apologize for it, but I say be who you are. I just enjoy different people, and find that people are people and everybody is going through the same things."
As for family, he's proud to have raised two fully grown and independent children, a son and a daughter. The former is newly and happily married, the latter is enrolled in school. He also enjoys being a grandfather.
Wife Adriann, he says, "has been with me for 34 years, and has seen the good side and the bad side and has stuck with me no matter what."
Jobwise, he's clear on his mission. "Working with transmission it's clear that my role at TVA is to make sure the transmission line and breakers are working so that the power generated can be transmitted down the line. Reliability is my goal."
For Wilson, that makes even the scariest and most uncomfortable parts of his job well worth it. "I could get called anywhere, 24/7," he says. "I could get a call in the middle of the night, and it may be pitch black and 10 degrees outside. But at the same time, I know I'm doing something good for the community."
Meet More People You Know
Meet more TVA employees, and learn about some of the fascinating ways they serve the Tennessee Valley through their work in energy, environmental stewardship and economic development.
They're your friends, your family, your neighbors. Get to know them.