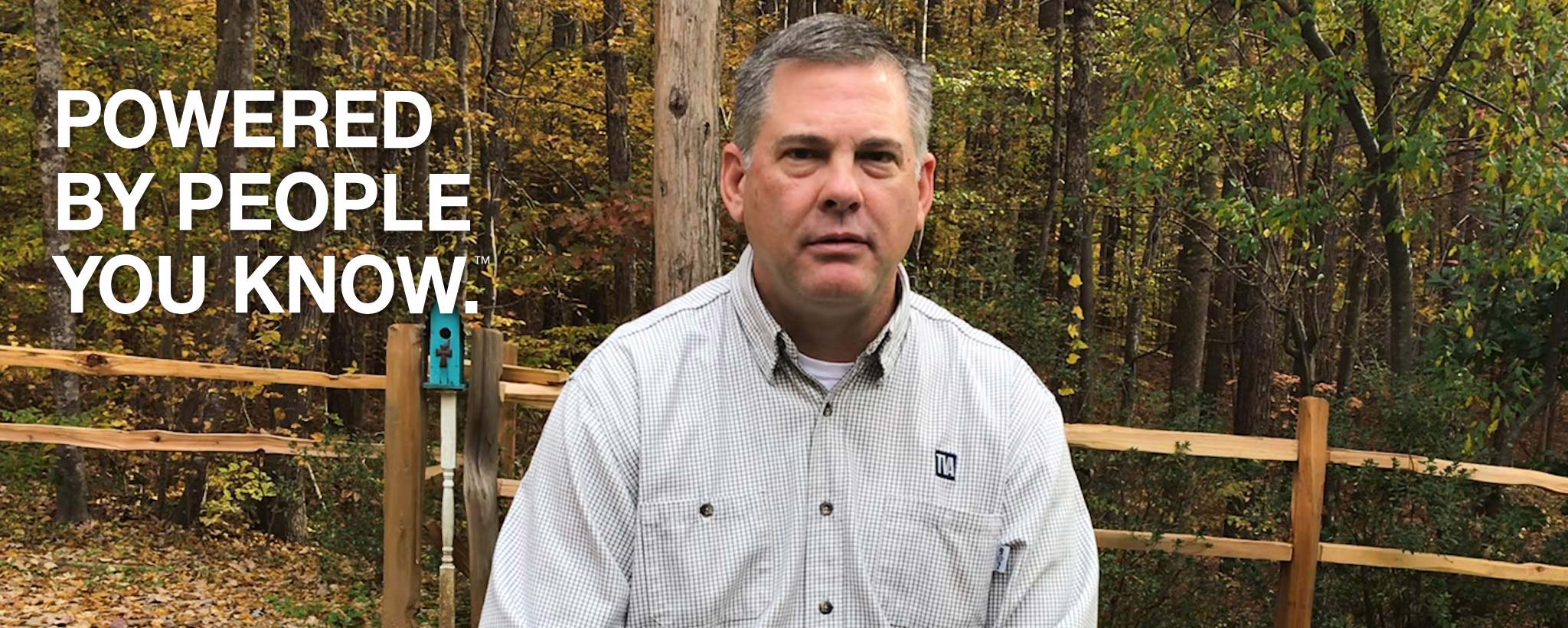 Virgil Ledbetter
Lineman Foreman | Iuka, Mississippi
It was 2004, and TVA Lineman/National Guard member Virgil Ledbetter was right in the thick of the war in Iraq. He'd been called up with the First Calvary Division, and stationed in Baghdad, the nerve center of the country.
His official job? "We were in charge of sustainment convoys and routes theatre wide, and in and out of Baghdad," he says. "I was doing logistics and route control."
But when word got out about Sergeant First Class Ledbetter's stateside experience with TVA, that all changed "I got pulled into a government support team working in the "green zone" to establish a reliable electrical system in Iraq," he says. "My focus was electrical lines and the grid. They were constantly being sabotaged, so a big piece of that job was keeping things together."
The U.S. was determined to help, but the Iraqi electrical system was so far behind, it was hard to match their dilapidated equipment with the millions of dollars' worth of new equipment the U.S. was providing. "We had the Minister of Interior there to help us, but because the equipment didn't match up, alarms were going off constantly. You couldn't think."
But thinking was just what Ledbetter needed to do, and he needed some help with everyday problem solving. So, he used his personal phone time to call friends and colleagues at TVA to draw on their expertise. "I knew people at TVA who had the knowledge we needed, so I would call them to get their thoughts. I was calling Linemen and engineers, mostly. And they were glad to help. So, TVA did play a part in bringing stable electricity to the people of Iraq."
But as much as Ledbetter accomplished during his 18-month stint in Iraq —"it was the busiest portion of my life, for sure" — he credits his wife for doing more at home. "We had two small children then, and she had to hold everything together," he says. "TVA was great—my wife and management were active on the telephone. It was all new territory for us, but TVA is well rehearsed in having people serve. They gave us all the information we needed to keep things going on the home-front."
Keeping the Lights on
These days, Ledbetter is in more of a managing role, telecommuting from his home in Iuka, Mississippi. But that doesn't mean his job is any less challenging. He oversees a large contractor that is partnering with TVA to inspect and make needed repairs to steel transmission towers as well as wooden poles.
"The towers are rusting over time; the wood is rotting," he says. "That's natural, but we are making repairs across the Valley based on the funding we have to do it with." In 2007, every transmission tower in the TVA system was inspected and graded from A to D, and the results of that study influence Ledbetter's strategy today. "I'm able to do computer inspections from home, but I still get out and travel the Valley to look at how the work is progressing."
He may be a bit of a desk jockey at the moment, but he's still a Lineman through and through. He came to TVA in 1995 through the Lineman-training program and worked for several years in construction before moving to the maintenance side.
I love the people," he says simply. "I may be working remotely, but I'm still connected to every Lineman at TVA. Linemen are a different breed — they're a very blunt, no-excuses group, but at the same time, they've got your back. At TVA, it's a brotherhood like no other."
Home Sweet Home
Though he's technically stationed in Chattanooga, Ledbetter and his wife, Kimberly, choose to stay put in Iuka and travel from there (she's a registered nurse in Booneville, Mississippi). "We're near Pickwick lake, and we take advantage of that to the fullest." He says. "We're always boating, skiing, fishing, what have you."

Children Presley and Trey are a Senior and Junior respectively, at Ole Miss; but Ledbetter says of his brood, "We are all outdoor people through and through. I like to hunt when it's hunting season— the hunting is great here, and TVA is good about providing leave so I can do just that."

He's proud to do his part at TVA, whether in the field or behind the computer, and notes that the experience he gained in Iraq has been invaluable in his day-to-day work. "I know that I am helping keep the lights on, and the public knows it's true — that's why I'm proud to go out wearing a TVA logo on my shirt," Ledbetter says. "About 95 percent of the people I meet are glad they are in the TVA system, and proud to live in the Tennessee Valley."
Meet More People You Know
Meet more TVA employees, and learn about some of the fascinating ways they serve the Tennessee Valley through their work in energy, environmental stewardship and economic development.
They're your friends, your family, your neighbors. Get to know them.