Flood Damage Reduction
When TVA was founded in 1933, flooding was a serious problem in the Tennessee Valley. Untamed rivers washed away the topsoil, causing severe erosion and limiting farmers' ability to grow crops; poor farming practices compounded the problem. The potential for flood damage increased as cities and towns were built alongside the rivers. Property was regularly devastated. In many cases, lives were lost.
From the beginning, TVA was charged with coming up with solutions for these problems, and taming the wild waters that were regularly taking such a heavy toll on land and lives.
Today, TVA has a sophisticated system of dams to control flooding along the Tennessee River watershed, and each year it prevents about $260 million in flood damage in the TVA region and along the Ohio and Mississippi Rivers. To date, the operation of this system has prevented over $5.4 billion in flood losses across the Tennessee Valley, including about $4.9 billion in damage averted at Chattanooga—the Valley's most flood-prone city. (The system has also prevented about $470 million in flood losses in the lower Ohio and Mississippi River drainage basins.)
Contact Information
Federal Emergency Management Agency
National Weather Service
U.S. Army Corps of Engineers
U.S. Coast Guard
TVA River Forecast Center
(865) 632-6065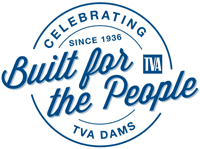 The Unified Development of the Tennessee River plan stressed TVA was to provide flood control, navigation and electricity for the region. TVA's dams are tangible evidence of its primary mission: improving life in the Tennessee Valley. We're celebrating the plan with an in-depth look at 32 of the dams it comprises.

Lake Info App