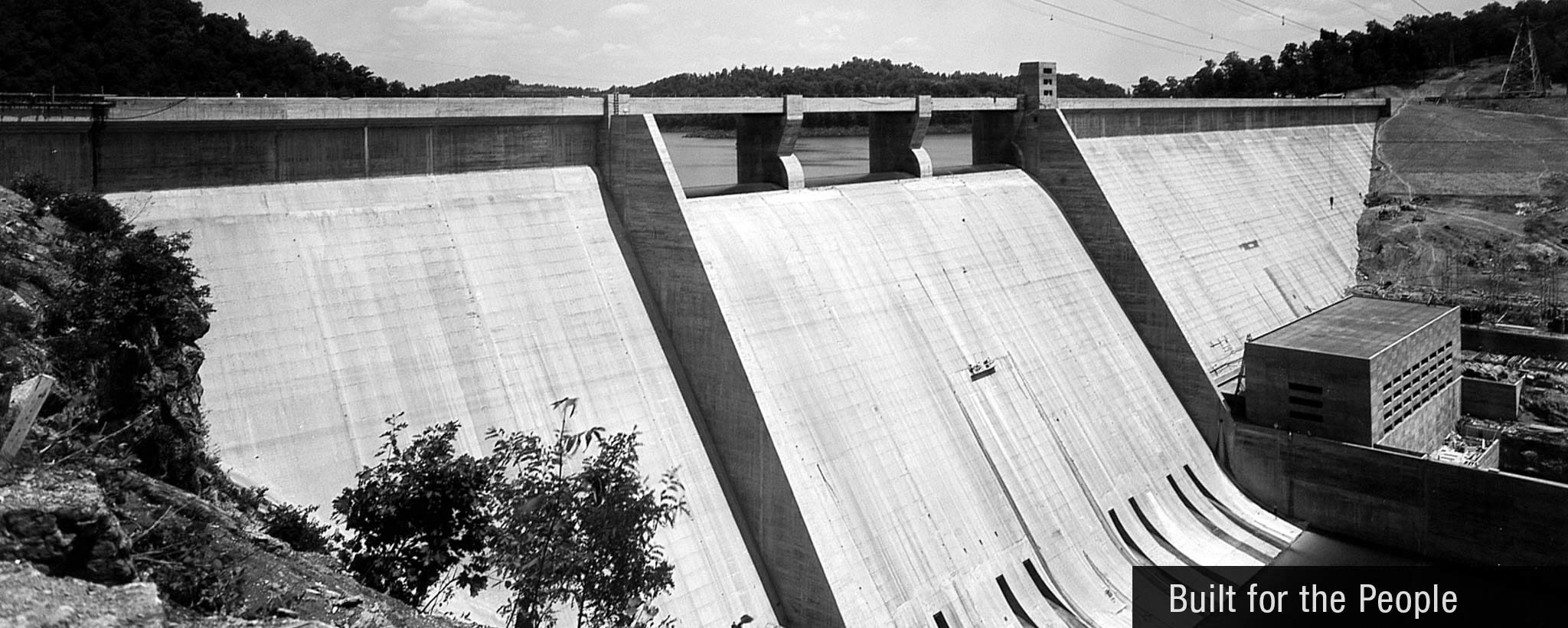 Design for the Public Good
As TVA brought public power to the Tennessee Valley, TVA architect Roland Wank put design to work for the people—starting with his visionary plan for Norris Dam.
In Budapest, Hungary, in 1903, a nursemaid told stories to a dark-eyed child. She had been to a land far away across the ocean, and she told the 5-year-old boy about the fantastic things she'd seen there: 12-story buildings, railroads that ran through the air, waterfalls that sounded like thunder. The stories the boy heard from her may have had a profound effect on the development of TVA.
Those tales planted the seeds of Roland Wank's fascination with America. Both technically and artistically inclined, the bright youngster chose to study architecture at the Royal Technical University in Budapest and later in Brunn and Vienna, Austria. Like most young intellectuals of the Bauhaus period, he was a modernist.
Wank was successful in the years after World War I, helping to design factories, bridges, and power plants. But inflation in 1920s Austria was so catastrophic that it was tough even for a busy architect to make a living. In 1924 Wank boarded a steamship for America. Here he made a name for himself designing buildings in the New York area, and achieved success so quickly that he was able to have his wife come from Europe to join him.
A Natural Fit for TVA
It's not surprising that TVA recruited Wank at its founding in 1933. The intense, formal young man who combed his black hair straight back and chain-smoked cigarettes was only 35, but he'd already gained a solid reputation as an imaginative architect who liked big public projects.
Wank brought with him an apparently sincere desire to work for the betterment of mankind. "I could never become interested in designing grand houses for the few who can afford them," he told a reporter for a Knoxville, Tennessee, newspaper soon after his arrival at TVA. "I always want to feel that my work is out of some public interest, and that it will add to the comfort and enjoyment of many."
Wank was assigned to help with the design of Norris, the model community TVA built to house the workers constructing Norris Dam in east Tennessee. He proposed that all the houses be simple and functional in design, with no moldings, cornices, or other ornamentation. For Wank, that wasn't an economic choice so much as a humane one. "The housewife in a soft-coal country has enough dusting to do even on the plainest surface," he said.
Aesthetic honesty was a factor too, as it was in the work of many other modernists. Frivolities like moldings and cornices "are not justified until we have attained Utopia," Wank said. "Then, when we are all comfortably fixed, we shall sit down and wonder about the comparative merits of artistic detail. In the meantime, these ornaments express a desire to imitate what the financially able could afford in the more leisurely days of the past, and in that sense they are untruthful and needless."
For better or worse, many of Wank's quasi-socialist ideas were never adopted by TVA. But the Directors seemed to understand what he could do best, and there they gave him free rein.
Norris: Dam as Artform
Director David Lilienthal was so impressed with Wank's work on the Norris housing that one day, the story goes, he handed the architect a copy of the plans for Norris Dam itself, already designed by federal engineers with pure functionalism in mind. "Take a look," suggested Lilienthal. Two weeks later Wank returned to the Director's office with his own set of drawings. "This is the way I think it should be," he said.
The sketches were simple but dramatic, treating the dam and its powerhouse as a new kind of modern sculpture. Lilienthal liked them, and although some TVA engineers were disgruntled by Wank's aesthetic approach, his design for Norris prevailed.
When the dam was finished in 1936, many observers were startled to see that it was actually beautiful. In the next few years, Wank designed other dams: Fontana, Chickamauga, Hiwassee. Not only did the boy from Budapest see the thunderous waterfalls of America, he got to create a few too.
Wank left TVA in 1944, returning to his old New York firm. As the agency's era of intensive dam-building came to an end, he may have sensed that his legacy was already secure. Indeed, at his death in 1970, the critics who assessed his achievements concentrated on his 11 years at TVA.
In an essay in Architectural Forum magazine, critic Frederick Gutheim compared Wank's TVA designs with one of the most famous dams of all. "At Hoover Dam, one was impressed by the sheer size. But at a TVA dam one was reminded of humanistic values, of power serving man . . . of the virtues of public ownership of hydroelectric power.
"Wank's accomplishment was to make the TVA and its works look as important as they are accepted as being today."