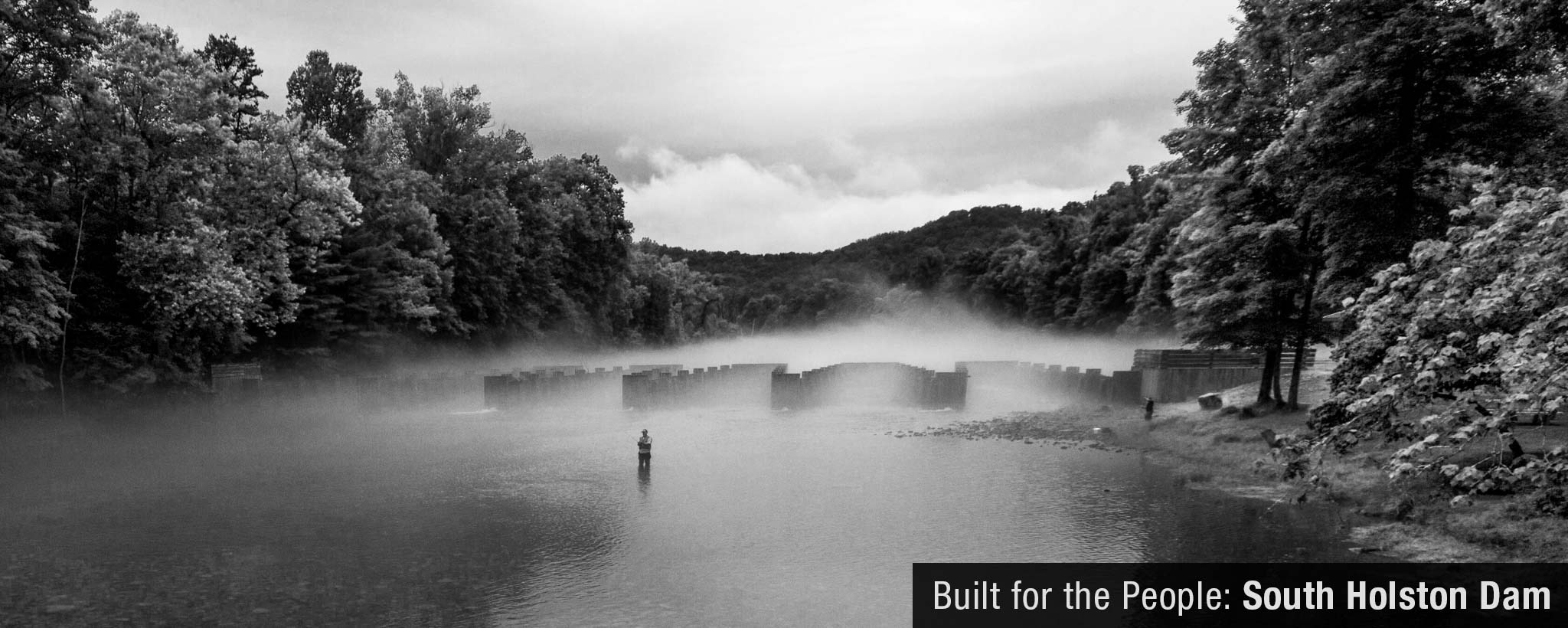 "Weir" Science
The aerating labyrinth weir constructed below South Holston Dam in upper East Tennessee has multiple benefits—chief among them creating oxygen-rich water that has fostered a world-class brown trout fishery.
Nestled in the northeast corner of Tennessee just a few miles southeast of Bristol—right where the South Fork Holston River winds its way through the hills of the Cherokee National Forest to join the South Holston Lake—you'll find the South Holston Dam. Built for downstream flood control, the dam is one of two TVA dams on the South Fork Holston River (the other is Watauga Dam).
Both projects were started in the early 1940s but were halted by order of the United States War Production Board in late 1942 in order to redirect as many resources as possible to support activities central to the war effort. Construction of South Holston finally resumed in 1947, and was completed on Nov. 20, 1950; the dam's single generating unit came online 66 years ago, on Feb. 13, 1951.
Breathe Deep
It wasn't until 1991 that the dam received what would become its most distinctive feature. That year, as part of TVA's Lake Improvement Plan, an aerating labyrinth weir was constructed about a mile-and-a-half below the dam on the South Fork Holston River. The aim of the Lake Improvement Plan was to improve dissolved oxygen concentrations in the downstream tailwater, and to increase minimum flow in the tailwater between periods of generation. Both goals would benefit aquatic life, as post-generation tailwaters tend to be cold, dense and oxygen-depleted.
In addition to lake improvement initiatives, the South Holston weir also was designed to provide less backwater on upstream turbines at the dam's generating unit, and to minimize the intensity of downstream water recirculation such that it would be safe for recreational river users, including boaters and fishermen. Other types of aerating structures can pose a physical threat to recreational activities; therefore the South Holston weir's ability to provide safe downstream recirculation levels is one of its key benefits. The beauty of the labyrinth weir is that it accomplishes all of this simply by virtue of its design, so only one technology is needed. It is a powerful blending of utilitarian functionality and sculptural elegance.
Though impressive in its own right, it isn't the weir itself that draws visitors to the South Holston tailwater; it's the fish that thrive in the oxygen-rich aquatic environment that the weir helps to create.
Good Fishing
Deep-water releases from hydroelectric dams provide the cold-water habitat favored by trout, but often don't have enough oxygen for healthy fish to thrive. But the South Holston weir provides water flow in the river channel during periods of no generation, which ensures a more consistent, healthy habitat for insects, plant life and fish. The weir creates a series of waterfalls, forming air pockets that in turn burst into air bubbles as they plunge downstream. These air bubbles churn the otherwise calm water, allowing oxygen to penetrate throughout the depths of the reservoir, creating optimal conditions for trout to thrive.
The water quality improvements since the weir's completion have helped support substantial natural reproduction among the population of brown trout in the South Fork Holston River. In fact, the South Holston tailwater is now managed not as a put-and-take and put-and-grow brown trout fishery with annual stockings, but as a wild brown trout fishery
The trout are protected during spawning season, both by the establishment of a protected length range (trout between 16 and 22 inches long must be released unharmed) and by the closure of spawning areas to fishing. Though rainbow trout are still stocked annually, wild brown trout are naturally abundant, making the South Holston tailwater one of the most popular fisheries in the Southeast. Read more about it in our article "The Tug is the Drug."