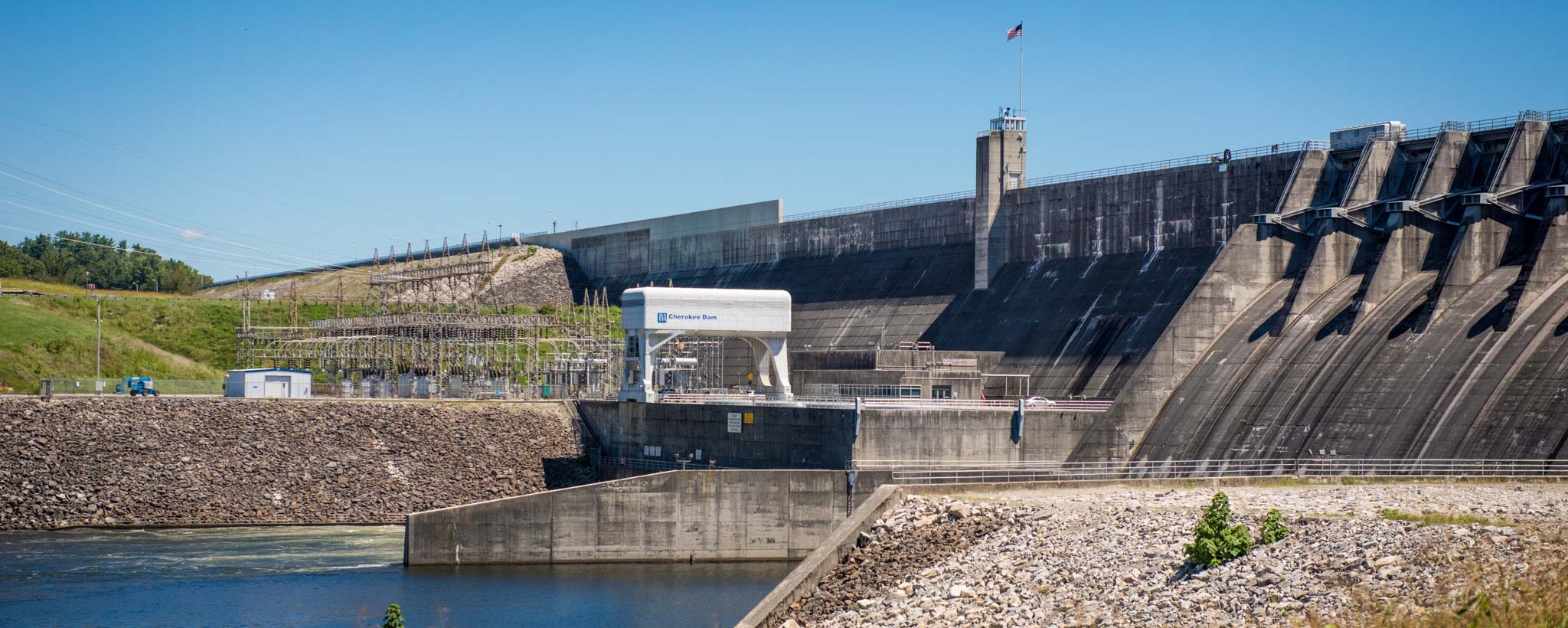 Dam Safety Is a Top Priority at TVA
Keeping its dams performing well and the communities near them safe is a top priority for TVA. That's why TVA monitors its dams routinely and continuously updates its Dam Safety Program to meet current industry standards.
National Dam Safety Awareness Day is held each year to commemorate the failure of the South Fork Dam in Johnstown, Penn., in 1889. The dam failure resulted in the loss of more than 2,200 lives and was the worst dam failure in the history of the United States.
This day also serves to encourage and promote individual and community responsibility for dam safety, as well as to provide information on what steps can be taken to prevent future catastrophic dam failures.
"While dams provide many benefits to communities, such as recreation, a supply of drinking water and improved of wildlife habitats, they can also pose a significant flood risk if they fail," says Jennifer Dodd, general manager of TVA's Dam Safety organization. "Dam safety is a shared responsibility and everyone is encouraged to know their risk and benefits, know their role and take action when necessary."
TVA Dam Safety Program
TVA has a long history of safe operations of its dams and has a robust dam safety program. Every TVA dam is checked regularly to make sure it that it is safe and the equipment used to operate it is working properly, Dodd says. Because many of these dams were built in the 1930s—and the dams TVA purchased are even older—TVA has worked diligently to make sure that they continue to meet modern safety regulations to enable TVA's dams to perform well during floods and even earthquakes.

TVA monitors its dams routinely, performs maintenance and repair of aging structures, and continuously updates its Dam Safety Program to meet current industry standards through instrumentation, inspection and maintenance. TVA Dam Safety staff also regularly interacts with other dam safety professionals from across the country and around the world at industry conferences and through continuing education, and the program itself undergoes an independent review by recognized industry experts every three years.

When TVA encountered troubling conditions at one of its dams, Boone Dam, it took swift and comprehensive action, drawing lake levels down and undertaking a multi-year, comprehensive project to fortify the dam. Click here to learn more about the Boone Dam Project.

"We encourage everyone to be aware of the dams in your area, because knowledge and awareness is an important part of dam safety," Dodd says. "For example, purchasing flood insurance and having an emergency action plan in place for your family or business can save you money and potentially prevent loss of life. Know what to do and where to go if you have to evacuate.

"National Dam Safety Awareness Day is a good time to inform your friends and neighbors about dams in the area and to contact your local dam safety official or local emergency management agency for more information."

Dangerous Areas Surrounding Dams
National Dam Safety Awareness Day is also a good time to make sure you know and avoid the dangers surrounding dams, locks and powerhouses. If you like fishing or enjoy swimming and boating on TVA-managed reservoirs, you need to be aware of the possible hazards surrounding dams. A large amount of water can be discharged through a dam's spillway or through powerhouse turbines without warning at any time.

For example, when the demand for electricity is high, the turbines that generate electricity at a hydro plant may start automatically, resulting in a significant increase in the flow of water within only a matter of seconds. Similarly, river operations for flood control can create rapidly rising water in otherwise shallow riverbeds, especially below tributary dams, which are usually located in steep terrain.

Even if you're an experienced boater, angler or swimmer, it pays to know the signs of rising water and the rules you should follow to ensure your safety.

TVA has installed horns, strobe lights, warning signs and electronic spillway signs with strobe lights and horns at several Valley dams to warn the public of impending changes in water conditions, such as swirling water, strong surface and underwater currents, rapidly rising water and sudden water surges. In addition, warning signs and danger buoys near some dams identify hazardous areas ahead. Access to these areas is restricted at all times.

To ensure your safety, please obey these warning devices. Click here for more information about decoding dam dangers.

FEMA provides information to the public on actions they can take to reduce their risk.
Additional information on national dam safety is available here.