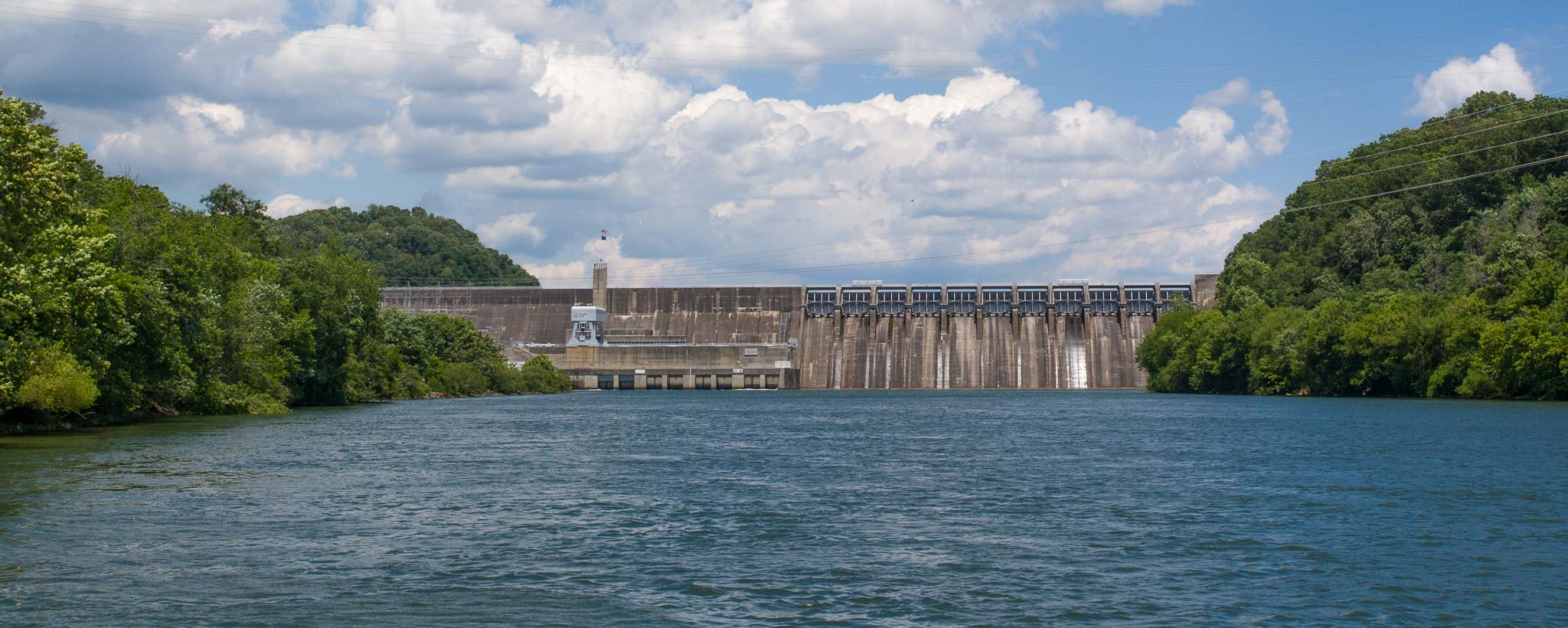 Douglas
Work on Douglas Dam began in February 1942 and was completed on a crash schedule in just 12 months and 17 days—a world record for projects of equivalent size. It is a hydroelectric facility with four generating units that together have a net dependable capacity of 111 megawatts.
Douglas Dam is on the French Broad River in East Tennessee. The reservoir extends 43 miles upriver from the dam through the foothills of the Great Smoky Mountains.
Set as it is against the backdrop of the Smokies, Douglas Reservoir is a popular recreation destination, known for picnicking, camping, boating and fishing.
Douglas and other TVA dams built during World War II made a historic contribution by providing hydropower to drive the war effort. The reservoir remains an integral unit in the overall water control system in the Tennessee Valley.
Birdwatchers enjoy the fall migration of shore birds, wading birds and other waterfowl that flock to Douglas from late July to early October. The birds rest and feed on the muddy shoreline and in areas of shallow water exposed as the level of the reservoir is lowered to winter flood control levels.
Douglas: Facts + Figures
Douglas Dam is a hydroelectric facility. It has four generating units with a summer net dependable capacity of 182 megawatts. Net dependable capacity is the amount of power a dam can produce on an average day, minus the electricity used by the dam itself.
Douglas Dam is 201 feet high and stretches 1,705 feet across the French Broad River.
Douglas Reservoir provides 513 miles of shoreline and about 28,420 acres of water surface for recreation activities.
In a year with normal rainfall, the water level in Douglas Reservoir varies about 44 feet from summer to winter to provide seasonal flood storage.
The reservoir has a flood-storage capacity of 1,082,000 acre-feet.
Find Douglas Dam at 850 Powerhouse Way, Dandridge, Tenn.
More Information About Douglas
Daily Lake Level

Sport Fish Survey Results

Ecological Health Ratings

Recreation Facilities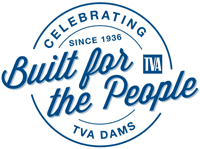 The Unified Development of the Tennessee River plan stressed TVA was to provide flood control, navigation and electricity for the region. TVA's dams are tangible evidence of its primary mission: improving life in the Tennessee Valley. We're celebrating the plan with an in-depth look at 32 of the dams it comprises.

What Democracy Can Do
At the outset of World War II, Congress approved the Douglas Dam Bill to provide power for the war effort—in particular, to produce the aluminum needed to build aircraft. TVA workers toiled day and night, and the dam was finished in just over a year. Read more about this amazing accomplishment.