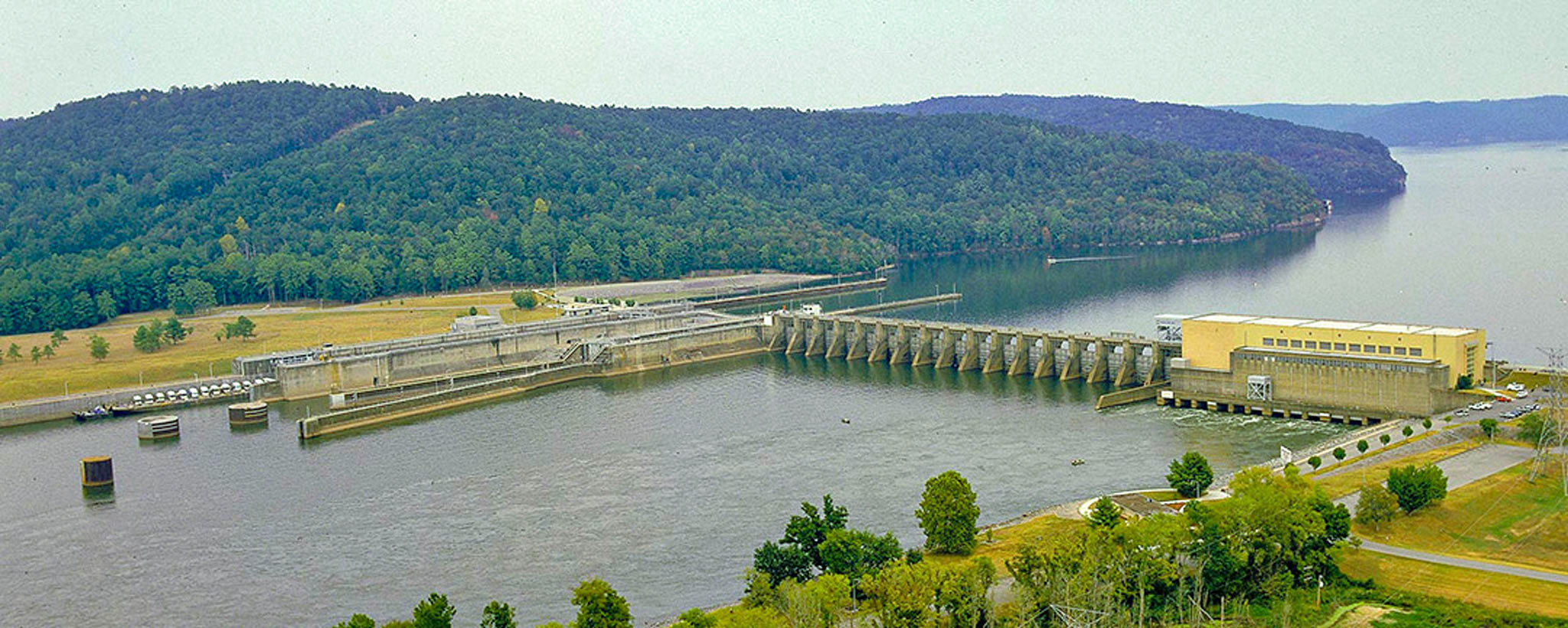 Guntersville
Good fishing, clear waters, and the beautiful backdrop of the wooded Appalachian foothills combine to make Guntersville one of the South's premier recreation attractions.
Guntersville Reservoir is located in northeast Alabama, extending 76 miles up the Tennessee River into Tennessee. The nearby town of Guntersville is named for John Gunter, an early Scottish settler and adopted member of the Cherokee tribe, who established the town the year after the end of the American Revolution.
Guntersville is a mecca for those who love to fish. Crappie is the number one sport fish, usually accounting for over half of the total catch. Bass and bluegill are also caught in large numbers. The area below Guntersville Dam is known for its fine sauger fishing during autumn and winter, white bass in early spring, and catfish in summer.
The area below the dam offers unique opportunities for day hiking and caving. An easy one-mile loop trail leads by a cave used during the Civil War to mine saltpeter, a basic ingredient of gunpowder.
When TVA established the stairway of dams and locks that turned Tennessee into a 652-mile-long river highway, the rural town of Guntersville was transformed into a major port. Several large companies now have terminals at Guntersville for processing and distributing grain, petroleum, and wood products.
There is a visitor center installation on site where you can learn more about the history of TVA and Guntersville Dam and about TVA's current activities.
Guntersville: Facts & Figures
Construction of Guntersville Dam began in 1935 and was completed in 1939.
The dam is 94 feet high and stretches 3,979 feet across the Tennessee River.
Guntersville Dam is a hydroelectric facility. It has four generating units with a summer net dependable capacity of 123 megawatts. Net dependable capacity is the amount of power a dam can produce on an average day minus the electricity used by the dam itself.
Guntersville Reservoir has almost 890 miles of shoreline and 67,900 acres of water surface.
The reservoir has a flood-storage capacity of 162,100 acre-feet.
In order to maintain the depth required for navigation, the water level in the reservoir is maintained at a minimum winter elevation of 593 feet. The typical summer operating range is between 594 and 595 feet.
The larger of Guntersville's two locks was built in 1965 to handle the growing river traffic.
Find Guntersville Dam at 3464 Snow Point Rd., Guntersville, Ala.
More Information on Guntersville Reservoir