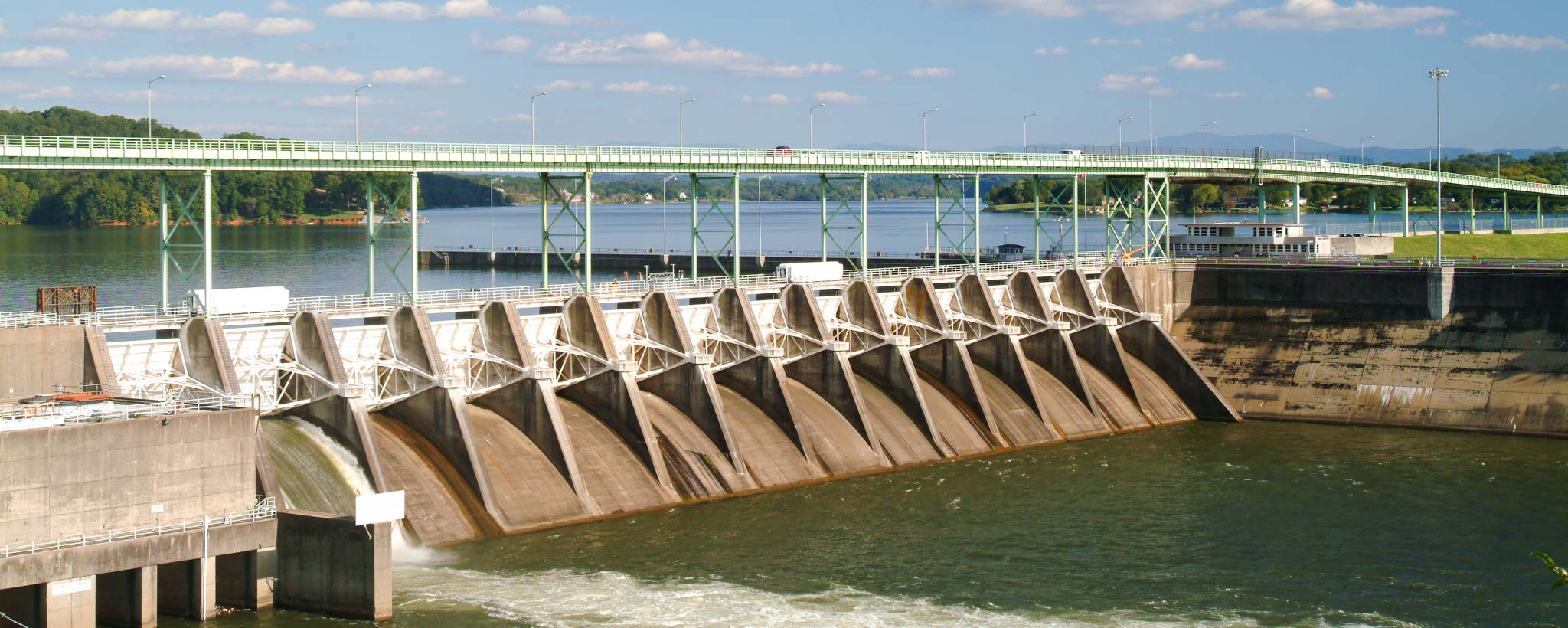 TVA Dam Safety
For TVA, dam safety is a leading priority 24/7/365. Read about what we're doing every day to monitor and improve the 49 dams in the Tennessee River system.
Dams are the tools that TVA uses to manage water and the impact it has across the Tennessee Valley. TVA Dam Safety teams protect lives and property by helping to ensure that our dams are designed, constructed, operated and maintained for safety and reliability.
TVA operates river dams at 49 sites, 29 of which generate hydro power. But the Dam Safety responsibility goes well beyond these traditional river dams to also include coal ash storage sites, levees, and more — up to 142 structures in all. (Of these, 91 are listed on the National Inventory of Dams.)
Those dams include massive structures with complex mechanisms that collectively store trillions of gallons of water, withstand enormous hydraulic pressures, and individually release up to 4 million gallons of water per second. At the opposite end of the spectrum are dykes, levees and weirs that, despite their small stature, are important cogs in the machine.
To manage all these, TVA has established a multi-year Dam Safety Assurance Program to reduce the risk of an event; improve safety and preservation of the dams and assets; improve and update dam design basis; and ensure compliance with TVA Dam Safety standards and procedures.
As a result, TVA dams operate to safely deliver flood control, navigation, power generation, water supply, recreation and water quality. TVA invests in its dams through maintenance, inspections and upgrades to make them even better able to protect people and property during extreme events. TVA has invested more than $900 million in dam safety projects since 2010.
Your Safety Is our Business
TVA cares about the safety and welfare of Tennessee Valley residents and is committed to operating its dams safely. TVA Dam Safety teams regularly conduct emergency exercises, partnering with Emergency Management Agencies, state and local officials, the U.S. Army Corps of Engineers, and others to help protect people in the event of an emergency.
TVA dams are managed and maintained with public and employee safety as top priority through a very robust Dam Safety Program which includes inspections, instrumentation, independent reviews, and maintenance and repair.
With their long history of strong performance, TVA dams are continuously monitored to perform safely and as designed. This regimen includes inspections monthly for general condition, every 12-15 months in more detail, every 5 years for a very thorough investigation and also after major weather or seismic events.
Over the years, TVA has helped avert over $9.7 billion in flood damage from Tennessee Valley storms, demonstrating the value of its dam system and river operations during the extreme real-world events.
TVA also has contingency plans for all its dams and works closely with emergency management teams to prepare for the unlikely event of a failure of any of its dams. And while dams help keep us safe, they do not completely eliminate the risk from flood events. When a flood exceeds the reservoir storage capacity, large amounts of water may have to be released that could cause damaging flooding downstream. Though it is highly unlikely, a dam could be overtopped in a rare, large flood, or a dam could breach because of an undetected deficiency, both of which scenarios could pose risk of property damage and life loss.
Managing Risk
This means there will always be a flood risk that has to be managed. To manage these risks, TVA has a routine program that inspects and monitors its dams regularly. TVA implements short- and long-term actions, on a prioritized basis, when unacceptable risks are found at any dams.
TVA maintains emergency action plans and works with local and state authorities to plan for emergencies at TVA dams in the unlikely case that there is a serious threat to the safety of a dam. You can find out the extent of flooded areas in the unlikely event of a dam failure by contacting your local emergency management agency.
TVA is a national leader in dam safety and regularly hosts or participates in regional and national conferences presented by the Association of State Dam Safety Officials (ASDSO), the Center for Energy Advancement through Technological Innovation (CEATI), the U.S. Society on Dams (USSD) and other leading organizations related to dam safety.
For more information about dam safety, please visit the National Dam Safety Program. You can also contact your local county Emergency Management Agency.