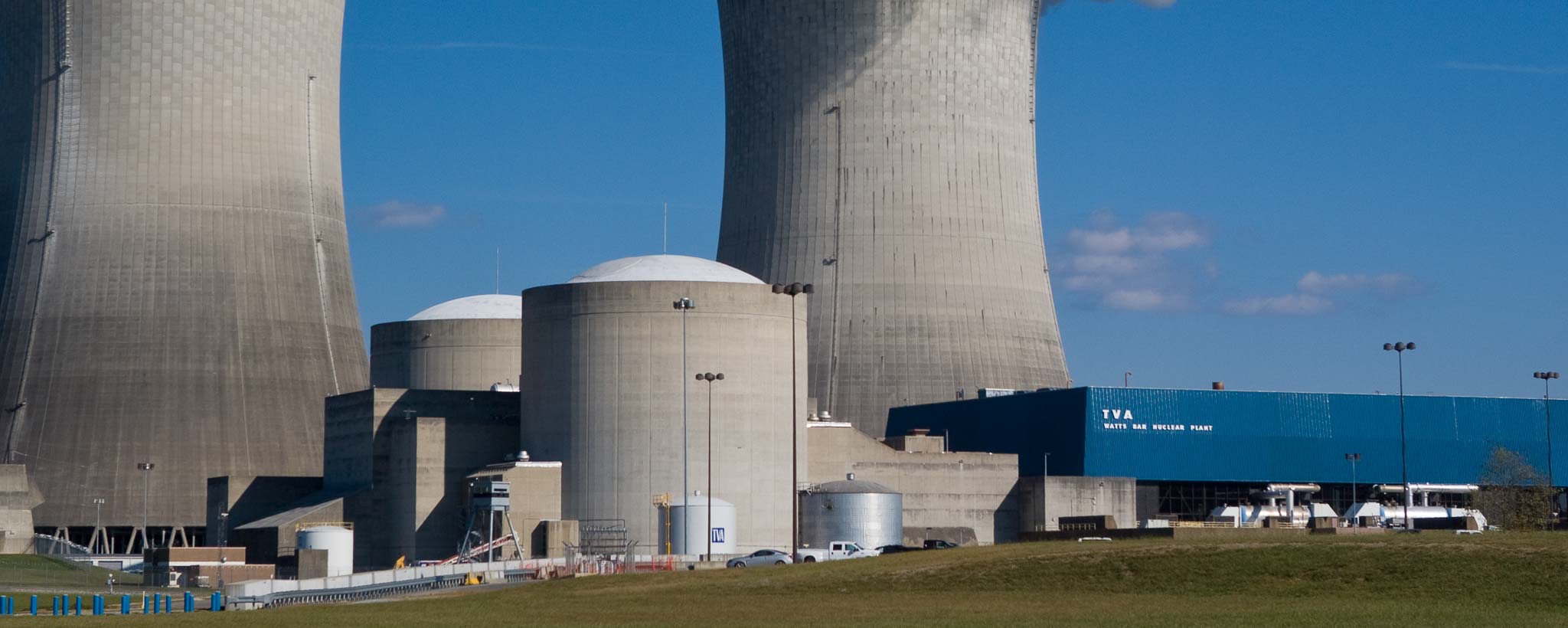 Nuclear
Safe nuclear energy is integral to our mission of powering the economic prosperity of the Tennessee Valley.
Our nuclear plants generate enough low-cost, clean, and reliable energy to power about a third of our customers—more than 4.5 million homes and businesses. With a top priority of safety and security, nuclear power is key to achieving TVA's mission of energy, environmental stewardship, and economic development to make life better for the Tennessee Valley.
Our Plants
We operate three nuclear plants capable of generating an average of 8,275 megawatts of electricity each day:
Why Nuclear?
Nuclear power is the best option for generating large amounts of electricity that's safe, clean, reliable, and cost-effective—allowing us to keep our rates competitive and reliability high.
Nuclear power is environmentally friendly and doesn't produce harmful greenhouse gas emissions.
Nuclear power plants run economically, second only to hydroelectric power, with low operating costs. Combined with our renewable energy and energy efficiency efforts, increasing nuclear generation allows us to reduce reliance on coal, decrease air emissions and provide reliable, affordable power to the people of the Tennessee Valley.
Safety—Our Top Priority
Our nuclear plants have multiple safety systems in place to keep our workforce and the communities we serve safe. Safety systems include physical barriers that protect against radiation release and layer upon layer of redundant and diverse backup power systems to keep reactors sufficiently cooled—even in the most extreme or unlikely events.
The nuclear industry is among the most thoroughly tested and regulated industries in the world. Our plants operate with oversight by the U.S. Nuclear Regulatory Commission (NRC), which has inspectors physically stationed at each site.
Industry organizations, such as the Institute of Nuclear Power Operations and the World Association of Nuclear Operators, work to ensure that the industry achieves the highest level of safety and reliability through plant evaluations, training, accreditation, events analysis, and information exchange.
U.S. nuclear plants are well designed to withstand natural disasters like floods, droughts, earthquakes, and hurricanes—as well as man-made threats such as aircraft crashes. After the event at Fukushima in Japan, the NRC required all nuclear plants to install additional backup safety equipment, known as FLEX, to protect plants from even more extreme events—including "stacked" events during which one disaster follows another.
In 2014, the industry opened national response centers in Memphis and Phoenix that can deliver additional safety equipment and resources to any U.S. nuclear power plant within 24 hours.
TVA nuclear regularly reviews nuclear successes and setbacks across the globe, and we use that knowledge to update our equipment, procedures, and training to the highest standards.