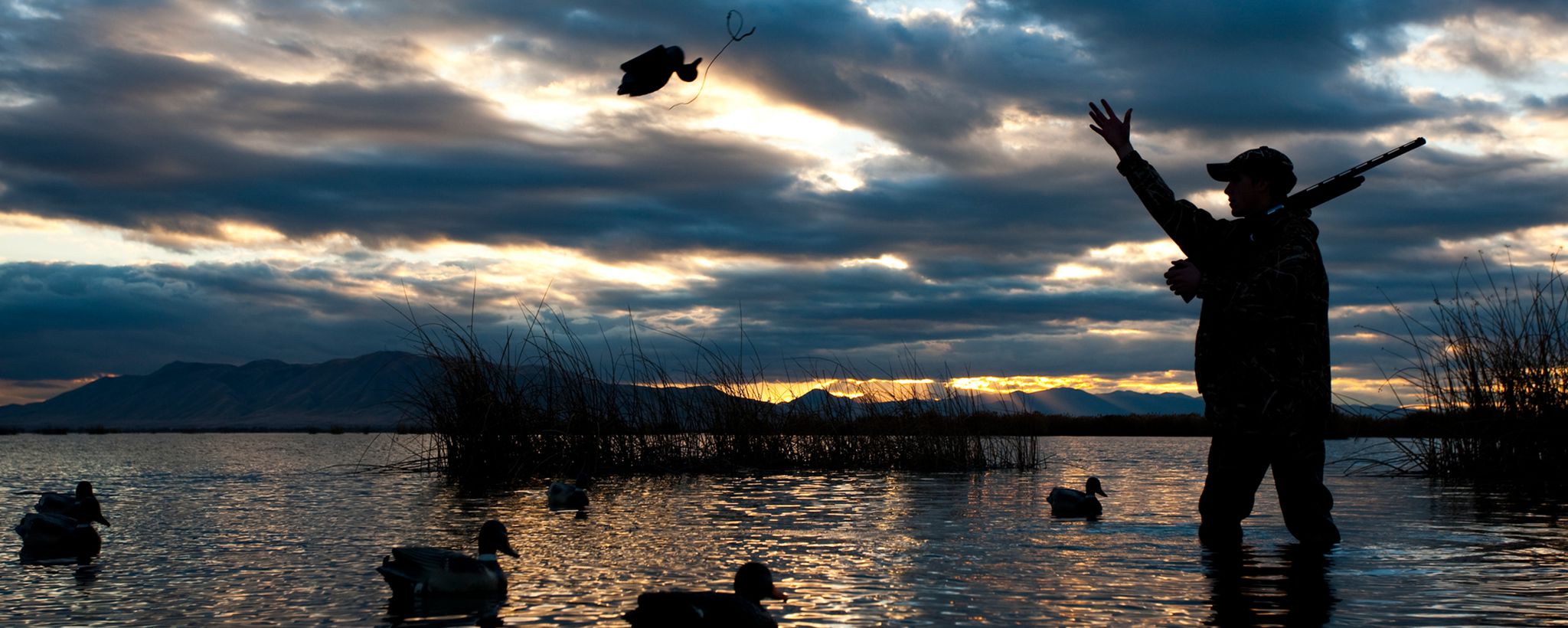 Hunt the Valley
Looking for a place to hunt? Try TVA's undeveloped public lands. Approximately 175,000 acres of the public lands we manage are open for hunting. On them, you can pursue the time-honored sport and make treasured memories while you're doing it.
On weekdays, Natural Resource Management program manager Marty High and manager David Brewster are mild-mannered TVA employees. Come the weekend, though, and they go wild—well, into the wild, at least.
Both are avid hunters who feel strongly that hunting in the Tennessee Valley is a time-honored way to reconnect with nature, enjoy family time, and put food on the table. Both acknowledge that many hunters struggle with finding proper hunting grounds. And both point to the solution, one that makes TVA public lands so special: 175,000 acres of undeveloped land open to anyone who'd like to hunt on them.
Since they are both Natural Resources employees, they care deeply about maintaining the land for hunting, so we asked them what you need to know about hunting on TVA land. Here's what they had to say:
Know Before You Go
"TVA doesn't require any special license; you just need a state hunting license," says High. (See sidebar, at right.) "But there are federal, state, and local laws and regulations governing hunting, and you need to know and follow them."
You also need to understand hunting safety. Wearing hunter-orange hats and vests helps ensure that you are seen when you're in the woods—whether you're hunting or not.
"People need to remember that most TVA areas are multi-use areas," says Brewster. "Hunting is allowed unless otherwise posted, but hikers, horseback riders, and other recreation users may be in the area, too. Also, some undeveloped TVA land is near developed areas. That's why following the rules and being safety conscious is so important."
Hunting is prohibited on some TVA lands, such as dam reservations, power plant reservations, substations, campgrounds, and day-use areas. Be aware of where you are and what's around you.
Do Your Homework
The best places to hunt aren't always easy to get to, according to Brewster. "Easily accessible areas get quite a bit of hunting pressure. But you'll find some of the best hunting on TVA land without road access—on islands and land cut off from public roads by the private property—and you're likely to have it all to yourself."
The key, he says, is to do your homework. "There's a dispersed recreation map on TVA's website that you can use to plan your trip," he explains. "You can even download it to your smartphone. Just keep zooming in on the area you're interested in until you can see the detail you need to figure out a way to access it."
TVA public land is marked with orange paint and small metal signs along boundary lines.
Help Protect Wildlife Habitat
In addition to being responsible hunters, High and Brewster remind folks to help keep TVA public land desirable for wildlife by being responsible stewards of the resources. Use good camping and hunting practices that leave the land as undisturbed as possible so you'll find even more turkeys, ducks, deer, squirrels, and rabbits next year.
TVA is doing its part, too, says High: "We work continually to maintain and improve wildlife habitat—from treating invasive species of plants and planting native grasses to stabilizing shorelines and keeping the water control structures used to maintain waterfowl habitat in good repair."
Give It a Try
Hunting is a great way to enjoy the outdoors, Brewster and High say. Both have hunted nearly all their lives, and both have cherished stories to tell of days spent in the woods with friends, family, and even a herd of beagles.
"For me, hunting is a great stress reliever," says High. "There's nothing like camping in the woods and hunting with your friends. I have so many memories, and I always look forward to the next trip."
"I've had people ask me why I hunt," says Brewster, "It allows you to connect with the natural world in a way that's hard to explain. There's nothing like the quiet and stillness of the woods in the morning. Maybe it isn't for everyone, but if you like the outdoors, you should give it a try. You just might get hooked."
For more on hunting, visit our page devoted to Recreation on Undeveloped TVA Public Lands.