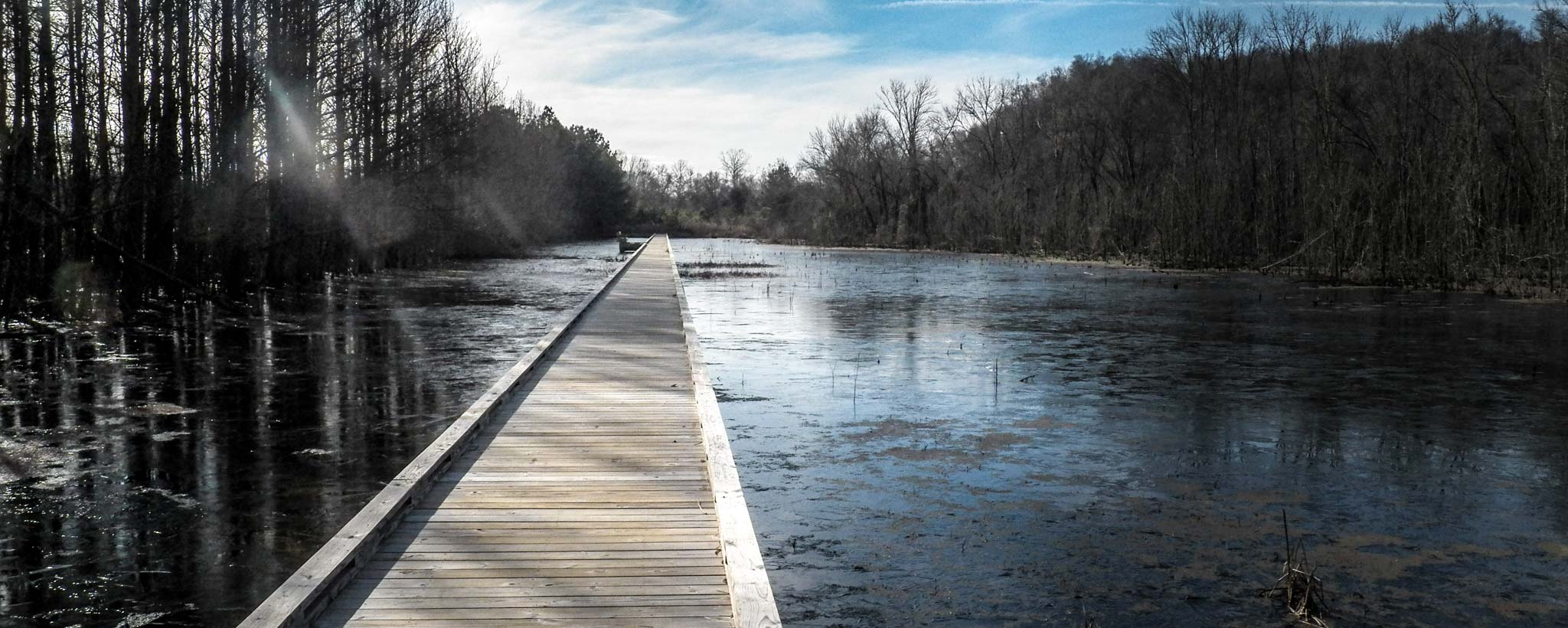 Scenic Winter Hikes
Hitting the trail for a cold weather hike is healthy for the mind and body. It's also a terrific time to view waterfowl and snap stellar photos of woods and water while enjoying winter's solitude.
Winter Waterfowl Hike
Small wild areas are wilderness conservation areas in miniature—little natural gems set aside for protection from encroachment by man. Happily, these areas welcome hikers and those interested in exploring on or off the trail. The 2.7-mile round-trip footpath through Lady's Bluff Small Wild Area (pictured above) is an upland hike through a forest that features limestone outcroppings, freshwater springs and natural sinkholes. In winter, the trail offers spectacular views of the Tennessee River as you wend your way to the top of the bluff, where a dramatic glade community featuring 100-year-old gnarled cedars awaits. Across the river, a variety of wintering waterfowl, including mallards, gadwalls, American wigeons, ring-neck ducks, American black ducks and Canada geese enjoy the Busseltown Tennessee National Wildlife Refuge. Bald eagles may also be seen fishing for a meal. The view is spectacular, so take your binoculars and a thermos of coffee and stay awhile.
Trail rating: Easy-to-moderate
Find it: Located at 274 Lady's Bluff Rd. on the Kentucky Reservoir near Hopewell, Tenn.; coordinates 35.688271N, -88.013062
Romantic Boardwalks
One of the lovely things about Northern Alabama is that this region of the Valley enjoys moderate winter temperatures - daytime highs average in the 50s. No wonder the Marbut Bend Trail in Limestone, Ala. makes a lovely, hand-holding stroll for two this time of year. One of TVA's newest trails, this easy, flat and A.D.A.-accessible 1.1-mile walk takes visitors across scenic boardwalks through a wetland and a pond created by a beaver dam, along the shoreline of two embayments (or coves) of the Elk River, and through an open field. The combination of wetland and field draws a lively mix of wildlife. Expect to see migratory shore birds, wood ducks, gadwalls, great blue herons, egrets, deer, raccoons—and, of course, beavers. Pack a romantic lunch and choose a picnic spot on a boardwalk bench where the water's reflection provides the perfect photo.
Trail rating: Easy
Find it: Located in Limestone, Ala., on Hwy. 99, 1.5 miles past the Elk River Bridge (heading West); coordinates 34.911671, -87.106389
Rocky Top Climb
Are you a rocker? If so, you'll love the four miles of trails at Little Cedar Mountain on Nickajack Reservoir—located about 20 minutes from downtown Chattanooga. The trails wind past limestone outcroppings, through boulder fields and alongside historical stone walls—farmsteads that formerly populated the region. It's a junior geologist's dream. As you make your way up to the overlook, you'll be offered stunning vistas of Nickajack Reservoir through leafless trees. At the top—a cedar-laden limestone barrens similar to the one found at Lady's Bluff Small Wild Area (see below)—you'll be afforded a view of Shellmound Recreation Area on the next ridge over. A small pond provides water for wildlife, which in the summer include salamanders and frogs, and in the winter deer, turkeys and even elusive coyotes.
Trail rating: Moderate
Find it: Take exit 158 off I-24 in Jasper, Tenn., to TVA Rd.; coordinates 35.03111, -85.58141