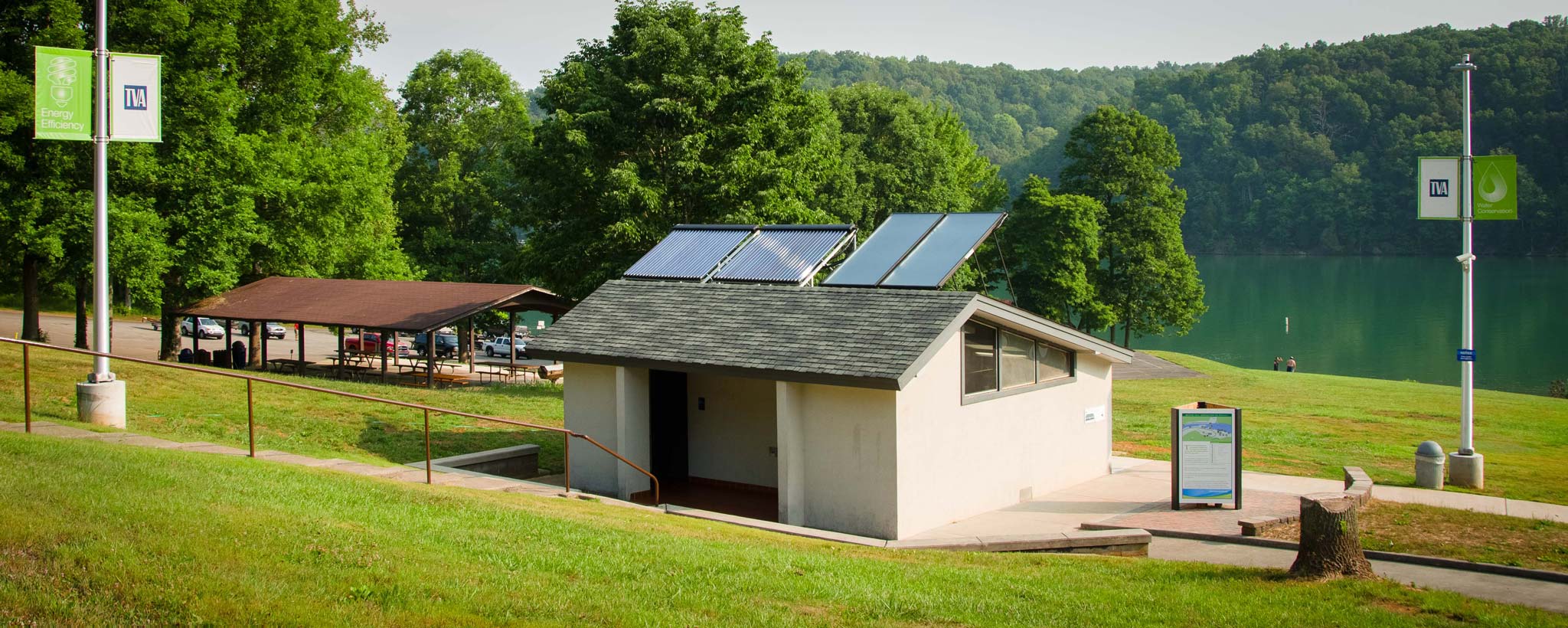 The Greenest Campground
Clean, green energy runs Melton Hill Sustainable Recreation Area.
TVA has turned Melton Hill Campground into a demonstration site for clean energy and energy-efficiency measures.
The site incorporates both wind and solar power technology.
Energy-efficiency measures include LED lighting and low-flow water facilities.
The facilities are also built using materials incorporating coal byproducts.
Want your camping to get even greener? Head to Melton Hill Sustainable Recreation Area near Lenoir City, Tenn., where TVA has created a recreation center that is demonstrating how renewable energy, energy-efficiency measures, water conservation and recycled products of coal combustion can be integrated in a clean recreation center that runs on renewable energy.
The campground is powered by wind and solar energy, and energy requirements are reduced where possible with passive solar and energy-efficiency measures. For example, lighting is converted to solar-powered light-emitting diodes (LEDs) and activated by motion sensors. Two solar thermal water-heating systems take the place of the standard electric units. And one 70-foot wind turbine generates up to 2,000 kilowatt-hours of clean and renewable energy annually.
Water conservation techniques include the installation of low-flow showers, dual-flush toilet fixtures and waterless and low-flow urinals. Riparian buffers are maintained to allow filtering of pollutants from rainwater runoff before it enters the lake, and native grass plantings and pervious pavers assist with runoff filtration. Shingles on all structures are fit with roofing materials containing coal combustion byproducts. Coal byproducts are also used in pathways, landscaping and stone veneer.
The result? A low-impact campground with net-zero energy requirements.
TVA operates about 100 public recreation areas throughout the TVA region where millions of people enjoy limitless opportunities for fun and appreciation of our natural heritage. Technologies tested at Melton Hill will be targeted for installation in other campgrounds and recreation areas in the TVA system.
Learn More About Melton Hill
From the solar-powered signage and the motion light sensors in public buildings, to the low-flow shower heads and the recycling efforts on site, you can get all the facts about the Melton Hill Sustainable Recreation Area's many clean and green features in this top-to-bottom fact sheet.
Curious about what's happening at Melton Hill, right now? Visit the Electric Power Research Institute's Melton Hill Dam Sustainable Recreation page, where an interactive dashboard will show you what's being generated and consumed in real time as TVA demonstrates the efficacy of different kinds of photovoltaic collecting technology, as well as wind power.
Curious about the eco-friendly equipment in place at Melton Hill? Get all the specs on our Melton Hill Sustainable Recreation Area Technology page.
Experience Melton Hill for yourself! Find out more about how you can reserve a campsite on TVA's Camping page. While you're camping, take note of the signs that inform you about the installations you're seeing while there you're staying and playing.