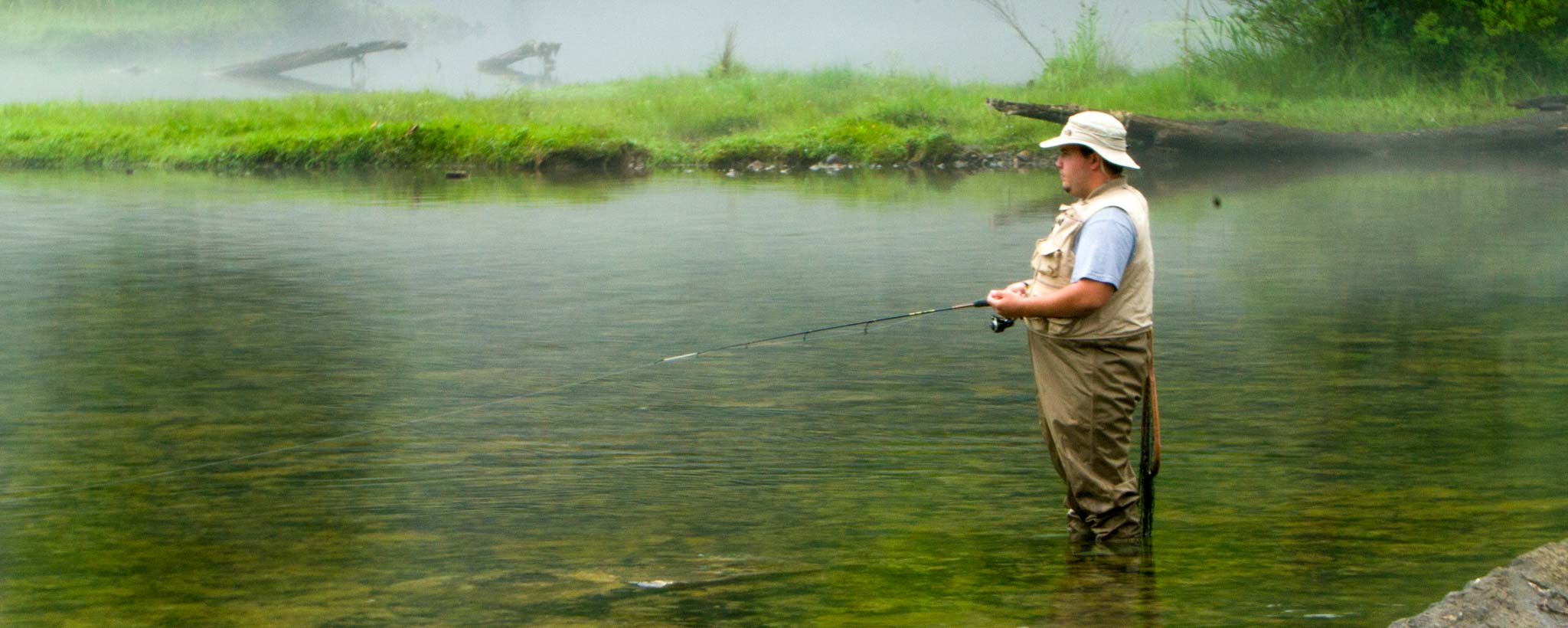 TVA's World-Class Wonders
Among the lands and lakes TVA manages lie five shining gems: recreation destinations that draw visitors from around the globe. Here's why they deserve a spot on your bucket list.
From the Great Smoky Mountains to the Mississippi Delta, the Valley is graced with great beauty and natural abundance—sweeping rivers, soaring mountains and staggering biodiversity. TVA is the steward of many of these natural assets—not only its rivers, but lush wilderness, family-oriented recreation areas, quiet hiking trails, fish-filled lakes and more.
But among many gems, five recreational assets stand out as truly world-class destinations. International websites, guidebooks, magazines and travel apps describe them in terms such as "must-go," "don't miss," "one-of-a-kind" and "exemplary."
And that's no exaggeration, according to Jerry Fouse, now-retired senior recreation director at TVA: "They're widely written about not only in the United States, but in Germany, Japan, Saudi Arabia, Scotland and points around the globe."
Check out what five TVA experts have to say about what makes these world-class destinations so special—and why they deserve a spot on your bucket list.
Norris Tailwater: Where the Big Ones Are
East Tennessee
Want to catch a big trout? Like, a REALLY big trout? Your best odds are to be found in the tailwaters below Norris Dam, ranked by the Tennessee Wildlife Resources (TWRA) agency as one of the best tailwater trout fishing destinations in the state for 2018.
Conditions are near perfect there for raising monsters of the species, according to Dennis Baxter, manager of River Reservoir Compliance Monitoring for TVA, lifelong trout angler and past president of the Clinch River chapter of Trout Unlimited (CRCTU.org).
"It stays nearly 50 degrees year round, which is the perfect growing temperature for trout," Baxter says. "And the water quality and constant temperature coming out of our dam ensures a reliable food source for the fish—there are food organisms coming through the dam and living below the dam, so the trout have a good steady diet."
And there's another big plus: "The TWRA trout management practice provides a protected length range—or "slot limit"— that allows the trout here to grow to trophy size. That means that everyone has a chance of catching a trophy-sized trout below Norris," Baxter says.
What's a trophy-sized trout? Try 14" to over 20"!
Baxter is not kidding when he says: "The fishing is fantastic." But, he notes, the tailwater is just as fun for kayakers and canoers too. "The tailwater releases never get too crazy, so it's a fun float, and there are three or four take-outs, so you can plan a nice day paddling on the water."
The best thing? "We have wheelchair access available at Miller's Island," Baxter says. "It's brand new, and wow. Nothing makes me happier than to see everyone having fun."
Check generation releases on TVA's Lake Info app.
The Appalachian Trail : "Fontana Hilton"
Fontana Dam, North Carolina
The storied Appalachian Trail, which stretches 2,200 miles along the from Springer Mountain, Ga., to Mount Katahdin in Maine, is the ultimate east coast trail to tangle with—to test your mettle, to commune with nature, to reset your head, to just…breathe.
"There's a romance to that trail," says Fouse, who estimates he's hiked about a quarter of it. "It offers a path away from urbanization into a semi-wilderness where you can find solitude and peace. And that's what people are looking for."
TVA can hardly lay claim to the entire ride—in fact the trail rolls through 14 states: Georgia, North Carolina, Tennessee, and Virginia in the Valley, yes—but also West Virginia, Maryland, Pennsylvania, New Jersey, New York, Connecticut, Massachusetts, Vermont, New Hampshire and Maine.
But the "AT," as it's affectionately known, does cross the top of Fontana Dam, where there are shelters and a bathhouse that cater to the needs of through-hikers. Though accommodations are rustic, the showers are hot, which has earned the spot the nickname Fontana Hilton.
Even if you're making a day trip to the trail at Fontana, it's a lovely walk across the top of the dam, where you'll soak in some of the Great Smoky Mountains' finest scenery while meeting people from all walks of life and corners of the world. And who knows? Maybe you'll feel inspired to keep going. Follow the trail far enough to the northeast, and you can cross the top of Watauga Dam, too.
Read more about the Appalachian Trail.
Lake Guntersville: Bass Master
Northeast Alabama
Randy Howell is a professional bass angler who fishes the country from coast to coast. Ask him about his favorite lake, and he doesn't hesitate. "I love Guntersville—it's my favorite lake," Howell says. "I think the majority of bass anglers around the country love it, too." Howell loves it so much he recently relocated his family to Guntersville, Ala., to be nearer its shores.
What makes Guntersville the ultimate bass mecca? It's a combination of factors that include water depth, constant temperatures and plentiful vegetation, explains David Brewster, manager of West Operations for TVA Natural Resource Management.
"The Guntersville Reservoir is 67,900 acres of water, but the average depth is only 15 feet, and that shallow range is very conducive to bass," explains Brewster. "Unlike a lot of other reservoirs in TVA's system, Guntersville's water level only fluctuates about two or three feet—it's a stable pool, so bass aren't moving around to get to deeper water. We have fish in residence year-round."
But what really sets the lake apart is the "grass." The lake is home to many species of aquatic plants, both native and invasive, which TVA manages to prove maximum benefits to all lake users. "These aquatic plants produce a safe haven for the bass and for the baitfish that the bass feed on," Brewster notes. "And since bass are predators, they're also a great stalking ground for them."
Read more about Lake Guntersville.
The Ocoee River: Paddler's Playground
Southeast Tennessee
Nestled in the Cherokee National Forest of East Tennessee, the Ocoee River is one of the most popular whitewater rafting adventures in America. From April through October, adrenaline junkies test themselves on the Ocoee's Class III and Class IV rapids. But it takes careful management to make the rapids happen.
"The consistent and dependable flow of water that forms the Ocoee's rapids don't happen naturally," says Tom Barnett, senior manager of TVA's River Forecast Center. "Believe it or not, when we're not using the river for recreation, it's a bed of dry rocks, with just enough water to support aquatic habitat and swim in a few places."
But when TVA diverts water for recreation, it brings two famed stretches of the river to life: the one-mile Olympic whitewater course, fed by releases of water from Ocoee Dam No. 3; and a four-and-one-half mile rafting area, fed by water from Ocoee Dam No. 2.
More than 250,000 visitors are drawn to the Ocoee annually, each of them eager to try their hand at running the river.
Read more about the Ocoee River.
The South Fork Holston River: Fisherman's Paradise
Northeast Tennessee
"If you know how to hook them, the upper section of the South Fork Holston below South Holston Dam holds some of the best brown trout in the eastern United States," says Shannon O'Quinn, TVA Water Resources specialist and an avid trout angler. "This is truly a world-class fishery; people come from all over the U.S. to cast in these waters."
O'Quinn runs down the reasons: the food sources, the spawning habitat, the oxygen levels (thanks in part to a distinctive weir), the water temperature—and the all-important flow. The river's water flow is regulated by TVA in the management of its South Holston Dam. O'Quinn explains why the cold clear water from South Holston Lake makes the river a great fishery for trout: "TVA goes out of its way to support the trout population and the fishermen during the summer months. We cater to the fishing community, especially on the weekends, going 4 or 6 hours between generation."
Plus: The South Fork Holston is stocked with about 47,000 rainbow trout March through September. The numerous brown trout in the river—though not native—are wild and plentiful, O'Quinn notes.