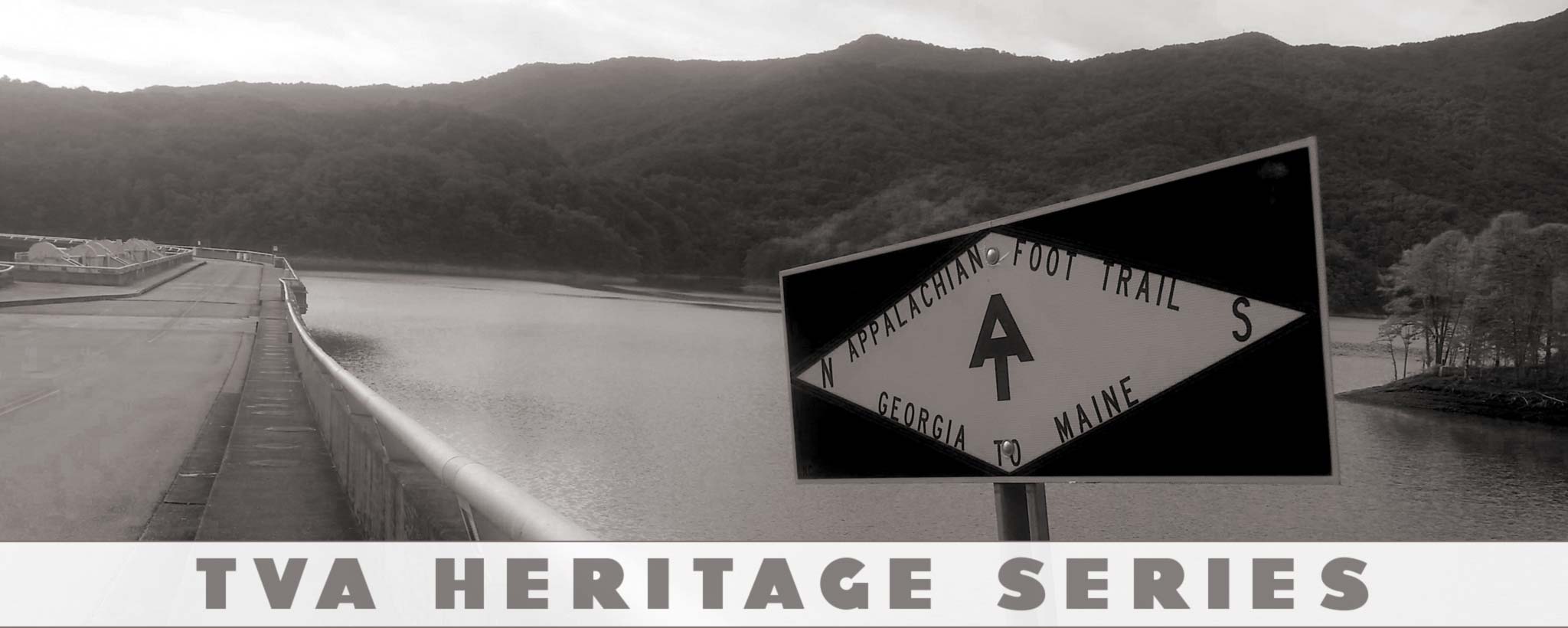 TVA and the Appalachian Trail
The storied Appalachian National Scenic Trail touches TVA property in two spots: Fontana Dam and Wautaga Dam. And since many COVID restrictions were lifted, it's more popular than ever.
Eighty-nine years ago, TVA came into existence with the stroke of a pen from President Franklin D. Roosevelt, who embraced the vision of a federal agency that would use its resources to make life better for the people of the Tennessee Valley. All along the way, that vision has included not just power generation and its benefits, but also oversight and protection of natural lands and waters for all people to enjoy.

Fifty-four years ago this year, the National Trails System Act of 1968 supported and reinforced that vision, using federal power to protect and preserve long-distance hiking trails. One of the first chosen for this designation was the Appalachian National Scenic Trail, often referred to simply as the A.T. It is the only National Scenic Trail that intersects TVA land, crossing in two spots: Fontana Dam in Graham and Swain Counties, North Carolina, and Watauga Dam in Carter County, Tennessee.

A Grand Idea… from a Future TVA Employee
The idea of the trail was first conceived in 1921 by Benton MacKaye, shortly after the death of his wife. He was a Connecticut forester who came up with a plan for a grand hiking trail that would connect a series of farms and wilderness work/study camps across many states. MacKaye was an early pioneer of the idea of public land preserved for public recreation and enjoyment.
"The A.T. has a historical connection to TVA as well, through him," says Suzanne Fisher, senior program manager and volunteer trail coordinator with TVA's Natural Resources organization. "He was one of the first to come up with the entire concept of regional planning, and in 1934, MacKaye worked at TVA as a regional planner."
The trail was first completed in 1937. After the National Trails System Act helped provide new protection for it, a permanent route for the trail was mapped out, and by 1971 it had been marked (although minor changes continue to this day).
The A.T. is the longest hiking-only trail in the world, stretching about 2,200 miles from Springer Mountain in Georgia to Mount Katahdin in Maine. More than two million people hike at least parts of it each year, with about 2,700 attempting to walk the entire length in a single season. (Only about 10-15 percent of those hikers actually make it.)
The trail corridor crosses many layers of history, from ancient tribal camps to Civil War battle sites. Hundreds of archaeological sites have been documented and there may be hundreds, perhaps thousands, more yet to be explored.
There are thousands of plant and animal species along the trail, including some endangered ones. In the South, the lowland forests around the trail consist entirely of second-growth trees, since the entire southern part of the trail has been logged at one point or another, but there are a few patches of original growth in the Northeast.
The "Fontana Hilton"
Originally, only simple open shelters were constructed for hikers to rest in, but over the years more elaborate shelters were put up. One that's considered the best, the Fontana Dam Shelter, is on TVA land—it's nicknamed "the Fontana Hilton" for its amenities, such as flush toilets, and its proximity to restaurants and a post office. The site is also special on the A.T. because Fontana Dam marks the entrance to Great Smoky Mountains National Park.
"We're proud of the 'Fontana Hilton,'" says TVA recreation engineering specialist Jimmy Lemmond. "We take good care of the shelter itself, the shower house and the primitive tent area at Fontana. It's a nice place to take a break, and there's a steady stream of hikers coming and going."
At Watauga, TVA maintains about a mile and a half of the A.T. across Watauga Dam and TVA-managed property.
"This portion of the trail is maintained in partnership with various local nonprofit organizations and volunteers," explains Randy Short, TVA forester. "TVA has also recently constructed a new 0.4-mile connector trail from the A.T. to the Watauga Visitor Center for hikers' convenience."
Traffic on the AT continues to increase. "During COVID restrictions in 2020, the Park Service stopped issuing hiking permits," explains Lemmond. "When they resumed in 2021 we saw an immediate increase in the number of hikers, and by the end of spring 2022 we saw another 11 percent increase.
"Hiking the AT is one of those 'bucket list' items that continues to draw people year after year."
You Can Help the Trail
Although the Appalachian Trail is federally designated, federal funds cover less than half the cost of maintaining it. The Appalachian Trail Conservancy and the National Park Service oversee the trail, but they partner with other public agencies including the U.S. Forest Service and TVA. It's estimated that volunteers provide some $3 million worth of trail upkeep each year.
"The sections of the A.T. that cross TVA land are maintained by the Smoky Mountain Hiking Club and the Tennessee Eastman Hiking and Canoe Club," explains Fisher. "These clubs log hundreds of volunteer hours each year clearing brush and debris from the trail, cleaning out water bars, stabilizing trail tread and water crossings, and keeping shelters and campsites in safe, clean condition.
"TVA Natural Resources employees are invited to annual partnership meetings to collaborate on projects and events. We're also consulted when projects arise that involve rerouting the A.T. around high lake levels, or shelter closures due to bear activity."
The Appalachian Trail has a certain mystique about it, having been the subject of numerous books, movies and stories. But it is just one piece of the large trail system that TVA helps protect, working in conjunction with its partners.
"TVA's mission is to serve the people of the valley and make our region the best place to live, work and play," says Rebecca Hayden, Natural Resources director. "Through partnerships such as these, we can increase recreational opportunities and protect public lands throughout the region."