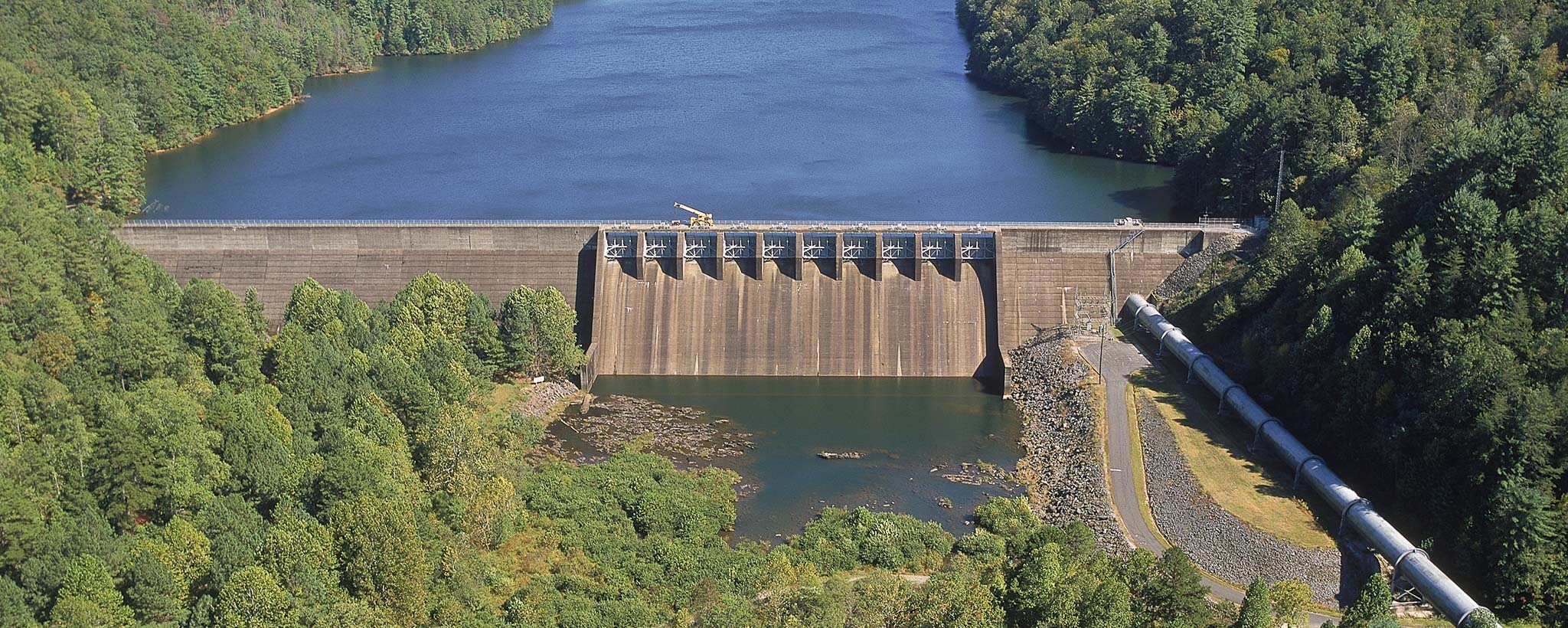 Apalachia
Apalachia Reservoir is located entirely in Cherokee County in western North Carolina, west of the town of Murphy. The dam was designed and built for power generation during World War II.
Apalachia Reservoir is a small, deep, cool-water reservoir set on the Hiwassee River in the mountains of western North Carolina. The dam was built primarily to generate hydropower, but the reservoir also provides a beautiful site for fishing, canoeing, hiking and primitive camping.
Adjacent to the Nantahala National Forest, the reservoir has very little private shoreline development and no commercial recreation facilities.
Because of its remote location, relatively few anglers use the reservoir, although there is a significant amount of rafting and fishing downstream. Sport fish include smallmouth bass, spotted bass, largemouth bass, redbreast sunfish and white bass.
Apalachia: Facts + Figures
Construction of Apalachia Dam began in 1941 and was completed in 1943. The dam is 150 feet high and stretches 1,308 feet across the Hiwassee River.
Apalachia Reservoir is 9.8 miles long with 31 miles of shoreline and about 1,070 acres of water surface. It collects rainfall from a 1,018-square-mile watershed.
A pipeline and tunnel system carries water from the reservoir 8.3 miles downriver to the powerhouse to generate electricity.
Apalachia is a run-of-river reservoir, meaning that water is passed through the reservoir without being stored long-term. The water level fluctuates about 8 feet (between elevation 1,272 and 1,280) on a daily basis.
Apalachia Dam has two generating units with a summer net dependable capacity of 82 megawatts. Net dependable capacity is the amount of power a hydroelectric dam can produce on an average day, minus the electricity used by the dam itself.
More Information on Apalachia Reservoir
Daily Lake Level
Sport Fish Survey Results
Reservoir Health Ratings
Recreation Release Schedule
Recreation Facilities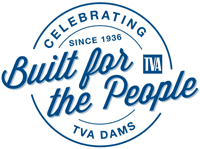 The Unified Development of the Tennessee River plan stressed TVA was to provide flood control, navigation and electricity for the region. TVA's dams are tangible evidence of its primary mission: improving life in the Tennessee Valley. We're celebrating the plan with an in-depth look at 32 of the dams it comprises.

Wartime Dam Creates Angler's Oasis
Isolated Apalachia Dam made a big contribution to wartime airplane construction. Today, it's an off-the-beaten-path paradise for trout fishermen looking for big catches and scenic views. Read more about beauty and the big catch.
Tailwater Pursuits
Kayaking, rafting and trout fishing—all activities that you can do in the tailwaters below TVA dams—are growing in popularity. Find out more about how you can "go with the flow" and get involved with these fun sports.