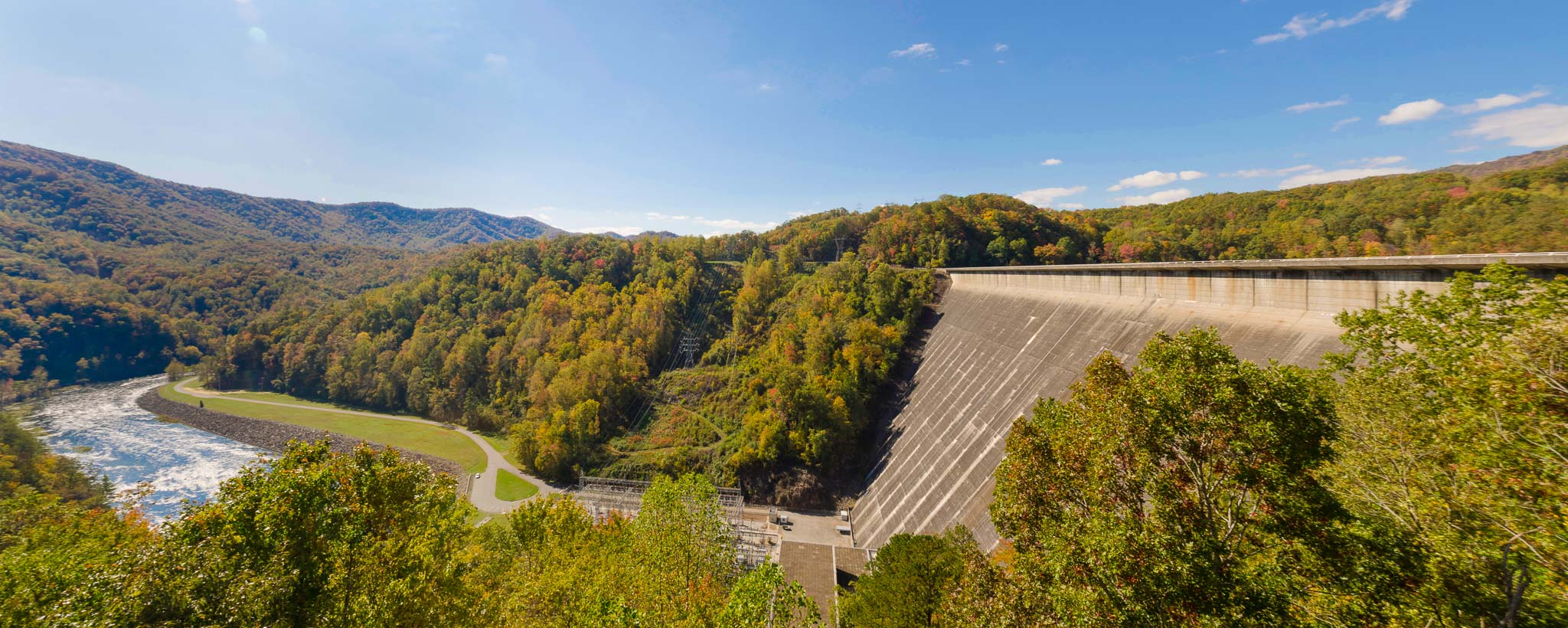 Fontana
Hikers on the Appalachian Trail stop to admire the view from atop Fontana Dam. The highest dam east of the Rocky Mountains, Fontana, is on the Little Tennessee River in western North Carolina.
Fontana Reservoir occupies a site of particular splendor deep in the Great Smoky Mountains. Fishing, boating, and swimming are all popular at Fontana, but it is perhaps most appreciated by wilderness hikers and campers.
The Appalachian Trail, which extends over 2,000 miles from Georgia to Maine, crosses Fontana Dam. The hot showers available at the trail shelter, maintained by TVA, have led grateful hikers to dub it the Fontana Hilton. The Great Smoky Mountains National Park borders the reservoir to the north.
Fontana was built during World War II to provide electric power for the war effort. A new town, housing some 5,000 people who worked around the clock in three shifts, sprang up in the forest, and the project broke construction records. What was once the construction village is now a resort offering recreational activities such as boating, horseback riding, and crafts making.
Visitor Center
Learn about TVA's history, the generating facility, and the benefits of TVA's activities to you. View maps of the Tennessee River and tributaries that allow us to provide power, support economic development, and protect natural resources for the 10 million people we serve. You can also talk with TVA retirees about their service and ask questions about what it means to you.
Hours
Open the first weekend of April to the last weekend of October. From April to August, the center is open from 9 a.m. to 7 p.m., and from September to October, it's open 9 a.m. to 6 p.m. Closed on federal holidays. The restroom is closed first of November through the end of March. Hikers' showers are open year-round.
Directions
The center is located at Fontana Dam, NC 28733 (Google directions).
From Bryson City, N.C.: Go west on U.S. Highway 74 toward Murphy, N.C. After about 8.3 miles, turn right on N.C. Highway 28. Go north about 21.3 miles and turn right on County Rd 1245 (Fontana Dam Rd). Continue about 1.3 miles to the dam.
From Maryville, Tenn.: Follow U.S. Highway 129 South about 32 miles to the North Carolina state line. About three miles beyond the state line, turn left onto N.C. Highway 28 and go south about 10.6 miles to the dam.
Fontana: Facts & Figures
Construction of Fontana Dam began in 1942 and was completed in 1944.
Fontana Dam is a hydroelectric facility. It has three generating units with a summer net dependable capacity of 304 megawatts. Net dependable capacity is the amount of power a dam can produce on an average day minus the electricity used by the dam itself.
The dam is 480 feet high and stretches 2,365 feet across the Little Tennessee River.
Fontana Reservoir provides 238 miles of shoreline and 10,230 acres of water surface for recreation activities.
In a year with normal rainfall, the water level in Fontana Reservoir varies about 56 feet from summer to winter to provide seasonal flood storage.
Fontana has a flood-storage capacity of 514,000 acre-feet.
Find Fontana Dam off Hwy. 28 in Fontana, N.C.
More Information on Fontana Reservoir