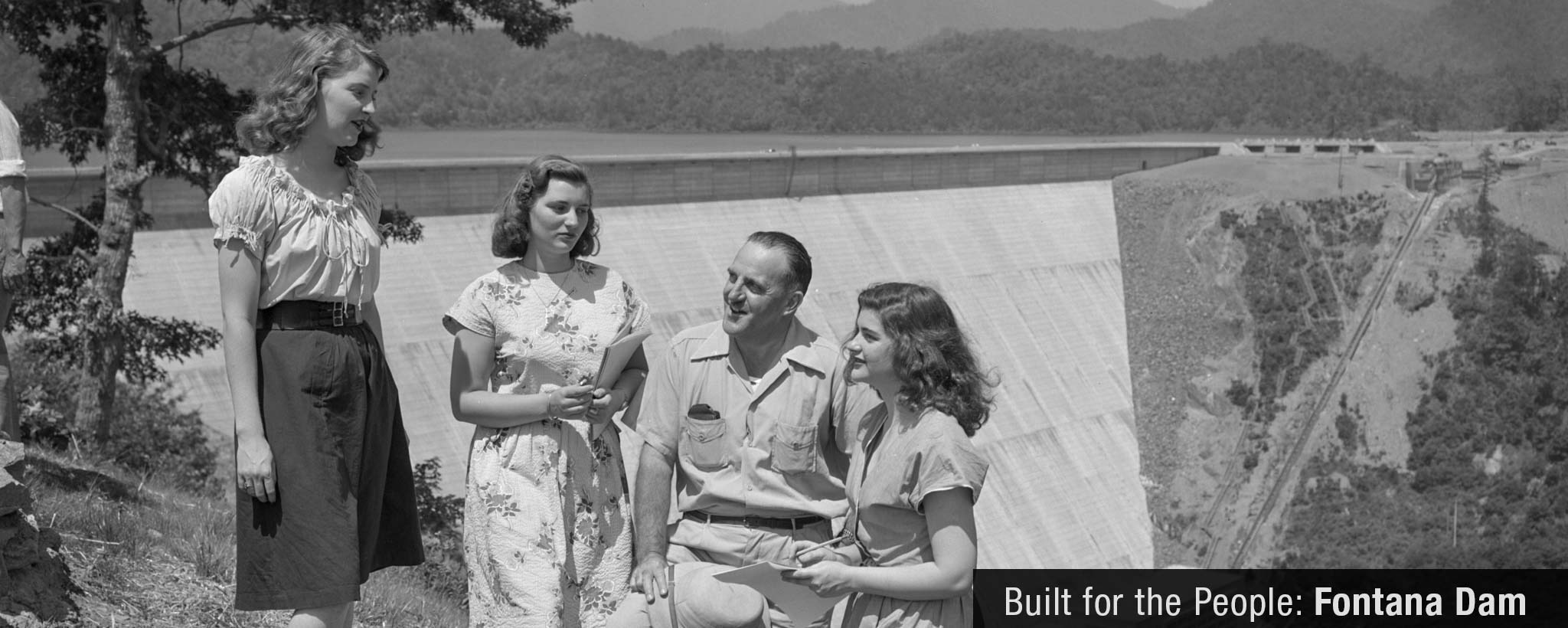 The Miracle in the Wilderness
Spurred by wartime necessity, TVA put up Fontana Dam, the tallest dam east of the Rockies with record speed. The dam no one could get to eventually became the most visited in the TVA system.
It seemed an unlikely place for the tallest dam in the East, this rugged North Carolina gorge in a remote part of the Smokies, accessible only by a dead-end dirt road. How would you get thousands of workers up there to build the thing? And once they were there, how would they live?
TVA had wanted to build a hydroelectric dam at Fontana since the early days, but an agreement with the Aluminum Company of America (Alcoa), which controlled the land, was elusive. So was congressional approval for what promised to be an extremely expensive project.
The brewing storm of war changed all that, though. Defense strategists, seeing the Tennessee Valley as a secure spot to concentrate the war industry, put the huge aluminum plants in Alcoa, Tenn., to military use. They also established a top-secret weapons laboratory at a nearby place called Oak Ridge. Both enterprises required enormous amounts of electricity, and building new TVA dams became a priority.
The Fontana project was finally falling into place during the four months before Japanese bombers attacked Pearl Harbor in 1941. Only three weeks after the "day of infamy," the first TVA trucks rumbled up the narrow roads to Fontana to start construction.
Rugged and Remote
The project manager who oversaw the mammoth effort was tall, scholarly, euphoniously named C. E. Blee. The dam itself would be an unusual design in the TVA system, extraordinarily tall—at 480 feet, taller than many skyscrapers—and calling for almost three million cubic yards of concrete. It also wouldn't have a conventional spillway; water would drain from the reservoir through two spill pipes, each 34 feet in diameter, passing around the dam and into the streambed below.
If the design was unusual, the execution would be even more so. This untraveled spot on the upper reaches of the Little Tennessee River was 65 rugged miles from Knoxville, Tenn., and a good deal farther from Asheville, N.C. The nearest real community was the North Carolina town of Robbinsville, which was 35 miles away—more than an hour's travel at that time.
Not only was the site remote, but the builders were also operating on an accelerated wartime schedule. Laborers, mostly from western North Carolina, went to work, at first just to make it possible for the dam-builders and materials to get there. Construction crews widened the one-lane road and built a two-mile spur from the nearest railway line so heavy equipment and supplies could be hauled in.
The workers put in seven-day weeks. They labored around the clock to get the job done, three shifts a day. Those on the night shift worked under floodlights. Even if they had time off, there wasn't much to do with it. Gas rationing meant that most workers stayed on the site for months on end, although few had cars anyway. Fontana was so remote that commuting was impossible.
It was clear that TVA would have to bring a town to them.
Trim Little Town
The agency had some experience with town-building, and drew on lessons from Norris, the TVA community that was still thriving more than five years after the completion of Norris Dam. But Fontana was far more remote, and this dam was going to be twice as tall. At first there were just a few hundred people on the site, living in camp-like conditions. But the workforce swelled. Though some were of draft age—one sign at Fontana admonished, "Work or Fight!"—many were men a little too long in the tooth to worry about the draft, a lot of them veterans of World War I.
By 1943, the number of workers had grown to approximately 5,000. Living in dormitories and prefabricated houses, they'd made Fontana a real village, a "trim little town," as one surprised reporter described it hardly a year after the first workers arrived.
By then Fontana had a beauty parlor and a barber shop; a basketball court and a softball field; a post office, library, grocery, and soda stand; a dentist's office and a small hospital; a movie theater; a school with a dozen teachers and 300 students; even a tiny jail. Over 90 percent of the town's inhabitants were men, but in 1943, 350 women were living there too. At Fontana's weekly dances, they were very much in demand.
With good jobs available all over the country, it wasn't easy to maintain such a large workforce in an isolated spot, and the supervisors did whatever they could to reduce turnover. Seeking to keep morale up, they installed a unique public-address system that treated workers to music, news, and inspirational observations from visiting dignitaries.
Beautiful Utility
The dam was finished in November 1944. The water behind it, with an average depth of 130 feet (deeper than most other TVA reservoirs), was rimmed by 248 miles of newly created shoreline. Most important for the war effort, Fontana Dam turned out an annual 228,000 kilowatts of power when the generator started up in early 1945, with more than half a year of war to go. Most of that electricity went to the vital aluminum factories some 45 miles away in Alcoa, which were rapidly churning out metal for military aircraft.
Many people found the place an astonishing sight. Among them was perhaps the most unlikely celebrity visitor imaginable: the French existentialist philosopher Jean-Paul Sartre, who came to Fontana on a wartime press junket in early 1945. Sartre was amazed by the city that had sprung up overnight in the wilderness.
Unlike Norris, which has remained a cozy residential community for almost 70 years, Fontana was largely deserted after the dam was built. Only 50 families remained, tending to the dam and power plant.
But it didn't stay lonesome for long. In 1946, under the supervision of General Ulysses S. Grant III, Fontana Village opened as a privately run public resort adjacent to the reservoir. Within a few years this most remote, and in many ways most lovely, of TVA dams was also attracting the most visitors. Today two million people a year come to see Fontana.