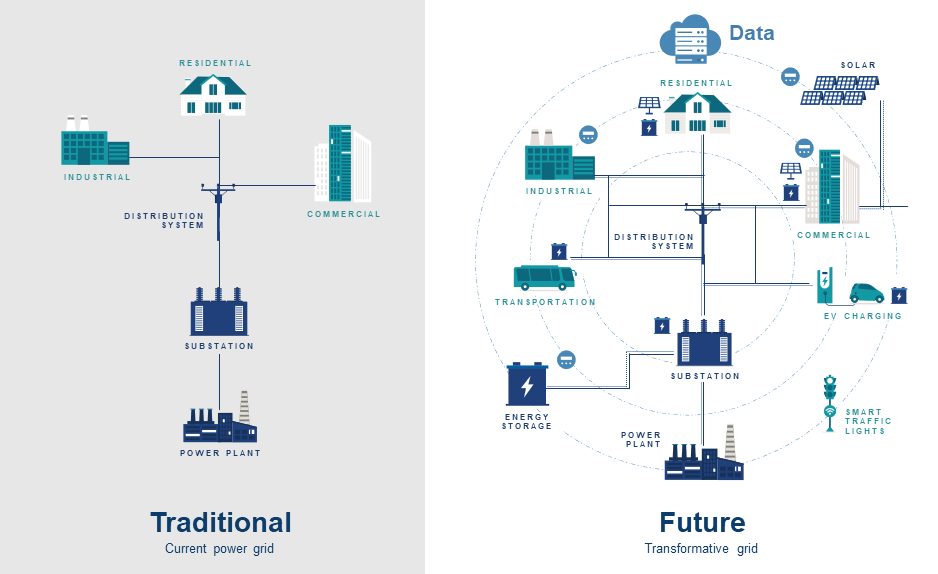 Why Grid Transformation
Electrification and digitalization of lives and businesses across the Tennessee Valley is driving our growing reliance on the availability of reliable, clean, and affordable electricity. Valley energy consumers are growing accustomed to having access to real-time information and customization of their own customer experiences. At the same time, the region, along with the rest of the global community, is shifting towards mass decarbonization and increasing adoption of renewable energy resources. Our cities are growing, and our rural areas are fighting not to get left behind.
As we work to protect the region's electric infrastructure against historic weather events, and as we position to defend our critical services from cybersecurity threats, we recognize a need to transform our electric grid to support the needs of the future.
Value to the Valley
The Regional Grid Transformation (RGT) effort helps TVA and our local power companies (LPCs) protect the Valley from power disruption, while positioning LPCs to introduce cleaner and more efficient technologies that offer more value to Tennessee Valley customers.
Strategic deployment of advanced grid technologies will deliver the needed capabilities to realize new value for Tennessee Valley customers, communities and local economies. Value includes energy affordability and resiliency, regional innovation, optimized investing, environmental sustainability and resourcefulness, economic development, and overall community vitality.
Approach to Grid Transformation
Many of the capabilities to support future needs require the introduction of new technologies, new processes, new ways of working, and new skillsets. Each of these components require strategic thinking, lead time for purchasing new equipment, project planning and coordination to construct and install new systems and devices, changes to utility processes or organizations, and workforce training. By beginning to plan today for what we will need tomorrow, we can be more strategic, better equipped to respond to change, and more able to identify valuable opportunities to optimize our regional resources.
Future Capabilities
Our existing power grids across the Tennessee Valley are limited in their abilities to interact and support one another and were designed to deliver power in only one direction. As we introduce renewable energy resources and battery storage technology across the Valley, our system must be able to support two-way power flows. We must have the ability to communicate with and control new intelligent devices on power lines and in our substations.
Building a resilient, flexible, and integrated electric system that supports these new devices and clean and distributed resources requires new tools for planning, new ways to operate, and new features and functionality available to our customers.
Building a Roadmap
These capabilities will require Valley utilities to have a shared long-term vision and a plan for getting there. For this reason, TVA along with a group of LPCs are working together to develop a Regional Grid Transformation Roadmap. The roadmap will help chart the course for how and when our Valley electric utility providers can introduce new system capabilities and technologies in a way that is strategic and cost effective.
The strategic Regional Grid Transformation Roadmap supports Valley utilities in:
Creating exceptional end-user experiences,
Building integrated planning capabilities,
Introducing enhanced grid operations, and
Aligning around a set of regional guidelines that allow more fruitful partnerships and stronger cross-valley collaboration.