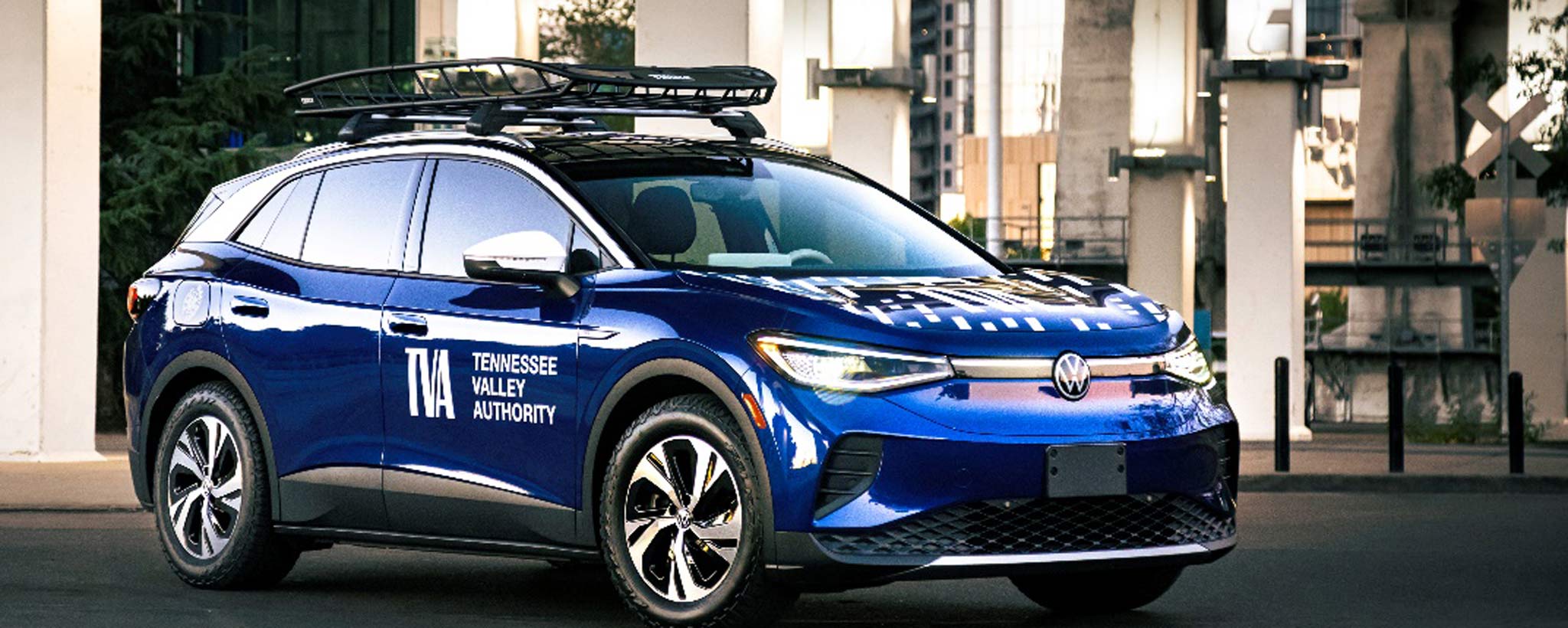 Taking the Driver's Seat
TVA partners with Volkswagen on ID-4.
Volkswagen of Tennessee is partnering with TVA to develop the country's first fully electric made-in-America fleet vehicle.
As part of a new Volkswagen pilot program, TVA's Unmanned Aerial Systems drone team will test drive a fully customized electric ID-4 for an entire year.
The freshly modified ID-4 is being called a "Mobile Drone Response Vehicle."
The goal of the one-year pilot is for TVA Fleet Services and the drone team to document the vehicle's performance and report finding to Volkswagen. The use of vehicles will help Volkswagen make the necessary tweaks to convert its family-style ID-4 sport utility vehicle into a user-friendly commercial application for mass production.
Some of the modifications to the vehicle include an all-vinyl floor, built-in hotspot, larger wheels to raise the vehicle's chassis for off-road applications, a utility-style racking system for better storage, and an extendable awning to shade the drone team while performing work in the field.
"VW is providing this vehicle on loan at no cost to TVA," said TVA Fleet Services manager Nathan Stanfield. "It's a smart risk because we get to not only be a partner who's participating in the push toward carbon reduction, but we're literally taking the driver's seat to help solve a global issue."
Volkswagen will debut a second TVA-branded Mobile Drone Response Vehicle at the 2022 Specialty Equipment Market Association Show in Las Vegas in November. The just-for-looks model will be used to discuss the modification made for the ongoing pilot with TVA's drone team.
Piloting Performance
Drone pilot Tim Land says he's excited about the opportunity and looks forward to trying out the new ride.
"When we're out in the field, a lot of time there's no shade, and we usually have to carry a tent," Land said. "Having a built-in awning will be a nice feature when we're going out to do those small jobs close to home."
Land says the built-in hotspot will also help the team develop their flight plans and maintain a continued sense of situational awareness in the field by giving them the on-site ability to identify air-space hazards such as towers and power lines.
But like any matter of physics, for every action, there's an equal and opposite tradeoff. With the larger cargo racks and wheels, Volkswagen expects the bulkier aerodynamics of the vehicle to limit the SUV's range. Current ID-4 models have an average range of 280 miles per charge.
One of the tasks TVA's drone team will have is to help Volkswagen better understand the actual range of the fleet model.
History of Partnership
The partnership is not the first time TVA has involved Volkswagen in e-mobility research. In March of 1978, the Electric Power Research Institute selected TVA as the host utility company to perform field testing and demonstration of electric vehicles.
Volkswagen Kombi vans and eight-passenger buses were purchased from Volkswagen of Wolfsburg, Germany. In its entirety, VW produced about 70 electric vans for fleet research purposes.
"TVA has a long history of innovation, and we're thrilled to partner with them in their transition to a fully-electrified fleet," said Hein Schafer, senior vice president of Product Marketing & Strategy at Volkswagen of America. "This commitment is leading by example, and with the aid of our ID.4s, stands to show the industry how viable EVs are in fleet applications."
The ID.4 pilot is in line with TVA's larger carbon-reduction goals to have 100% of the fleet's light-duty sedans, SUVs and trucks switched to electric by 2030. All light-duty replacement vehicles will be EVs or hybrids beginning in 2025.
As part of the transition, TVA intends to replace its carbon-emitting vehicle fleet with nearly 400 light-duty and 800 medium-duty EVs, along with the addition of more than 300 charging stations at TVA locations.
​ ​
Share this story:
​