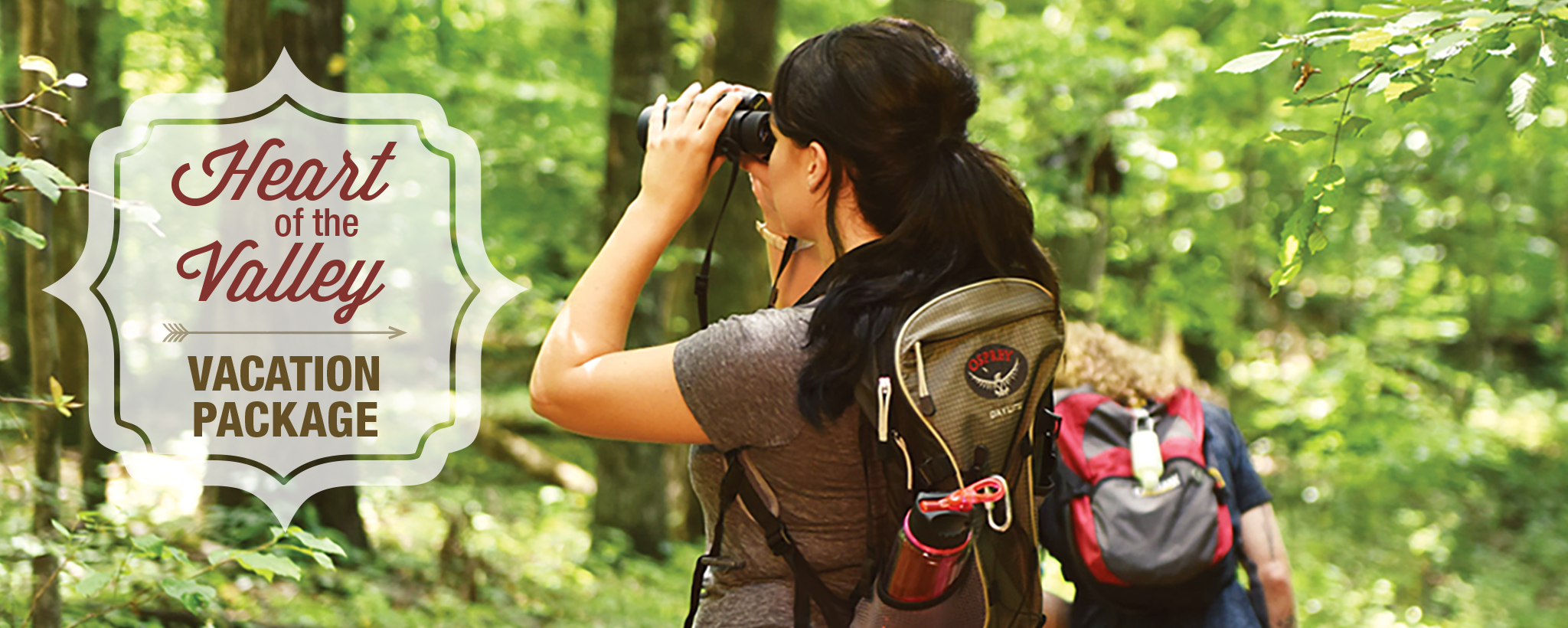 Heart of the Valley
Welcome to the foothills of the Great Smoky Mountains! Find any adventure to fit your style. Whether you have a long weekend or just a day, the region surrounding Knoxville has a lot to offer. From hiking at Norris to camping at Douglas Dam to paddling on Tellico there is something for everyone to enjoy.
Take a Hike!
Start your day off right with a quiet walk along the Songbird Trail on the Norris Reservation. This 2-mile trail is great for hikers of all ages and skill levels. It features a large number of eastern bluebirds and kingbirds, as well as great-crested flycatchers. When you've finished the hike, don't forget to stop by the Visitor Center to meet a TVA retiree and learn more about the Norris Dam's history.

Pleasurable Picnicking
Take a break from your action-packed day and relax with a picnic on Cherokee Lake. Pack a blanket and your favorite picnic treats and find your perfect spot! While you're at the dam reservation, stop by the swim beach located off TN 92 near Jefferson City, Tenn., and take a dip.
Tremendous Trout
If you're looking to reel in a keeper, then look no further than the tailwaters of Norris Dam. The weir dam below Norris is a popular location to catch brown trout. Trout Unlimited lists the 13-mile stretch below Norris Dam as one of America's Best Trout Streams. For a more relaxed fishing experience, try your luck at Norris Lake! The clear and warm waters make it a great place to catch smallmouth bass.
Mellow Mountain Bike Trails
Whether you're a beginner or a seasoned expert, you can find a trail for every skill level at Loyston Point on Norris Lake in Andersonville, Tenn. The Loyston Loop is a moderate 5-mile loop trail with no steep grades making it a perfect trail for beginners and families. There is also a brand-new bike repair station and restroom at the trail head.
Happy Camping
Set up camp at the campgrounds on Douglas Lake! The two campgrounds on the reservoir offer different amenities depending on your interests. If you're looking to get out on the water, the headwater campground has multiple boat ramps giving you easy access to the lake. The tailwater campground is convenient to the Great Smoky Mountains, Gatlinburg and Pigeon Forge. Make your reservation online by visiting tva.com/camping.
Natural Wonders
If you're looking for wildlife, scenic views or wildflowers, then look no further than Trotter Bluff Small Wild Area on Douglas Lake. Explore 30 acres of hardwood forest and take a hike on the one-mile loop trail around the area. Keep an eye out for amphibians and young eagles learning to fish.
Super Swims
Cool off at the swim beach on the Douglas Dam Reservation! You don't need a boat or a lake house to enjoy our swim beaches, so grab a towel and jump in. The swim beach is located on Douglas Dam Rd. near Dandridge, Tenn.
Fantastic Fishing
In 2017, Watts Bar Lake was ranked in the top 25 places to fish in the Southeast by Bassmasters Magazine. But bass aren't the only fish you can find in this lake—Watts Bar is also a great place to catch crappie, walleye, catfish and blue gill.
High-Tech Hideaway
Drive on over to another one of our campgrounds and set up your tent on the Melton Hill Reservation. This campground is the perfect blend of natural beauty with high-tech energy efficiency due to the site's solar panels and wind turbine. Each campsite has a picnic table and fire pit and grill combo making it a prime spot to roast some hotdogs or s'mores! Make your reservation online by visiting tva.com/camping.
Wonderful Water Trails
Float peacefully down the river along the Tellico Blueway. This easygoing paddle trip starts at the Big Creek ramp in Madisonville, Tenn., and continues 11 miles to the Ballplay ramp on Highway 360 in Vonore, Tenn.
Take a Hike!
If water trails aren't your thing, then hit the trails in a traditional sense! There are more than 30 miles of interconnected trails along the East Lakeshore Trail near Lenoir City, Tenn., with plenty of primitive camping spots along the way for those who want to make a multi-day excursion. East Lakeshore is currently the longest National Recreation Trail in TVA's system.
Boating Bliss
Love to water ski, wakeboard or tube? Put in on Fort Loudoun Lake and enjoy the ride. You can even boat directly to downtown Knoxville to grab a bite, or hit up the farmer's market on Saturdays to find local produce and crafts.