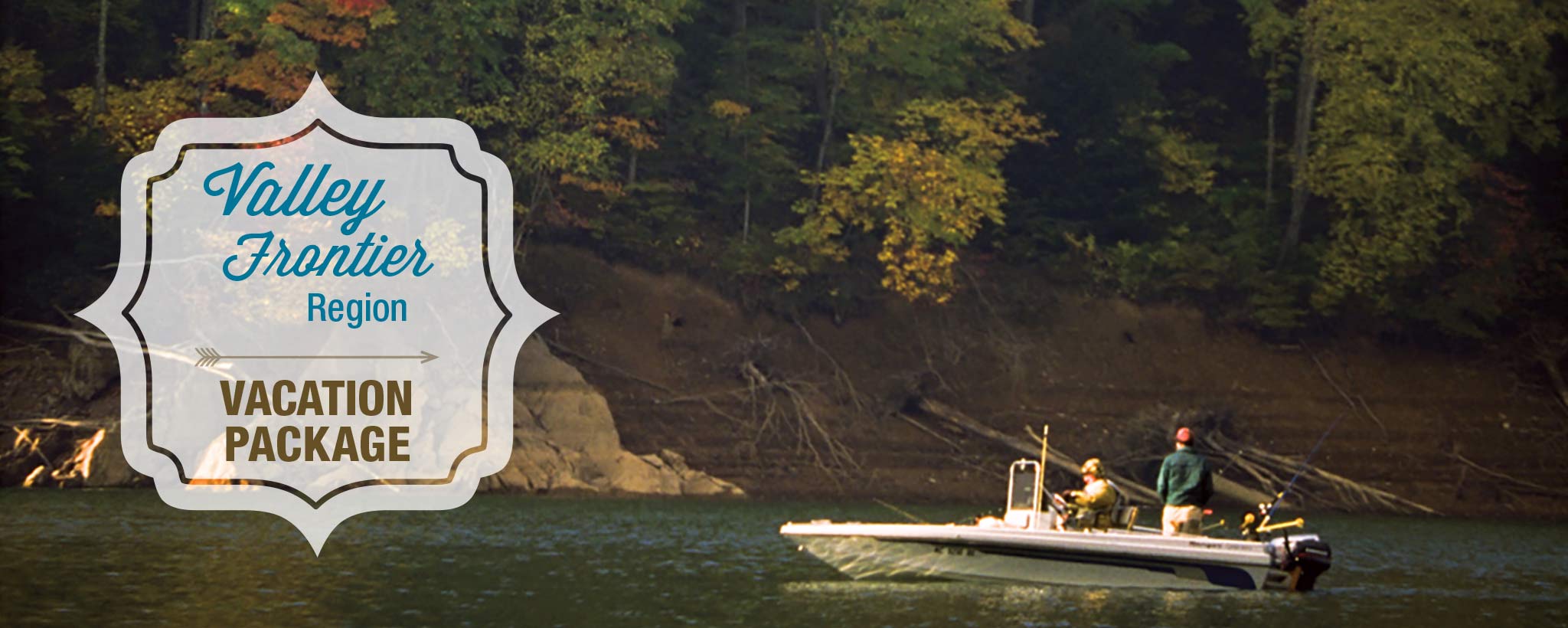 Valley Frontier Region
Early settlers on the Wilderness Road passed through northeast Tennessee (near the tri-cities of Bristol, Kingsport and Johnson City). One of five beautiful TVA lakes in the region—Boone—even bears the name of a frontier hero. Escape to the Valley Frontier Region for a taste of the wild.
Tremendous Trout
The unique weir dam below South Holston Dam oxygenates the water, creating ideal conditions for monster trout. In fact, the South Holston tailwater is listed in Trout Unlimited's Guide to America's 100 Best Trout Streams due to its abundance of rainbow and brown trout. If you're new to trout fishing, don't be intimidated, there are plenty of guides who will help you get started!
Super Swims
Your next beach destination is closer than you think. Come visit the white sands on the swim beach at Boone Lake near Johnson City, Tenn. Located off Minga Rd., this beach is a destination for all to enjoy. If swimming isn't your thing, relax on the beach with a good book or fish along the shore.
Happy Camping
Located on the Watauga River and bordered by the Cherokee National Forest, the Watauga Campground is both peaceful and beautiful. The grassy campground is a great spot for picnicking and sunbathing. If you feel like exploring, there is a gravel trail that loops through the nearby forest. Make your reservation online by visiting tva.com/camping.
Take a Hike
The Appalachian Trail crosses over the top of Watauga Dam near Elizabethton, Tenn. If you want to hike a portion of this famous trail and get a great view of the lake, then walk along the Overlook Trail. This short half-mile hike takes you around the mountain to a sweeping vista of the Cherokee National Forest and offers a peek at Watauga Dam's one-of-a-kind "morning glory" spillway.
Historic Highlight
Completed in 1912, Wilbur Dam is one of the oldest dams in the TVA system and one of the state's first major hydroelectric projects. Today, the dam is still in use—its four generating units can power more than 6,000 homes.
Wildlife Watching
If you're in the mood to watch wildlife, then head out for the Osceola Island Trail on the South Holston Dam Reservation. Go out early in the morning or late in the evening to increase your chances in spotting waterfowl, deer and other wildlife—including, in the a.m., a bevy of songbirds.
Wonderful Water Trails
Whether you like a relaxing float or wild whitewater, you can get your paddle on below Wilbur Dam. When the dam is releasing water for recreation purposes, the river turns into a whitewater rafting destination. When conditions are calm, it's perfect for canoeing, kayaking or even tubing. Be sure to check the water release schedules on the TVA Lake Info App before going out on the water. Find it at www.tva.com/lakeinfo.
Fantastic Fishing
Cast your line in Fort Patrick Henry Lake in Kingsport, Tenn. Who knows what you might reel in? This lake is a great spot to find rainbow trout, bluegill, bass and crappie. The Tennessee state record rainbow trout (16 lb., 15 oz.) was caught at Fort Patrick Henry in 2002.
Take a Hike
What started out as foot paths made by anglers seeking access to the river became four developed hiking trails on South Holston Reservoir: Bouton Trail, Emmett Trail, Osceola Island Trail and Tailwater Trail. Do them all in a day and you'll log 5.1 miles, or just about 10,000 steps.
Fun for Families
Not far from Fort Patrick Henry Dam in Kingsport, Tenn., is Warriors Path State Park—created as a joint effort between TVA and Tennessee State Parks. This park is the only state park with a "boundless playground"—a place where children of all physical and mental abilities can play together.
Set Sail
Even in the dog days of summer, a constant breeze blows through the Watauga River gorge, making Watauga Lake the perfect location for peaceful sail boating.